Osaka is one of the most exciting cities in Japan.

One of the things that makes Osaka such a exciting place to visit is its mix of historical and modern attractions.

For example,historical hozenji yokocho temple is located in the middle of the hustle and bustle of Namba area.

There are also many good places to shop,eat and drink!

I would like to share with you The 30 Top Osaka sightseeing spots in Japan!
Sponsored Links
The 30 Top Osaka sightseeing spots in Japan!
1.Osaka Castle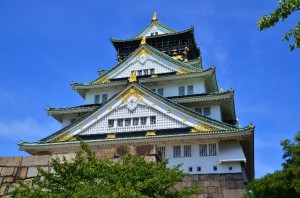 Osaka Castle is the symbol of Osaka which has a history of more than 400 years. It was originally built by Toyotomi Hideyoshi who was the most famous peasant samurai in Japan.It was destroyed in a fire at the same time as Toyotomi Hidetoshi's death. Later it was rebuilt by the Tokugawa shoguns in the 1620s.
2.Universal Stadio Japan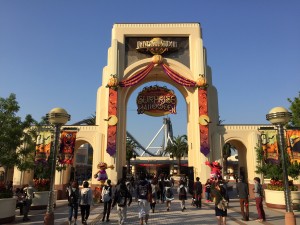 The Universal Studios Japan is a major tourist attraction in Osaka which attracts more than 10 million tourists per year."The Wizarding World of Harry Potter", which reproduces the world of Harry Potter , is now the most popular attraction.
3.Dotonbori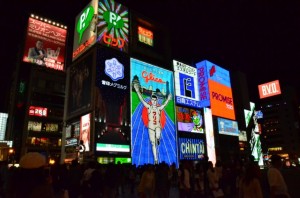 Dotonbori is famous for its giant crab and Glico man.Tourist poses in front of iconic Glico Man sign in Dotonbori.There are tons of restaurants and street food vendors, as well as many shops. It's one of the most popular sightseeing spots for tourists.
4.Grand Front Osaka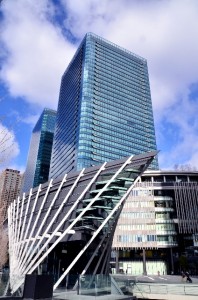 Grand Front Osaka is next to the JR Osaka Station and in the heart of Umeda.It is a brand new shopping mall opened in 2013,features 266 restaurants, fashion boutiques, general stores.Everything is so trendy and modern at Grand Front Osaka.
5.Abeno Harukas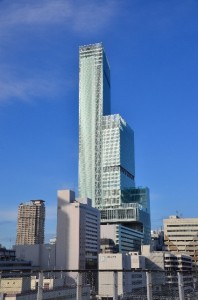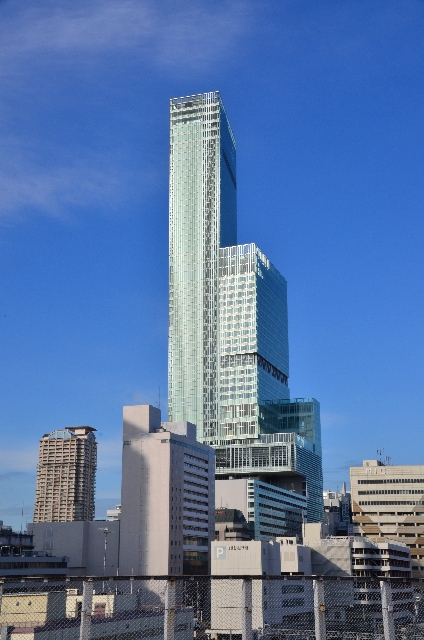 Abeno Harukas was completed in Abeno ward of Osaka in 2014.This high-rise compound building is full of high- class brand and popular shops.It is the highest skyscraper in Japan that stands 300m above grounds.You can enjoy the beautifully cityscape of Osaka from Japan's highest building.
6.Osaka Aquarium KAIYUKAN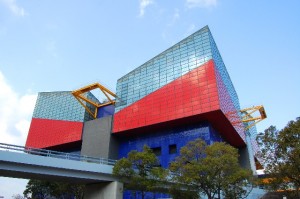 Kaiyukan is one of the largest aquariums in the world, famous for its gigantic whale sharks.Approximately 620 species and 30 thousand marine creatures are displayed in 14 huge tanks.When you are in Kaiyukan, you are have a feeling as if you are actually in the ocean with water.
7.Umeda Sky Building(Floating Garden Observatory)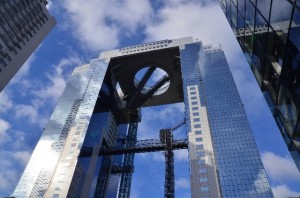 The Umeda Sky Building is a spectacular high rise building near Osaka and Umeda Stations..It's a modern architecture, standing at 173 metres high,has a observatory on its roof top where people can enjoy the whole view of Osaka City.
8. Kuromon Ichiba Market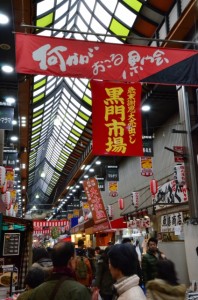 There are so many things to eat and buy at Kuromon Ichiba Market. There are several food on sticks or snacks you can eat as you walk. There were a few small restaurants that serve sushi, udon, ramen and blowfish (fugu). Kuromon market is the heaven for sea food lover!
9.Shinsekai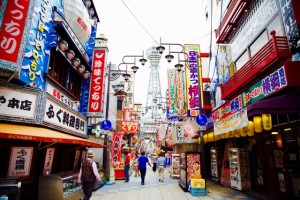 Shinsekai, an old neighbourhood famous for Tsutenkaku Tower and cheap eating spots.It is famous for Kushikatsu which is one of the Osaka's speciality.Enjoy kushikatsu in a nostalgic Osaka atmosphere in Shinsekai.
Related article:
Top 5 best kushikatsu restaurants in Osaka!
10.Tsutenkaku Tower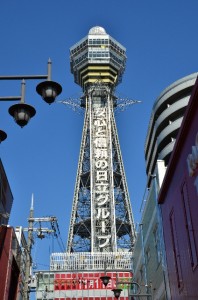 Tsutenkaku is the signature landmark of the Shinsekai district which is Widely known as "Naniwa's Eiffel Tower" among the people of Osaka. Tsutenkaku tower lights up in different colours at night.
11.Amerika Mura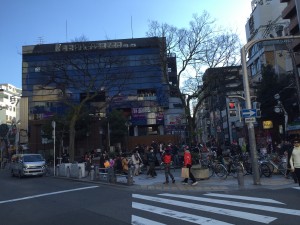 Amerika Mura is an area with lots of shops and night life for young people. It is popular spot fir skateboarders, dancers and other young people to gather.It is a good place to visit to look for young people with creative and unique fashion.
Related article:
3 Things to do Amerikamura! Shopping area and Map
Related article:
5 Must Eat Foods in Amerikamura!Location and Map
12.Sumiyoshi Taisha Shrine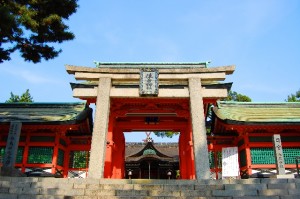 Sumiyoshi Taisha is a Shinto Shirine, is one of the is the most famous shrine with a history of more than 1800 years.The beautiful red arched Sorihashi Bridge was the highlight of Sumiyoshi Taisha. Enjoy the unique style of architecture!
Related article:
Top 5 Restaurants near Sumiyoshi taisha shrine
13.Nakazakicho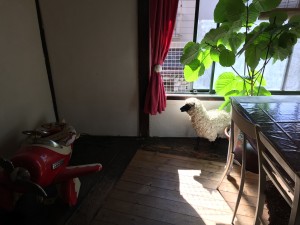 There are decade-old folk houses remained in Nakazaki-cho,and those are renovated to use as popular cafes,vintage clothing stores or hair salons. It is
located 10 minuites walk from Umeda but keeps quiet and nostalgic atmosphere.
14.HEP FIVE Ferris Wheel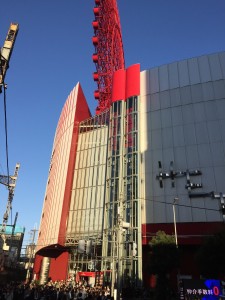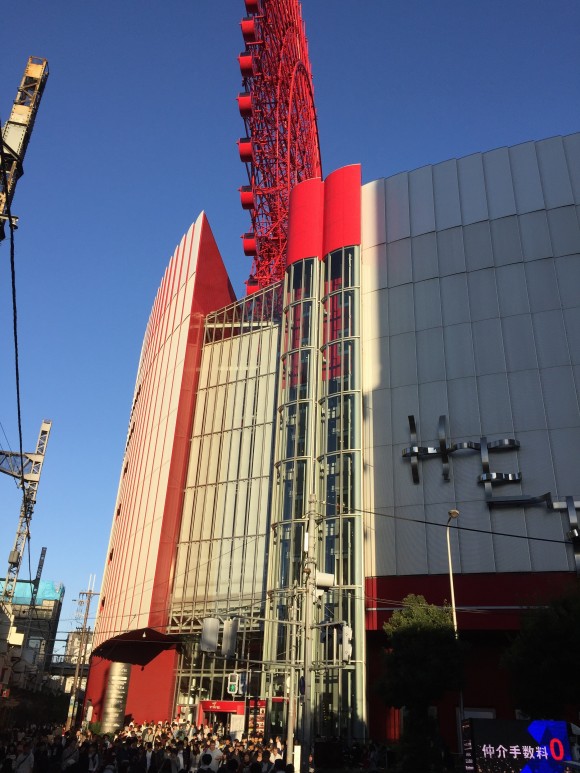 HEP FIVE Ferris Wheel is a landmark,which was built on top of a shopping mall and entertainment center. One of the landmarks of Umeda, Osaka. You can enjoy splendid view of downtown, of Osaka harbor, and all the way out to Mount Ikoma from the Ferris Wheel with the highest point at 106 meters.
15.Tenjinbashisuji Shopping Street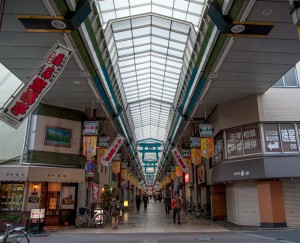 Tenjinbashi-suji shopping streets is the longest shopping streets of Japan.It has over 600 shops such as restaurants, cloths shops, hand crafts shops.There are a little places to eat along the street at a reasonable price.
16.Hirakata Park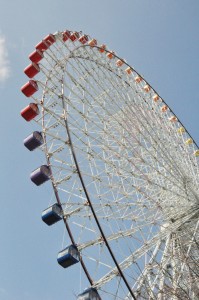 Hirakata Park started in 1910 and is the oldest amusement park in Japan. It utilizes its hilly landscape to site 43 attractions.The rides are family-friendly, because it is a children's theme park, but there are activities that anyone can enjoy.
17.Hozenji Yokocho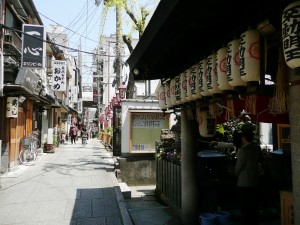 Hozenji-Yokocho is narrow streets around the Hozenji Temple, along which you find famous restaurants. It has an old Osaka atmosphere in the flourishing Minami. There is a Mizukake Fudo Buddhist statue where many people come to worship.
18.Instant Ramen Museum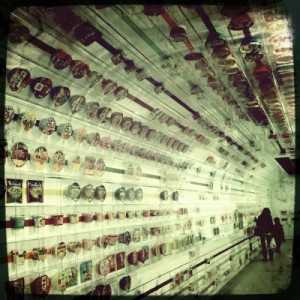 Instant Ramen Museum located in Ikeda city, 20 minutes train from Umeda station.Visitors can not only view the history of instant ramen, but also try their hand at making Chicken Ramen.Enjoy making an original cup noodle here!
19.Namba Grand Kagetsu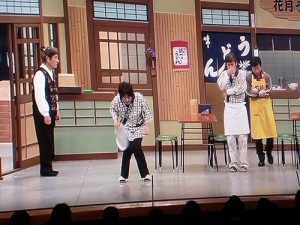 Namba Grand Kagetsu is Osaka's comedy mecca , a place where famous comedians and comedy group perform every day.Making people laugh and smile is Osaka's culture.Nanba Grand Kagetsu is the best place to feel it.
20.NU Chayamachi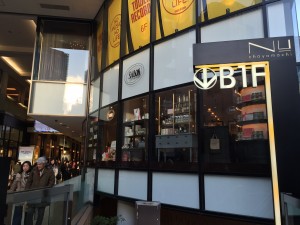 Nu Chayamachi is a shopping center,opened in 2005.There are lots of fancy buildings filled with boutique-y shops, cafes,Italian gelato shop and trendy restaurants.It is a good place to wander around when you need a break.
21.Namba Parks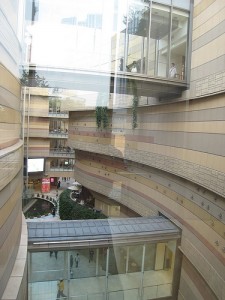 Namba Parks is a huge shopping center,complex of movie theaters, restaurants, and gardens.A place where shopping and having fun are combined with nature. You feel like being in the forest in middle of the crowded city.
22.Tennoji Zoo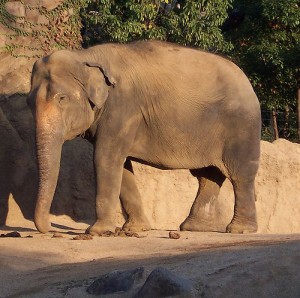 Tennoji Zoo was opened as the country's third zoo on 1915, and currently houses 1500 animals from 300 species including koalas, lesser pandas, and elephants etc.The zoo now attracts more than 1.5 million visitors annually.
23.Spa World

#36 也在2day pass優惠中的スパ一ワ一ルド世界の大温泉(Spa World),24小時營業,是個分14個主題佈置且佔地8層的溫泉樂園;可眺望通天閣景色,場內亦備餐飲區及住宿客房 / Agnès Ching
SpaWorld features natural hot springs where you will feel like you are traveling on a world tour, as well as a huge pool and other amusement spots located throughout the complex.Enjoy bathing and swimming pools of the world's largest scale.
24.Utsubo Park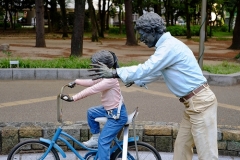 There are green, beautiful roses and fountain in Utsubo. It's like a little green oasis in the middle of the city. there are plenty of cafes and restaurants nearby where you can enjoy this beautiful view.
25.Osaka Tenmangu Shrine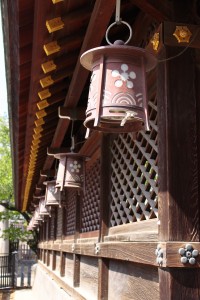 Osaka Tenmangu Shrine was founded in 949 in honor of Michizane Sugawara who was a scholar of Chinese literature and God of Studies.Many students visit here to pray for success in studies or examinations
26.Minoo Falls
Minoo Park is a forested valley on the outskirts of Osaka. The best season to visit here is autumn because the changing leaves make the path to the falls are beautiful.Minoh is famous for its Momiji Tempura, maple leaves fried in a sweet batter with sesame. You should dedinately try to eat it.
27.Suntory Yamazaki Distillery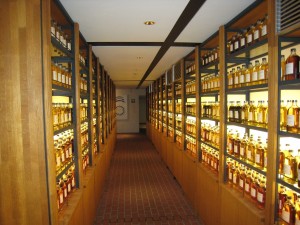 Suntory Yamazaki Distillery is the oldest whiskey distillery in Japan, is located in Yamazaki on the border between Kyoto and Osaka. They will show you how whisky is made. For fans of Whisky, a visit is a must!
28.Tsuruhashi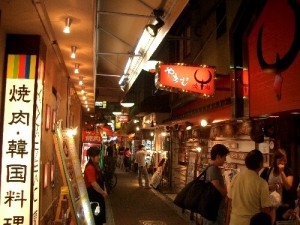 Tsuruhashi in the Ward is the largest Koreatown in Japan.It is very vibrant and lively town. Restaurants serving yakiniku and other Korean foods stand side by side.
29.Nakanoshima Park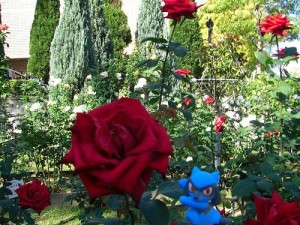 Nakanoshima Park is a rose garden where you can enjoy roses featuring about 4000 rose bushes and about different 100 rose species.This park has been selected one of the 100 most scenic greenery spots in Japan.
30.The Osaka Museum of Housing and Living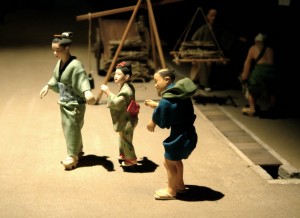 The Osaka Museum of Housing and Living shows how the Japanese lived during the Edo period.It is a great place to explore Osaka's development during different time periods.
Why don't you go with the local if you come to Osaka? I'll guide you to local places in Osaka and help you with Japanese!
For your information

If you are looking for a nice bike tour with a local guide, this tour will truly delight you!


If you want to try Izakaya and other finest Osaka's food, try this one:


They'll get to experience authentic Osaka foods and drinks by pub crawling local izakaya bars that travelers normally couldn't find.
Click here for related information:
Local Guide:EXPOCITY Osaka in Japan!Enjoy largest Entertainment facilities
Local Guide:Sumiyoshi Taisha Shrine in Osaka! How to visit a Shrine in Japan
Local Guide:Hozenji Yokocho Alley in Osaka!Must-go temple and restaurants!
Related posts(Including ads)