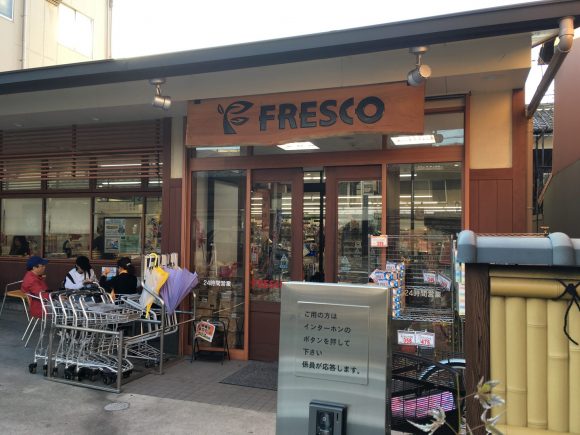 Hi,I'm Keiko from Osaka!

Supermarkets in Japan are the greatest.

Though, most of these are better described as "groceries" rather than supermarkets as in some of the Western countries, they provide you a gateway to look into the Japanese culture and customs.

These supermarkets/groceries are a great place for you to get ready-to-eat dishes at a fraction of the cost of the restaurant dining, or search one of the kind souvenir items.

The Japanese supermarkets usually have a fairly large seafood section, seasonal fruits, and tons of interesting condiments.

So many of them just sell groceries.

Also note that many of the groceries hosted at the supermarkets charge a few yen for a shopping bag.

Now enjoy your eating and shopping at these Top 5 Supermarkets in Kyoto!

Sponsored Links
Local tells Top 5 best Supermarkets in Kyoto!
1.Aeon Mall Kyoto/イオンモール京都
Aeon Mall is a large shopping mall that is only around a 5 minutes' walk from Kyoto Station Building exiting from Hachijo exit.
It is a host to numerous international and domestic retail stores, a movie theater, a pharmacy, an amusement store, restaurants, food court as well as a grocery.
There is an imported goods store, KALDI, which sells coffee, and other imported items for those who started to miss "the tastes of home."
Muji is also located on the 2nd floor of the Sakura Building, if you are into the brand.
If you want to look for an electric item, visit the Sofmap to search for the newest innovative electric items in Japan.
For those looking for cheap souvenirs or innovative items, do not miss DAISO (¥100) located on the 4th floor, I am sure you will be surprised to find almost anything you need there being sold for ¥100 (from snacks, kitchen items, stationaries, cosmetics, key chains and some Japanese chopsticks and fans which are perfect for souvenirs).
On the 4th floor of KAEDE building (next building to SAKURA building which is connected), there is a food court where cheap eateries gather.
Before going home or back to your hotel, drop by at a grocery to pick up freshest sashimi or sushi at the discounted price or to find other ready to eat materials.
It's an inexpensive way to enjoy the best food that Japan offers.
Aeon Mall Kyoto
Address:1, Nishi-kujo Toriiguchi-cho, Minami-ku, Kyoto
Location:5 minutes walk from JR Kyoto station
Phone: 075-691-1116
Opening hours:AEON MALL Specialty Stores 10:00~21:00,Food Court 10:00~22:00
Closed:Opens everyday
Map
2.LIFE Nijo Station Shop/ライフ 二条駅前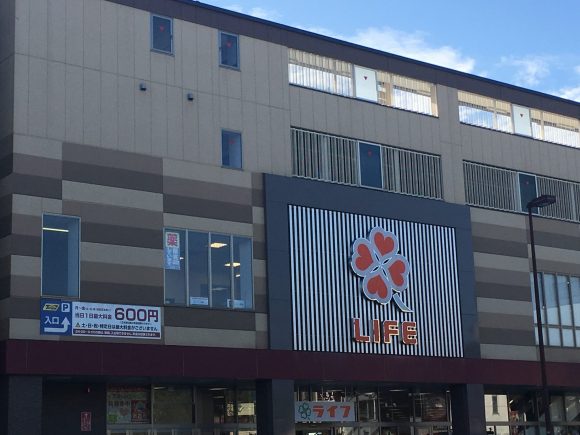 This is a supermarket conveniently located 4 minutes off JR Nijojo station.
It has a large grocery and a bakery on the first floor, some daily items (clothes, shoes, kitchen items, such) on the second floor.
It is a supermarket for the locals rather than for tourists, thus a perfect spot for you to look into the daily life of the Kyoto locals.
Pick up some bread from their bakery and fresh fruits for breakfast, sushi set for dinner!
The grocery is equipped with self-casher machines with an English explanation, so for those who is concerned of the Japanese language skills, relax!
The grocery section is open until 12 midnight.
LIFE Nijo Station Shop
Address:248 Nishinokyo Hoshigaikecho, Nakagyo-ku,Kyoto
Location:5 minutes walk from JR Nijo Station,3 minutes walk from Kyoto City Subway Tozai line Nijo station
Phone:075-821-1110
Opening hours:1F 9:00~24:00・2F 9:00~22:00
Closed:New Year's Day
Map
3.FRESCO Higashiyama Yasui Shop/フレスコ 東山安井店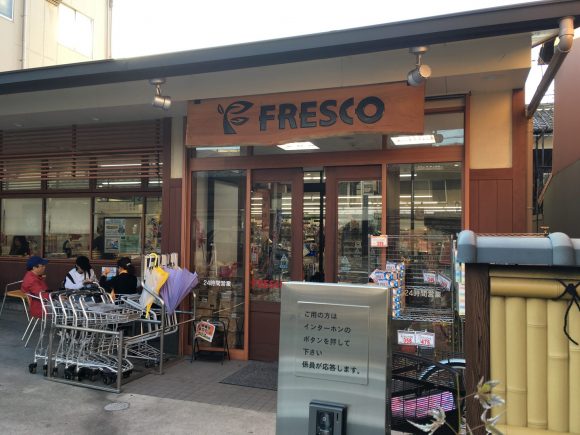 This is a small grocery store located in the heart of the tourist spots in Higashiyama that can be enjoyed by tourists looking for inexpensive but "Kyoto" items.
This is a great grocery to stop by during your touring around to look into the "kitchen" of the Japanese at the same time to find Kyoto souvenirs.
They carry many of matcha snacks to satisfy your sweet tooth, offer regular groceries as well as ready to eat items.
You might want to shop here to pick up some drinks, pre-made lunch boxes, a few sweets then proceed to Maruyama park for a nice picnic.
The grocery is located right across from Yasaka street.
FRESCO Higashiyama Yasui
Address:72 Tamamizucho, Higashiyama-ku, Kyoto
Location:10 minutes walk from Keihan Railway Gion-shijo station
Phone:075-551-5881
Opening hours:24 hours
Closed:Opens everyday
Map
4.MEIDI-YA Kyoto Sanjo Store/明治屋 京都三條ストアー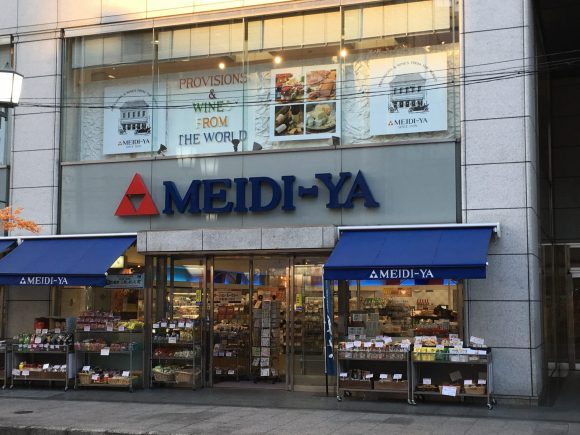 MEIDI-YA is an esteemed grocery that sells imported items and high-end Japanese grocery items.
You want to get a good bottle of wine, cheese, cold cuts …?
Or since you are in Japan, you are looking for a nice bottle of sake, some Japanese otsumami (appetizers) to enjoy at home in a hotel…?
This is definitely a place for you.
Since this branch also carries a fairly nice selection of marbled Japanese beef, for those staying at a place with a kitchen, you might want to get some to sample.
Try also to look for high-end canned Japanese items to bring home, which are perfect souvenirs for those who drink.
As souvenirs for those interested in cooking, MEIDI-YA also offer a great selection of spices, nicely packaged Japanese items, jams, pouched Japanese pasta sauce or curry.
MEIDI-YA Kyoto Sanjo Store
Address:78 Higashi-iru-nakajima-cho, Sanjodori-kawaramachi, Nakagyo-ku,Kyoto
Location:5 minutes walk from Keihan Railway Sanjo station
Phone:075-221-7661
Opening hours:10:00~21:00
Closed:New Year's Day
Map
5.SUPER MATSUMOTO Gojo Shop/スーパーマツモト五条店
This is a good size grocery store that has a nice selection of ready to eat materials along with the bakery.
The greatest thing is that the grocery store has an "eat-in" space, where you can eat the items you purchased and relax.
Perfect way to enjoy the top-notch food without spending a lot.
Get the selection of sushi, fried items, gyoza, okonomiyaki, fruits or whatever you want and bring them to there to enjoy.
It is a discounted store, so some items are sold cheaper than other places, especially after 8pm, when read-to-eat materials go on sale!
Of course, a great place to purchase some candies, snacks, or cosmetics as your souvenirs.
The closet station is Tambaguchi Station.
SUPER MATSUMOTO Gojo Shop
Address:60 Chudojibojocho, Shimogyo-ku, Kyoto
Location:5 minutes walk from JR tambaguchi station
Phone:075-813-2358
Opening hours:9:00~23:00
Closed:Irregular holiday
Map
For your information
If you're looking for unique activities and experiences in Kyoto,you can find them here:

There are also a variety of unique food tours in Japan.

If you are a foodie looking for a nice hang-out plan out in the city with the locals, these tours will truly delight you!

Kyoto:
Kyoto Bar Hopping Night Tour:

Kyoto Night Foodie Tour

Osaka:
Osaka Bar Hopping Food Tour in Namba:

Tokyo:
Classic Food Tour in Shinjuku

Related posts(Including ads)