Japanese ramen restaurants are expanding overseas rapidly.

Soy sauce taste ramen is the most popular ramen seasoning for Japanese. But it seems Tonkotsu(Pork bone ) taste ramen is the best ramen seasoning for foreiners.

I am Japaese but I find Tonkotsu ramen the best! I like the rich and creamy Tonkotsu ramen Broth.

I would like to introduce you top 5 best ramen restaurants(Tonkotsu broth) in Osaka.

Sponsored Link
Top 5 best ramen restaurants in Osaka!
1.Ippudo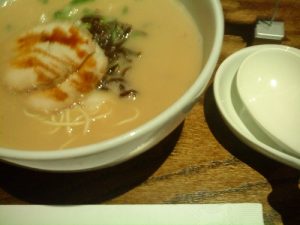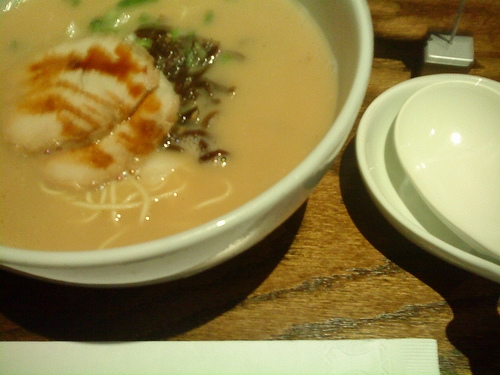 Ippudo ramen is very poplar with foreigners. Some restaurants expanded to overseas.
It has two unique tonkotsu broths "red" and "white". Red added Miso and flavor oil to Tonkotsu soup. I prefer white to red.
Address: Kakuda-cho 6-7, Kita-ku, Osaka
Location: 5 minutes from Hankyu Umeda station or JR Osaka station.
Phone: 06-6363-3777
Open Hour: Mon-Thu,Sun,holidays 11:00~3:00/ Fri-Sat,days before holidays 11:00~4:00
Closed: –
Price(Lunch) (Dinner) ~1000 yen
Map
2.Ichiran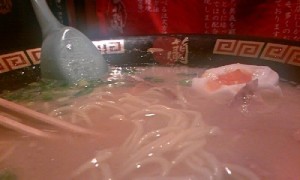 Ichiran is a popular ramen chain restaurant in Osaka.
A creamy Tonkotsu broth is really good here. They only sell one type of ramen, but then allow you to personalize it however you want. If you like Tonkotsu broth, you can try strongest one.
You can order extra noodle, if the ramen portion is small for you.
Address: 7-18 1F Souemoncho Chuo-ku Osaka-shi Osaka-fu
Location: 4 minutes from subway Namba station (exit 14)
Phone: 06-6212-1805
Open Hour: 24 hours
Closed: –
Price(Lunch) (Dinner) 790yen
Map
3.Muteppo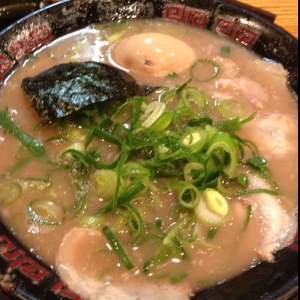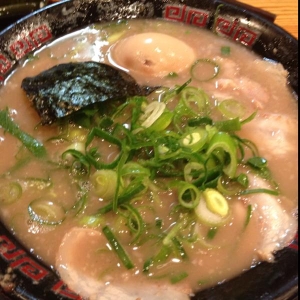 If you like thick Tonkotsu broth, try ramen here! Muteppos ramen is really thick and rich. This Tokotsu broth is addictive to thick ramen lover
Address: 1-5-21 Ebisu-Honmachi, Naniwa-ku, Osaka-
Location: 2 minutes from Subway Midosuji or Yotsubashi line(Exit 4)
Phone: 06-6645-0522
Open Hour: 11:00~15:00, 18:00~23:00
Closed: Monday
Price(Lunch) (Dinner) ~1000 yen
Map
4.Bakkoshi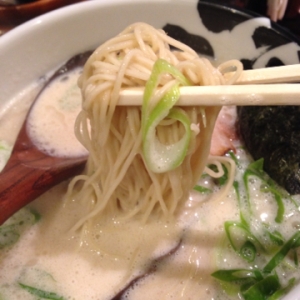 Photo by Retty
Bakkoshi s ramen is extra flavored ramen. It will served with a rich slice of roast pork. This roast pork is very tasty!
This restaurant is not crowded compare to the other restaurants I introduced. But it is very delicious! I strongly recommend you to eat ramen here.
Address: 2-12-41 Jusohigashi Yodogawa-ku Osaka
Location: 2 minutes from Hankyu Jyuso(East Exit)
Phone: 06-6886-5180
Open Hour: 11:30~14:30, 18:00~25:00, Lunch,Late night (After 10 PM),Late night (After midnight), Open on sundays
Closed: Wednesday
Price(Lunch) (Dinner)~1000 yen
Map
5.Tenjinki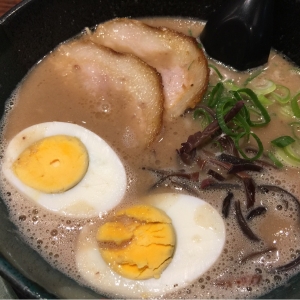 Taste of Tonkotsu broth is condensed since it is boiled for 15 hours.
If you don't like the strong smell of Tonkotsu broth, it might be hard to eat ramen here.
I personally like rich and thick Tonkotsu broth, so I love the ramen here.If you like rich ramen like me, I recommend you to try Tenjinki ramen.
Address: 3-19-87 Kamishijo, Higashi yodogawa-ku, Osaka
Location: 5 minutes from Hankyu Kamishinjyo station
Phone: 06-6324-0104
Open Hour: 11:00~14:30(L.O.) 18:00~22:00(L.O.)
Closed: Tuesday
Price(Lunch) (Dinner)~1000 yen
Map
All the ramen restaurants I introduced are very famous in Osaka. If you like very rich Tonkotsu broth, you will love the ramen I introduced.
I'd like to tell everyone's around the world how delicious Japanese ramen is!.If you've never tried the ramen in Osaka, try the one I introduced ,
Click here for related information:
Top 5 best bars in Osaka!Enjoy the Nightlife with locals!
Top 5 best Cheesecake shops in Osaka!The taste you'll never forget!
Sponsored Link