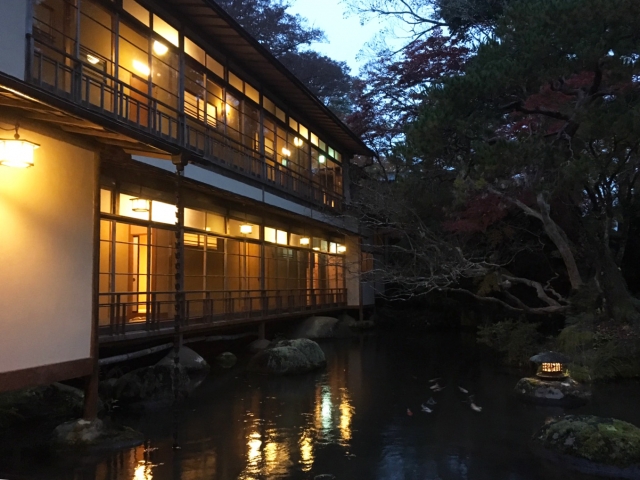 Hi,I'm Keiko from Osaka!

Ryokan is the best way to experience Japanese culture and true relaxation.

It is the best holiday for Japanese to stay in a luxurious traditional ryokan with delicious food and good Onsen.

I prefer Ryokans to Hotels.

It's because Ryokan provide me not only delicious Kaiseki dishes and good onsen, but also great service.

Luxurious ryokan assign an attendant to each guest.

The attendant will lead you to your room and serve your dishes in your room.

I always enjoy conversation with an attendant every time I stay in Ryokan.

It is fun for me to have a little conversation with her and ask if there is any good sightseeing spots where only locals know about.

I would like you to experience Japanese traditional Ryokan so that you enjoy your stay in Japan.

I'm happy to share with you Top 5 best Ryokans in Kyoto!

Sponsored Links
Top 5 best Ryokans in Kyoto!Experience Japanese hospitality!
1.Ugenta/右源太
Kifune Ugenta is one of the most popular ryokans in Kyoto.
Consisting of only two guest rooms, one is modern room and the other is traditional Japanese room.
In modern room there is a,and in traditional Japanese room there is a hearth called "Irori".
Irori is a Japanese sunken hearth in the traditional Japanese living room.
In the days of old Japan, farmers family members gathered around the Irori,and having dinner together while cooking their food with Irori.
A hearth in the Japanese-style room and a fireplace in the Western-style room, the maisonette type guest rooms also have a private open-air bath(Rotenburo)on the second floor.
From May to September, breakfast and dinner will be served outside on the 'Kawadoko', a dining patio extended over the Kibune River.
It is highly reccomended to stay here to experience the taste of traditional Japanese ryokans.
Address: 76 Kifune-cho, Sakyo-ku, Kyoto
Location: 5 minute taxi ride from Kibune-guchi Station (Eizan Line)
Phone: 075-741-2146
Price range: 80,000~120,000 yen
Map
2.Seryo/芹生
Seryo has made an appearance on the Michelen Guide for seven years in a row, marking one of the most popular ryokans in Kyoto.
It is located next to Sanzen-in temple of Ohara where you can enjoy the traditional atmosphere of Kyoto.
It is surrounded by Japanese garden so you can enjoy beautiful garden-view from all the rooms in Seryo.
Guest rooms are chosen between modern and classic Japanese-stylle rooms, both with a spectacular view of the traditional courtyard.
Many are fascinated by the relaxing hotsprings and open-air baths(Rotenburo), and also by the seasonal vegetables from the Ohara area that they offer.
I recommend you to walk around this area especially in the morning to enjoy scenic view in a calm atmosphere of Ohara.
Address: 22 Shorinincho, Ohara, Sakyo-ku, Kyoto
Location: 15 minute taxi ride from Karasuma line Kokusai Kaikan station
Phone: 075-744-2301
Price range: 40,000~80,000 yen
Map
3.Gion Hatanaka/祇園畑中
Gion Hatanaka is a foreign-friendly ryokan located near the Yasaka Shrine,which stands in the heart of the Higashiyama sightseeing district.
From here, guests can enjoy easy access to all the famous sightseeing spots in Kyoto.
This Ryokan features traditional Japanese style rooms with tatami flooring and futons.
Gion Hatanaka is most famous for their geisha entertainment during dinner time.
You can enjoy Japanese cultural Geisha and Maiko(apprentice geisha) dance while having delicious kaiseki cuisine in the restaurant.
As it is known as a Ryori-ryokan (a ryokan for Japanese cuisine), Hatanaka serves one of the best Japanese cuisine, varying from crab to matsutake mushrooms depending on the season.
The staff are friendly, they will offer the guests warm Japanese hospitality.
Address: 505 Gion Minamigawa, Higashiyama-ku, Kyoto
Location: 10 minute walk from Keihan Shijyo station or Hankyu Kawaramachi station
Price range: 40,000~90,000 yen
Map
4.Seikoro/晴鴨楼
Located near the Kamogawa river, Seikoro was established in 1831 and remnants of the architecture is still passed on now.
It consists of a bath in every guest room but also has a public onsen as well.
The guests can enjoy Seasonal Kyoto-style Kaiseki in the rooms where you can see beautiful traditional Japanese garden outside of the room.
Because of its location near the river, guests usually take a stroll alongside the river after dinner.
The staff are very friendly and helpful.
Although they can't speak english fluently, they do their best to take care of the guests to make their stay comfortable.
It's a bit overpriced, but staying at Seikoro will give you a great experience in Kyoto.
Address: 467 3-chome, Gojosagaru, Nishi-tachibana, Tonyamachi-dori, Higashiyama-ku, Kyoto
Location: 7 minute taxi ride from JR Kyoto station,5 minute walk from Keihan Shimizu Gojyo Station
TEL: 075-561-0771
Price range: 25,000~120,000 yen
Map
5.Hoshinoya Kyoto/星のや
Hoshinoya is most certainly the best hotel in Arashiyama.
Hoshinoya Kyoto's concept is the harmony of nature and culture.
Guests take a ride on a small boat from Togetsukyo bridge, in which they are invited in to the entrance of the hotel.
All guest rooms are river-view, and following their concept of feeling nature, guest rooms don't have televisions.
Hoshinoya offers many activities, and some include taking a walk in rental kimonos, or visiting famous 'Ochaya' s where maiko entertainment can be enjoyed.
All the staff are welcome you with authentic Japanese hospitality.
I'm sure staying at Hoshinoya will be a once-in-a-lifetime experience for you.
Address: 11-2, Genrokuzan-cho, Arashiyama, Nishikyo-ku, Kyoto city, Kyoto
Location: 30 minute taxi ride to Hoshinoya Boat Landing,15 minute walk from JR Sanin Main Line Saga-Arashiyama Station
Phone: 0570-073-066
Price range: 55,000~170,000 yen
Map
If you are a little nervous about staying at a traditional Japanese ryokan due to many unfamiliar Japanese customs(remove your shoes,using chopsticks…),you can ask the attendants at Ryokans.
All the staff will be happy to help you.
Staying at Ryokan would be the best way to experience Japanese culture and hospitality.
I hope you'll have a comfortable stay at these Ryokans!
Click here for related information:
Local tells Top 5 best Ryokans in Arashiyama,Kyoto!Luxury Inn with a great view
Local Guide:Kiyomizu Temple in Kyoto!Top 5 Must see spots!
Related posts(Including ads)