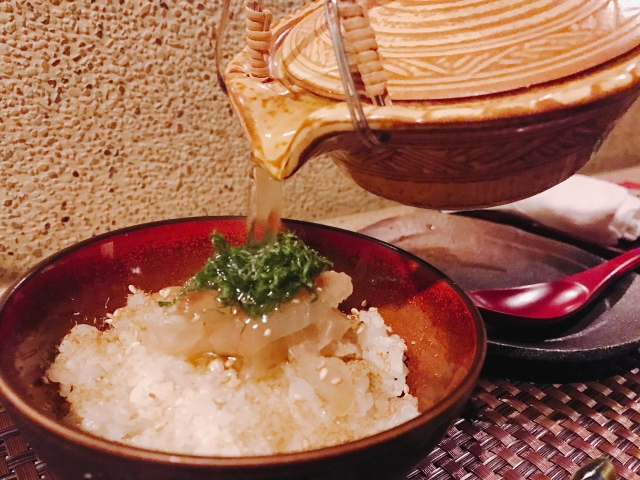 Hi,I'm Keiko from Osaka!

When travelling overseas, one of the most exciting things is to eat local specialities.

Kyoto has very attractive sightseeing spots for tourists with historical temples and shrines.

Kyoto's cuisine also has a long history, and there are many good foods in Kyoto.

If you come to Kyoto,you should definitely try the local specialities!

This time I'll be introducing a ranking list of 10 Must-Eat foods in Kyoto!

Sponsored Links
10. Chirimen Sansho/ちりめん山椒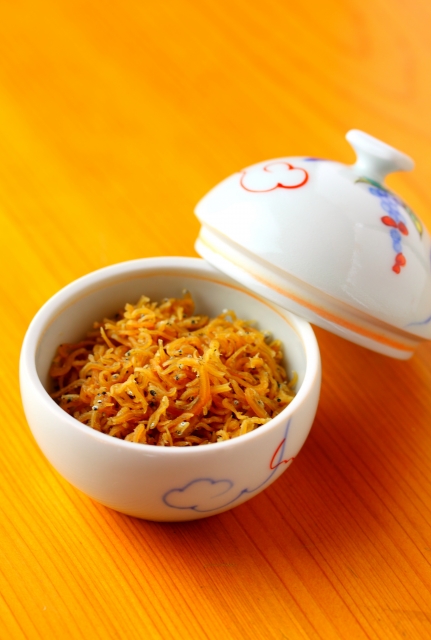 Chirimen Sansho is made of dried young sardines seasoned with Japanese Sansho pepper.
It is a local product and a popular souvenir of Kyoto.
The 'Big Three' of shops that sell Chirimen Sansho in Kyoto are said to be Shinonome, Harema, and Yayoi.
It has a spicy taste and it goes well topped on cooked rice.
9. Ochazuke (Bubu Zuke)/お茶漬け(ぶぶ漬け)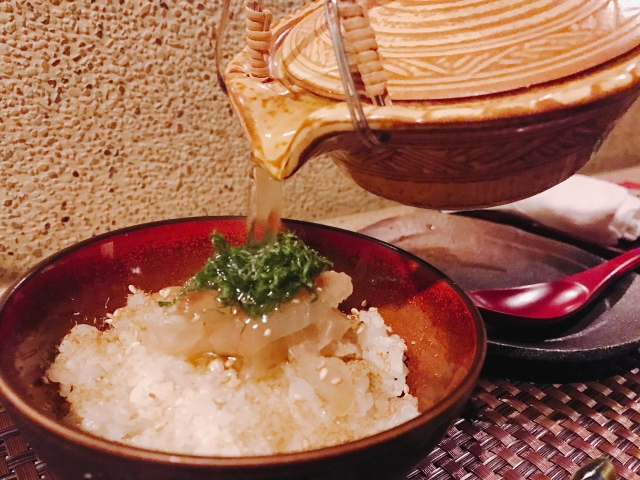 Ochazuke is cooked rice topped with Japanese tea, and is a popular type of Japanese household meals enjoyed at any time of the day.
It was known as Bubu Zuke in Kyoto long ago, but nowadays only a few people use that term.
Akoya-Chaya is a recommended restaraunt that serves Ochazuke in buffet style, onlu from 1,450 yen with a variety of toppings.
8.Kamo Nanban/鴨南蛮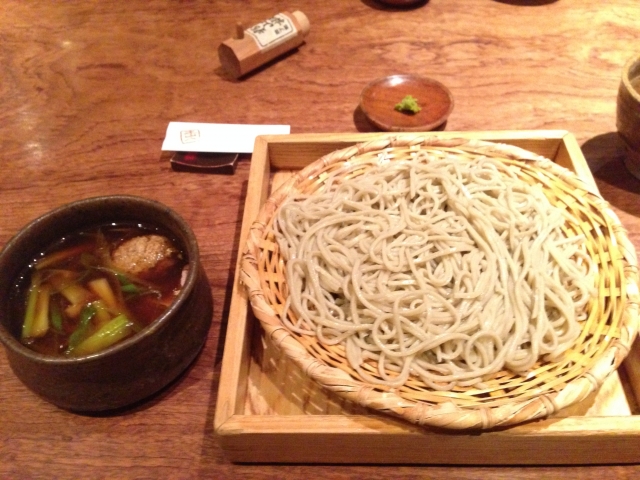 Ranking 8th is Kamo Nanban, a type of buckwheat noodles called soba topped with hot soup made with duck meat and green onion.
Ducks grow fat mainly during the winter, so Kamo Nanban is said to be best during the cold winter season.
Established in 1916, Daikokuya is known as a long-standing restaraunt that serves one of the best Kamo Nanbans in the city.
7. Nishin Soba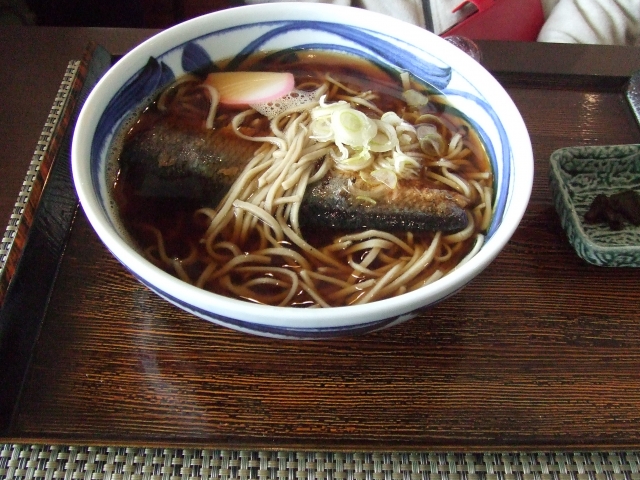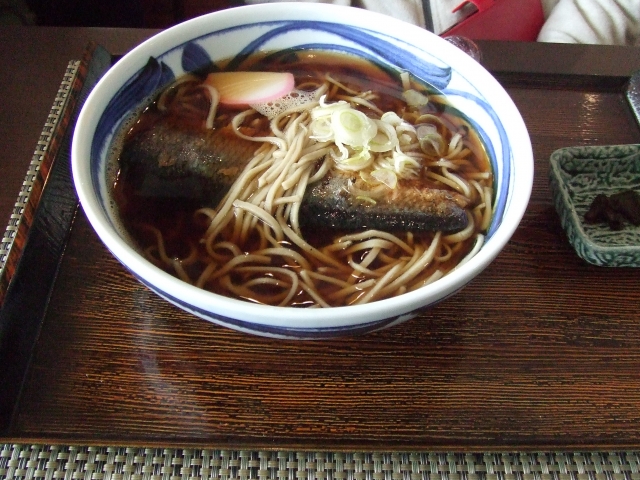 Once again ranks the soba noodles, this time topped with a sweetened herring fish.
It is a popular product of Kyoto and also Hokkaido, and can be enjoyed both hot and cold.
Opened for more than 100 years, Nishin Soba originated in a restaraunt called Matsuba, a soba shop located inside the Shinkansen concourse of Kyoto station.
6. Kawadoko Ryori/川床料理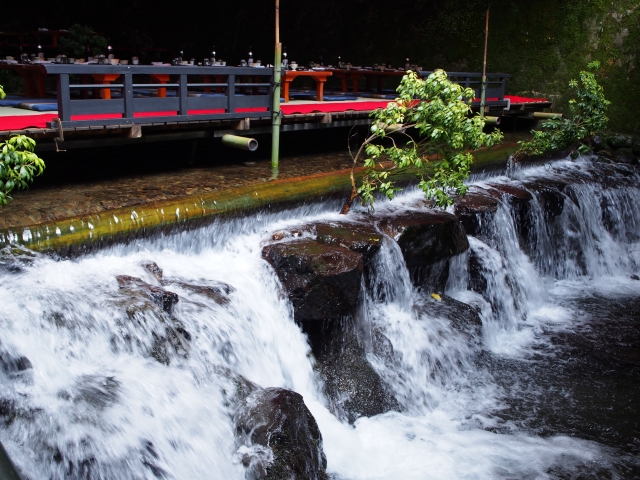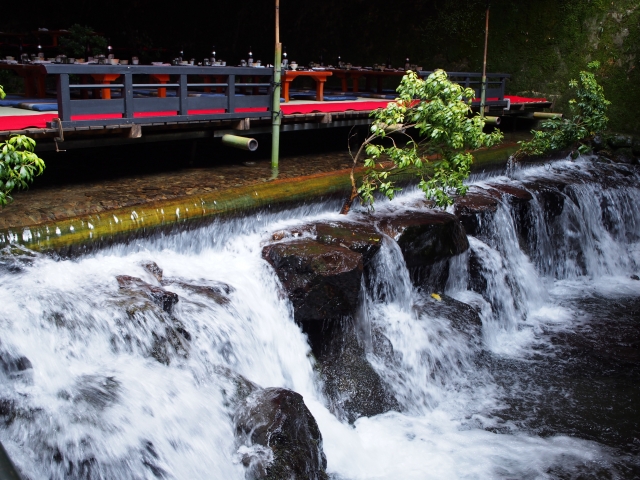 Every May through September, restaraunts and Ochayas build tatami mats over rivers, or on places with a great view usually on riversides.
Customers enjoy seasonal Japanese cuisine at the cool and refreshing location.
They are usually served as course meals with delicious vegetables and fish consumed locally.
The famous "Starbucks" is also located in Sanjo Ohashi over the Kamogawa River.
5. Hamo Ryori (with Cha Soba)/はも料理(茶そば付)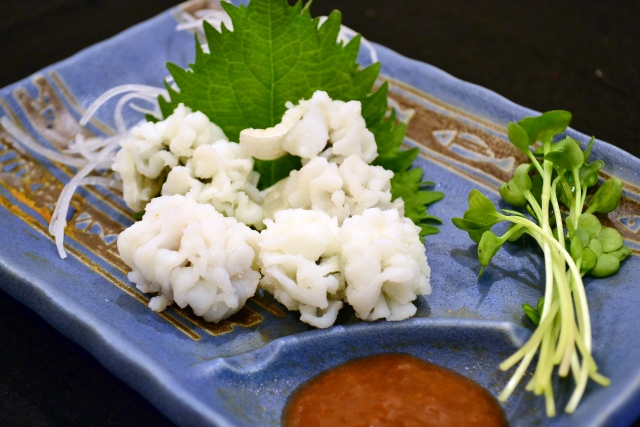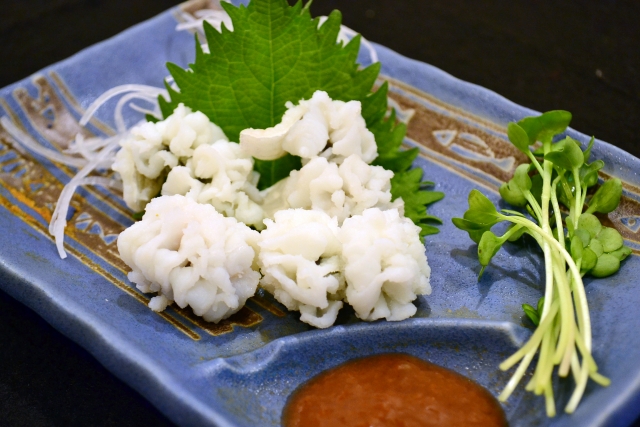 Hamo is a type of sea eel that can be enjoyed in a variety of dishes such as Kabayaki (broiled eel), boiled, or even as sushi.
It is known to be very expensive. Hamo Tempura goes very well with Cha Soba, a type of soba noodles made with Matcha, giving it a bright green color and distinct taste.
Cha Soba is one of the local specialities of Kyoto.
Sangenan specializes in Hamo Ryori, and is highly recommended out of the many Hamo restaraunts in Kyoto.
4. Obanzai/おばんざい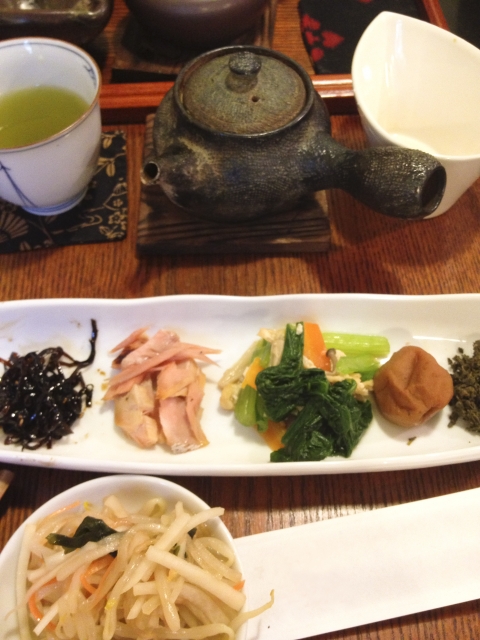 Obanzai is a term used for everyday household dishes served in typical homes in Kyoto.
It mainly uses vegetables produced in Kyoto, and the most popular dish is the Taitan, a dish made by cooking root vegetables with soup stock made from fish, kelp, and shiitake mushrooms.
Hinataya offers a buffet style restaraunt of Kyoto Obanzai and can be enjoyed from 1,800 yen with a 1 hour time limit.
3. Yudofu/湯どうふ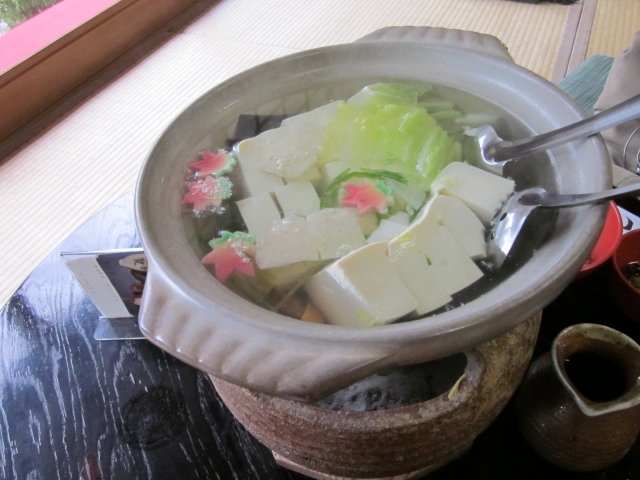 Now on to the top 3, Yudofu is a Japanese cuisine using only tofu, kelp, and a hotpot.
Tofu is boiled in a hotpot consisting of kelp, and when the tofu is cooked it can be enjoyed with a variety of dipping sauce such as soy sauce and ponzu with toppings like green onion, grated daikon, or yuzu citrus fruits.
Nanzenji Junsei is known to serve one of the best Yudofu in Kyoto.
2. Ramen/ラーメン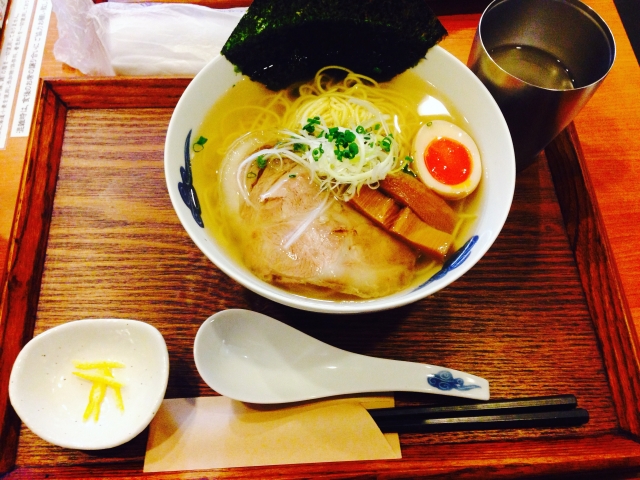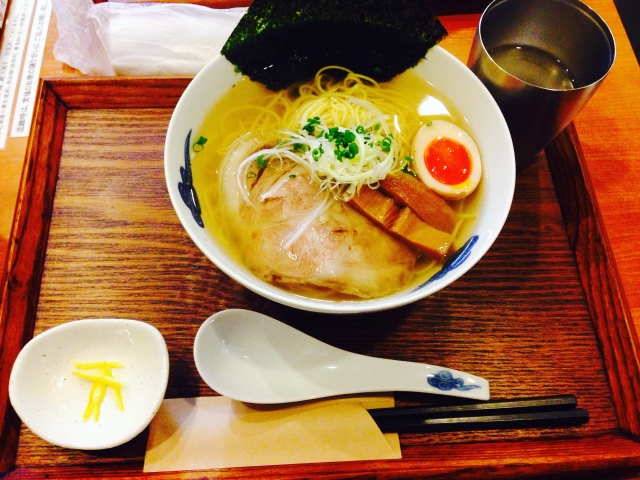 It might seem out of the blue, but Kyoto is famous for its number of ramen shops.
Although Tokyo is the capital of Japan, Kyoto is not in the least inferior in the respect of it's influence and economic development, resulting in the increasing number of ramen shops, Japanese' all-time favorite meal.
Established in 1971, chain store Tenka Ippin's main store is located in Ichijoji, a highly competitive marketplace of various ramen shops.
Kyo-style ramen is a bland ramen created based Kyo kaiseki.
It is highly recommended to taste one of the best ramen in Japan at it's main restaraunt.
1.Kaiseki Ryori/懐石料理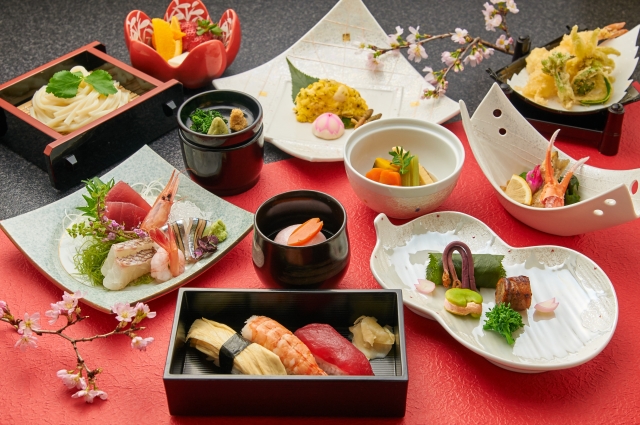 On the top of the ranking list is the Kaiseki Ryori.
This traditional Japanese cuisine mainly serves seasonal dishes and is served as a course meal.
Dishes also play a big role in the presentation of the cuisine.
Chefs use ceramic pottery, porcelain, glass-ware, and other famous pieces.
There are so many Kaiseki restaraunts in Kyoto which makes it challenging to choose just one, but some recommended restaraunts are Kikunoi Honten, Gion Sasaki, and Kifune Chaya.
Did you know all the local specialities in Kyoto?
Every time I visit Kyoto,I enjoy different kinds of local foods while visiting many shrines, temples.
I hope you'll enjoy local foods in Kyoto!
For your information
If you're looking for unique activities and experiences in Kyoto,you can find them here:

There are also a variety of unique food tours in Japan.

If you are a foodie looking for a nice hang-out plan out in the city with the locals, these tours will truly delight you!

Kyoto:
Kyoto Bar Hopping Night Tour:

Osaka:
Osaka Bar Hopping Food Tour in Namba:

Tokyo:
Classic Food Tour in Shinjuku

Click here for related information:
Local tells Top 5 Must-eat restaurants in Kyoto!Enjoy the best casual dining!
Related posts(Including ads)