Hi,I'm Keiko from Osaka!

Arashiyama is the western outskirt of Kyoto that is known for scenic beauties and numerous historic site.

There is a beautiful mountain and mystic valley where many from all over the world come to admire especially in spring and fall.

This is a perfect spot for a quiet stroll, hiking, admiring historical properties, cultural activities, etc.

Here are top 10 things to do in Arashiyama!
Sponsored Links
10 Things to Do in Arashiyama
1.Togetsukyo Bridge/渡月橋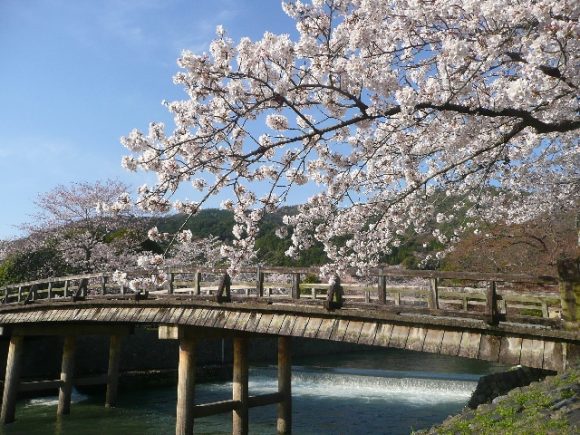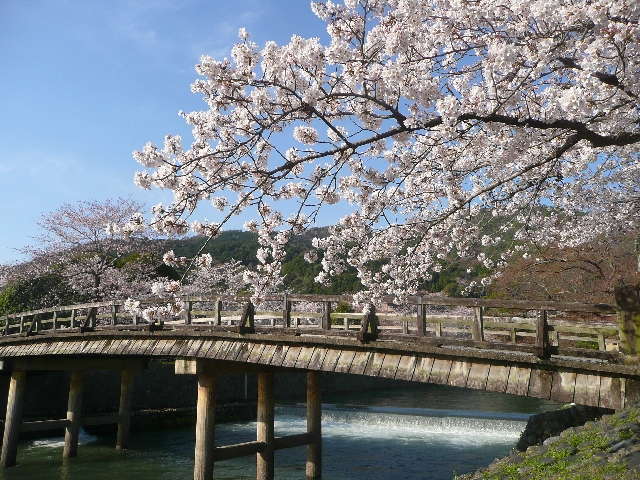 Togetsukyo bridge is one of the most scenic bridges in Japan.
It is a scenic 155-meter bridge crossing across Katsura river, rebuilt in 1934.
"Togetsu" literally means the moon crossing, deriving from a historical tale that the emperor once viewed the moon there and thought it was crossing the bridge.
Besides the scenic beauties of the mountain of Arashiyama and serene river, there are souvenir shops, restaurants, and cafes.
This is a perfect place for a stroll.
In order to get there, take JR Sagano or Sanin Main line from Kyoto station to Saga Arashiyama station.
Alternately, you may take Keifuku or Arashiyama Main line to Arashiyama station.
2.Tenryuji Temple/天龍寺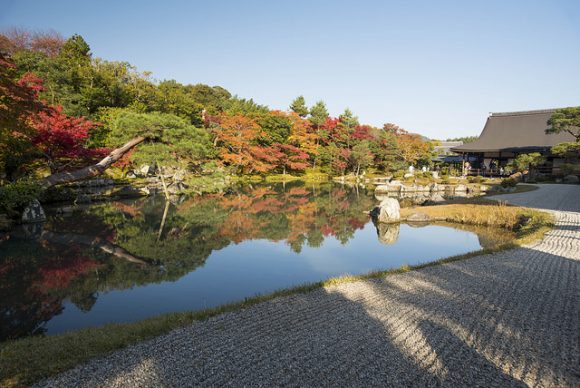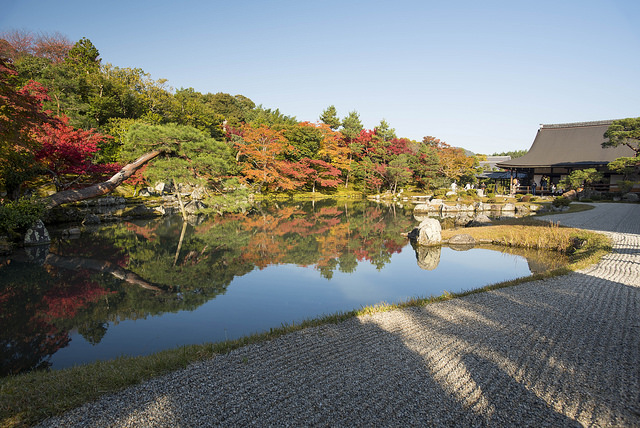 Tenryuji temple perhaps is the most significant zen temple in Arashiyama.
Established in 1339, this historic temple is registered as the World Heritage site.
The temple building has been renovated, repaired numerous times however the famous garden has kept its charm from the original time.
The beautiful garden that surrounds the big pond reflect the surrounding nature of Arashiyama and will give you a peace of mind.
The temple is a short walk from Keifuku Arashiyama Station.
https://www.govoyagin.com/activities/japan-kyoto-enjoy-sagano-torokko-stroll-arashiyama-and-river-boat-ride-kyoto/6428#anchor-cart-editor?acode=stevejobko
Tenryuji Temple
Address: 8 Saga Tenryuji Susukinobabacho, Ukyo-ku, Kyoto
Location: 15 minutes walk from Hankyu-line Arashiyama station.5 minutes walk from JR Sagano line Saga-Arashiyama station
Phone: 075-881-1235
Opening hours: Summer: 8:30-17:30 / Winter (Oct. 21-Mar. 20): 8:30-17:00
Admission fee: Garden only: High school students and older: ¥500,Elementary and middle school students: 300 yen Preschool children: Free
Tenryu-ji Garden and Temple: Admission fees are the same as above, Additional fee for 300 yen
*Tenryuji's Temple is occasionally closed without notice for special ceremonies or events.
Special Admission to the Cloud-Dragon Painting in the Hatto:500 yen (separate from that for Tenryu-ji's garden and temple)
The Hatto is open on Saturdays, Sundays, and holidays only, and during specially designated periods during the spring and autumn.
Opnng hours for the special asmission: 9:00-17:00 summer, 9:00-16:00 winter (Oct. 21-Mar. 20).
3.Bamboo Grove/竹林の道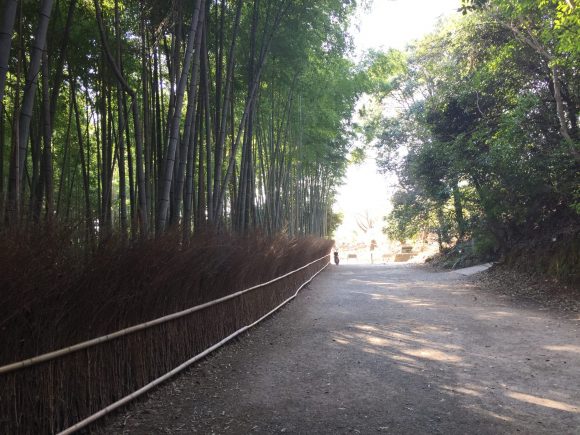 For our international guests, the scene of the deep bamboo forest may have become the symbol image of Kyoto.
Located north of Tenryuji temple, there is a quiet path surrounded with bamboo.
Being the midst of bamboo is like nothing else.
Especially, if there is a gentle breeze, the sound of the bamboo trees swaying in the wind is so mystical.
You will experience the complete quietness and calmness.
You can walk, rent a bike or ride on one of the traditional carts.
4.Okochi Sanso/大河内山荘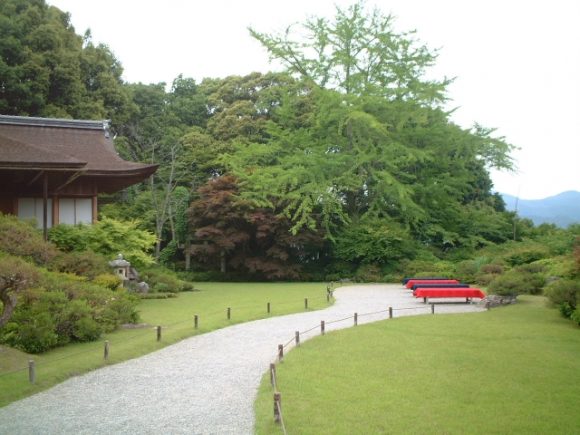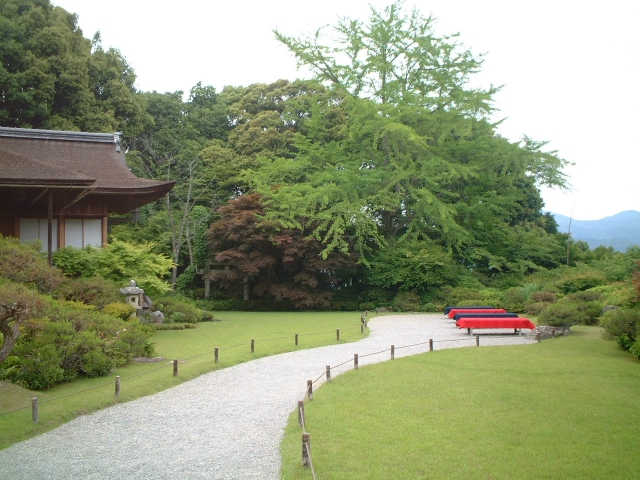 Located right behind the bamboo grove, Okochi Sanso is the former home of a Japanese actor Mr. Okochi.
This private property is known for its beautiful garden and several buildings that are the cultural properties of Japan.
The villa sits on a hill of Kyoto overlooking the city and Hozu river.
The admission, ¥1,000, includes matcha and a Japanese sweet.
Okochi Sanso
Address: 8 Tabushiyama-cho, Saga Ogurayama, Ukyo-ku, Kyoto
Phone: 075-872-2233
Opening hours:9:00-17:00
Admission fee:Adults,College and High school students:1,000 yen,Junior high and elementary school students:500 yen
5.Jojakko-ji temple/常寂光寺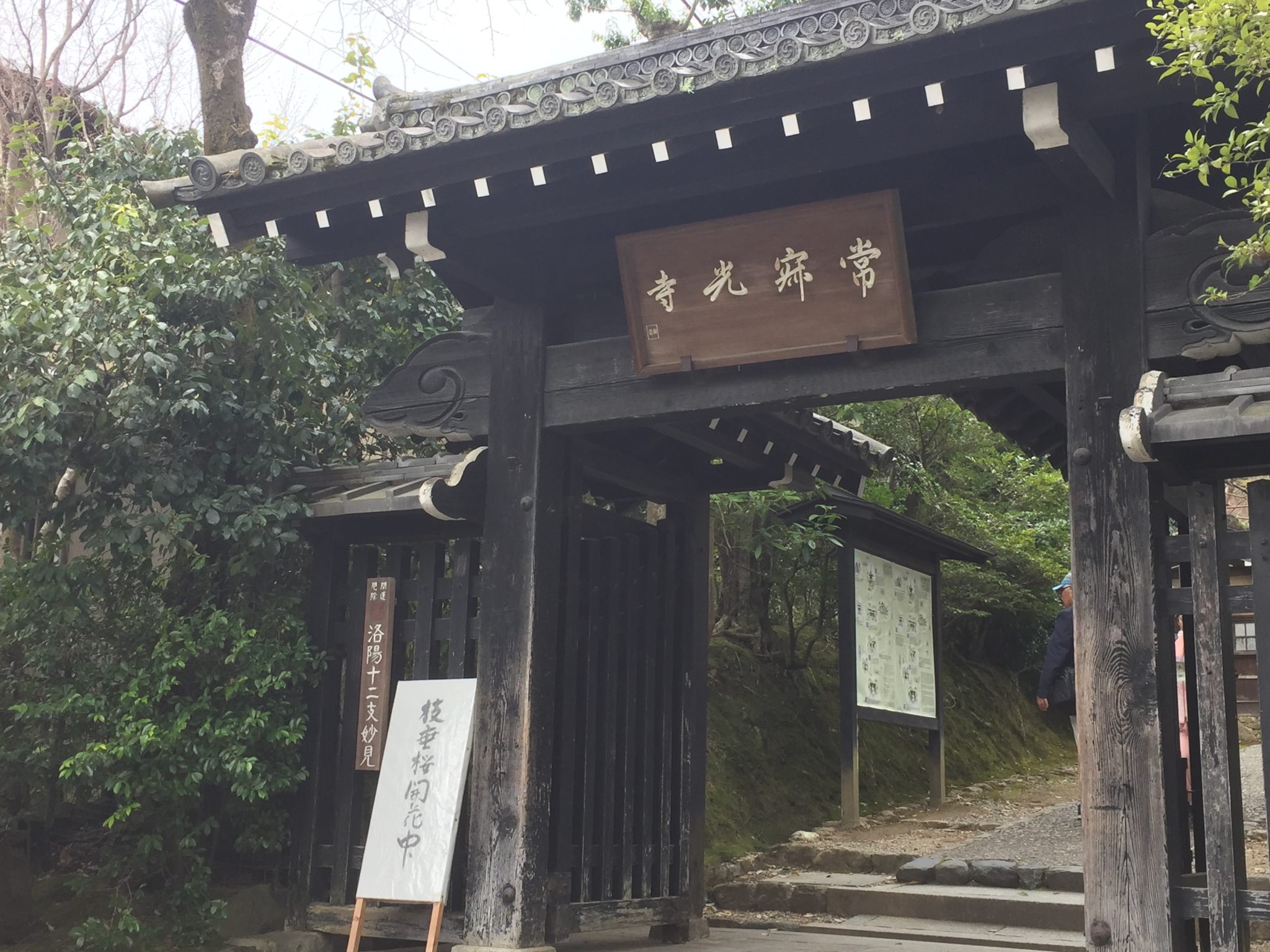 Jojyakoji temple is a quiet Buddhist temple, built in 1596.
This is a nice quiet temple with lots of greenery, a great gate, and a beautiful pagoda.
In the fall, many tourists flock to this temple for its colorful maples.
Jojakko-ji temple
Address: 3 Saga-Ogurayama-Ogura-cho, Ukyo-ku, Kyoto
Phone: 075-861-0435
Opening hours:9:00-17:00
Admission fee:Adults,Junior high:400 yen,elementary school students:200 yen
6.Nisonji-In Temple/二尊院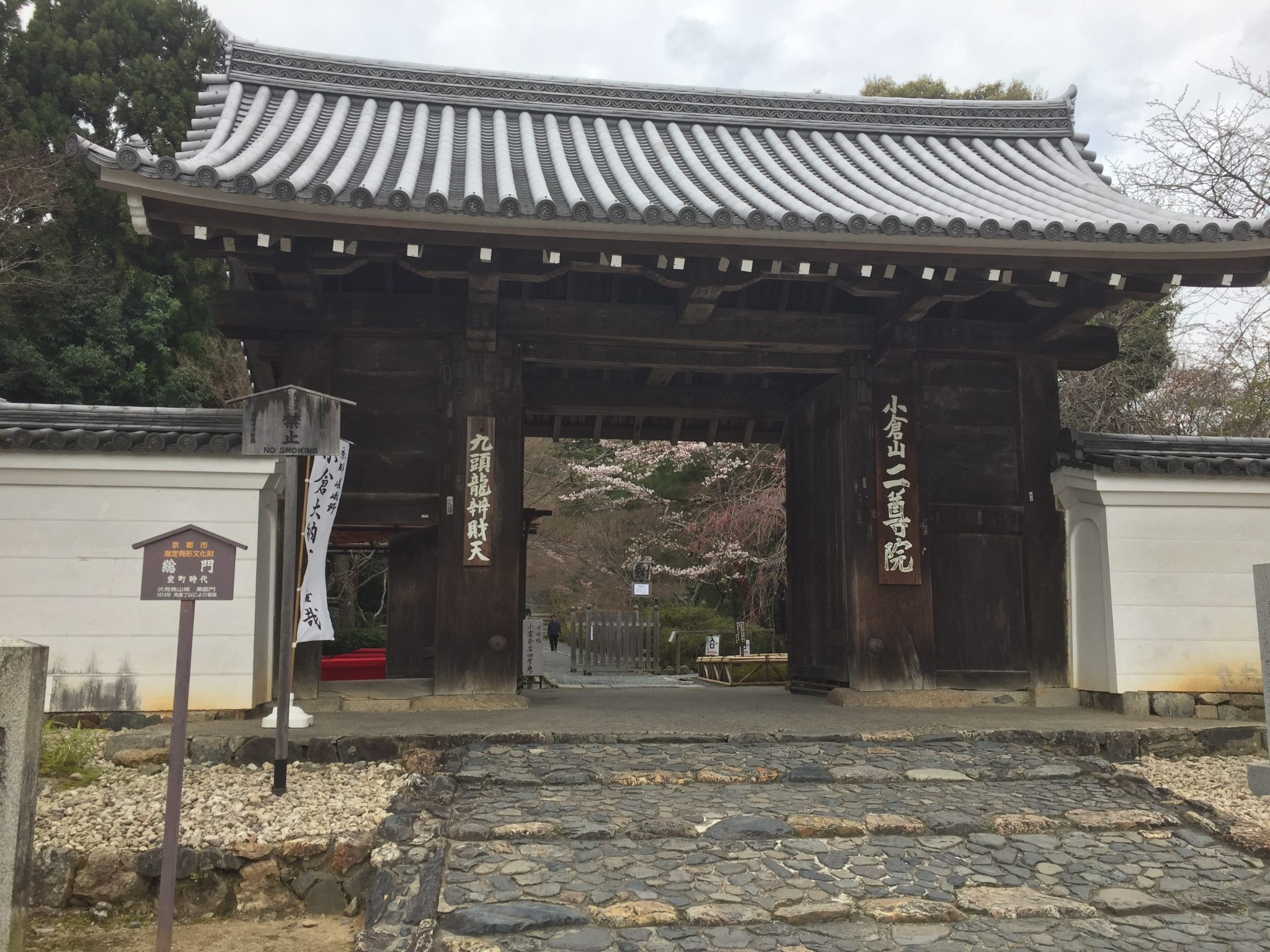 This is another quiet temple perfect for a quiet stroll.
The temple was built in the mid 9the century.
The approach to the main hall is beautiful, with tall trees along the path.
The view here is especially spectacular during the autumn season.
Nisonji-In Temple
Address:27 Chojin-cho, Saga Nison-inmon-mae, Ukyo-ku, Kyoto
Phone: 075-861-0687
Opening hours:9:00~16:30(L.E.16:00)
Admission fee:Adults,Junior high:500 yen,elementary school students:free
7.Gioji Temple/祇王寺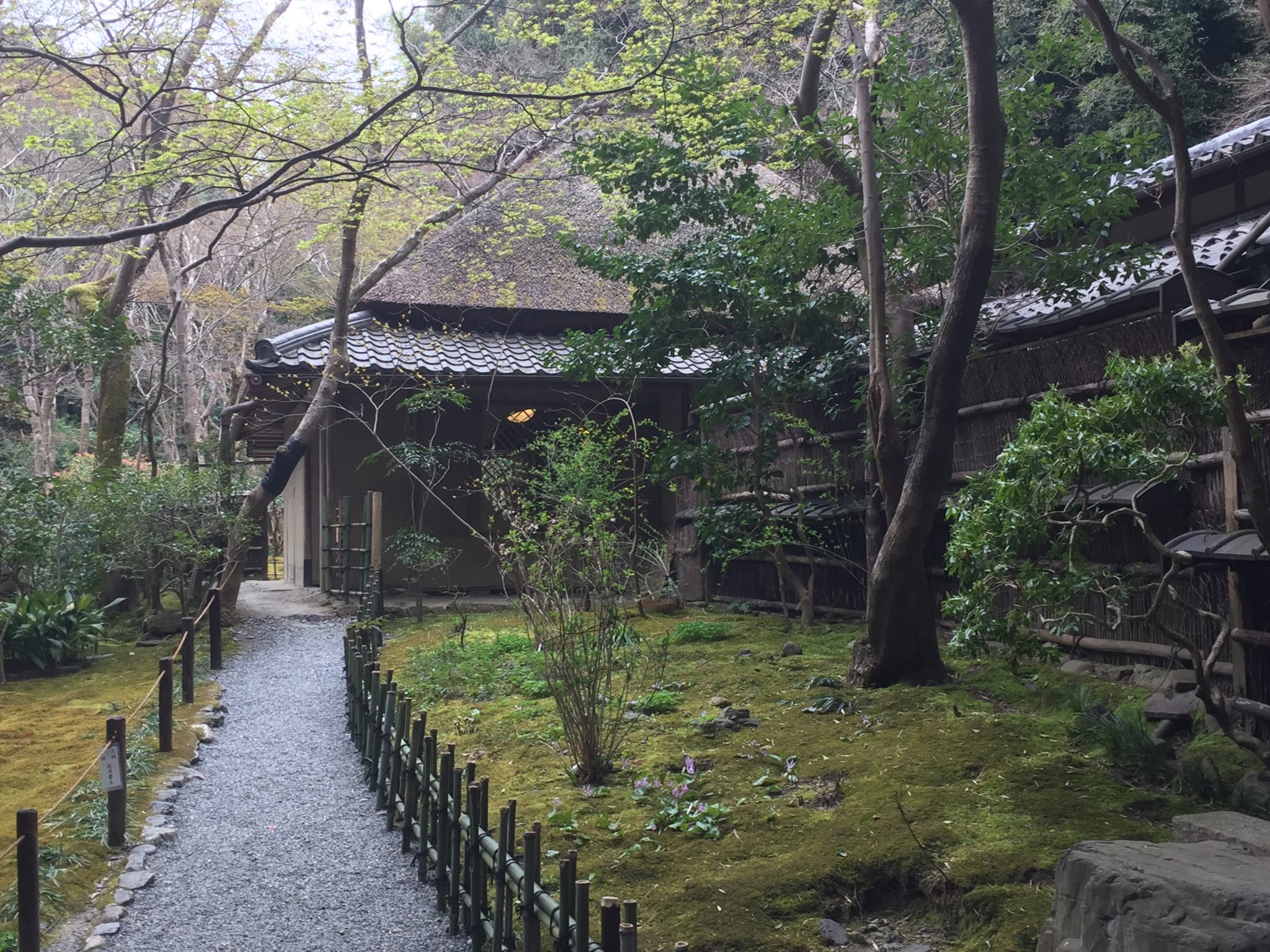 This is a tiny temple that many tourists will ignore, yet it is one of the most scenic temples in Arashiyama.
The moss garden covered thick with fluffy green is so magical.
The roofs of the gate and the main hall are made with thatched roofs.
If you want to surround yourself with green scenery and peaceful atmosphere, this is a place to be.
Gioji Temple
Address:32 Kosaka-cho, Sagatoriimoto, Kyoto
Phone:075-861-3574
Opening hours:9:00~17:00(L.E.16:30)
Admission fee:Adults:300 yen,Junior high and elementary school students:100 yen
※Regular admission to Daikaku-ji Temple is 500 yen and to Gio-ji Temple is 300yen for a total of 800 yen,shared admission ticket of both temples is only 600 yen.
8.Trokko Train – Sagano Romantic Train/トロッコ列車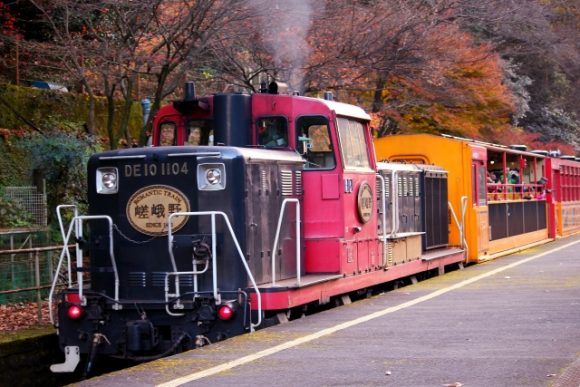 Trokko, or a truck train, runs between the scenic area of Sagano and Kameoka.
The train runs on an old era truck and this ride is very popular among tourists especially during spring and fall.
Some sections of the train are open-air, so you can feel the comfortable breeze as the train goes through the beautiful mountains and valleys of Sagano Arashiyama.
During the peak of the autumn foliage season, you should reserve a ticket as it can get crowded.
For the train schedule, please refer to
Sagano Romantic Train
Please take a look at this as well.
9.Hozugawa River Cruise/保津川下り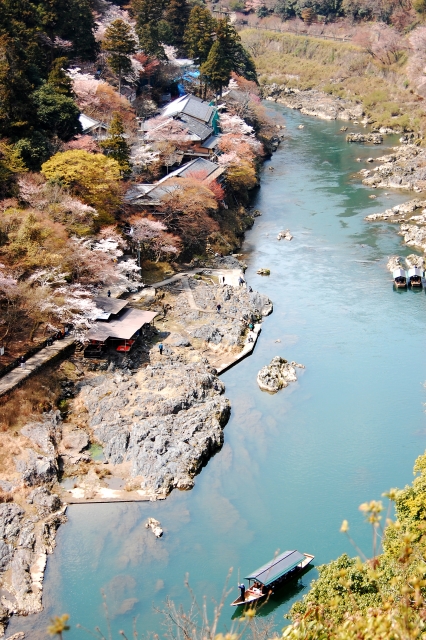 Hozugawa River Cruise is a tourist boat ride on the scenic Hozu river down from Kameoka to Sagano.
This is an extremely scenic ride of about 2 hours guided by the traditional guides who direct the boat with oars and bamboo poles.
It might be a perfect tour if you ride the romantic train up to Kameoka and down the river on the boat.
Please refer to the following article for further information.
Hozugawa River Cruise
Address: 2 Shimo Nakashima, Hozumachi, Kameoka city, Kyoto
TEL: 0771-22-5846
Location: 8 minute walk from JR Kameoka Station, or 15 minute bus ride from Trolley Kameoka Station,From Kyoto station,take JR station to JR Kameoka station
Price: Adult 4,100 yen Child (4-12 years old) 2,700 yen Chartered Boat 82,000 yen per boat
Time: 9:00~15:30 (one boat every hour, seating capacity 24)
10.Arashiyama (Iwatayama) Monkey Park/嵐山モンキーパーク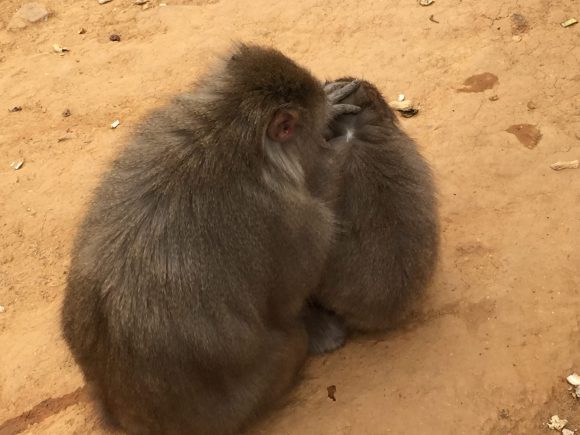 Arashiyama or Iwatayama Monkey Park located in Arashiyama hosts around 120 snow monkeys.
The park is set up almost like a hiking trail where you can get lost in the moneys' habitat.
You can witness snow monkeys in their natural state, hanging from trees, playing around.
They are human fed.
As matter of fact, you can feed them after the hiking.
However they are wild so please "don't intimidate them by looking into their eyes!"
Please refer to the following article for further information.
Arashiyama (Iwatayama) Monkey Park
Address: 8, Arashiyama Genrokuzan-cho, Nishikyo-ku, Kyoto
TEL: 075-872-0950
Location: 5 minute walk from Hankyu Arashiyama staion, 5 minute walk from Keifuku Arashiyama staion, or 15 minute walk from JR Saga Arashiyama station
Price: Adult 550 yen,Child (4-15 years old) 250 yen
Open Hours: March 14 ~ October 31 9:00 ~17:30 November 1 ~ March 14 9:00~16:30
For your information
You can apply for a fantastic one-day Arashiyama tour from overseas through
Voyagin
Related posts(Including ads)