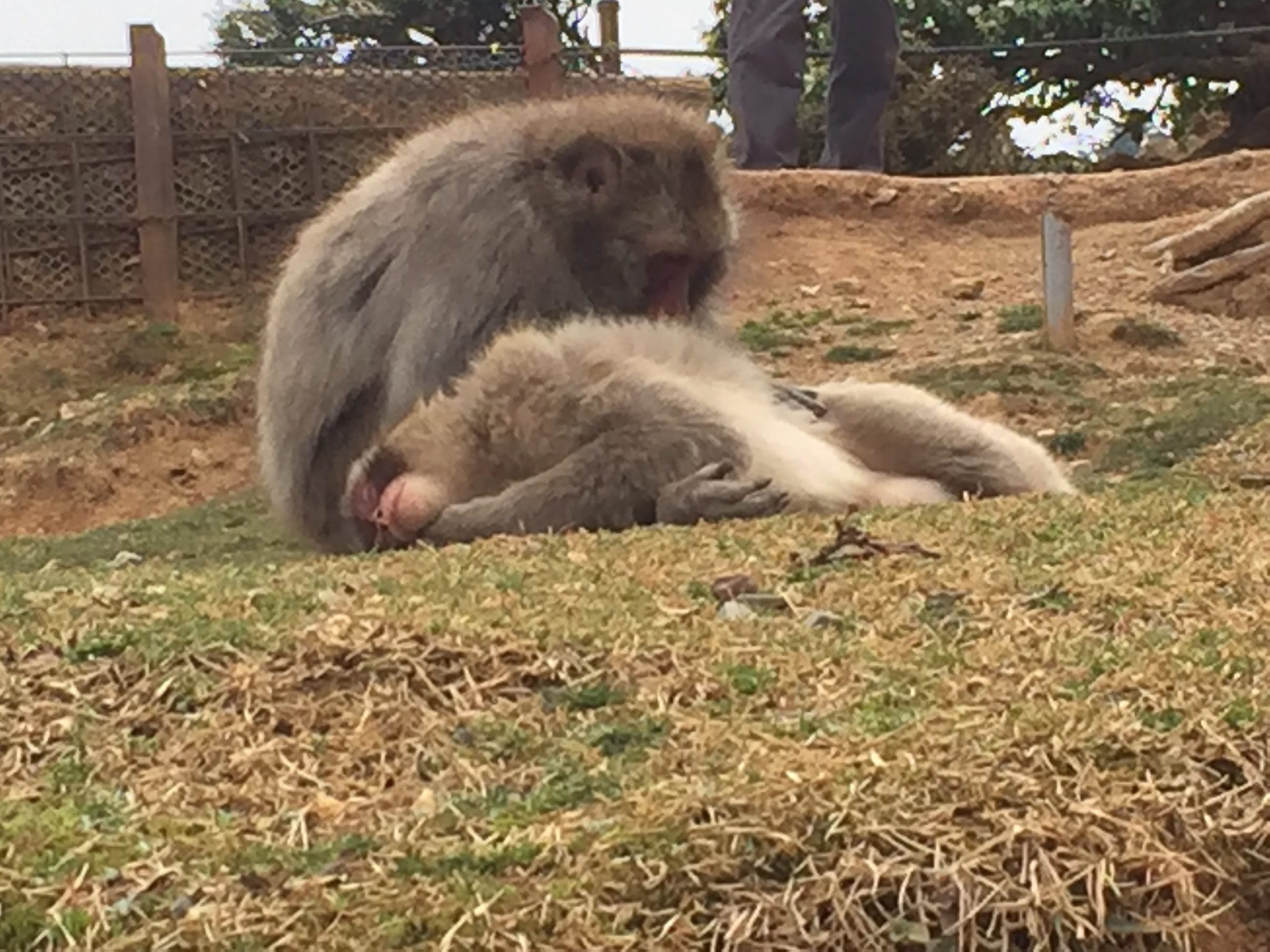 Hi I'm Keiko from Osaka!

Arashiyama monkey park is popular sightseeing spot in Kyoto among domestic and foreign tourists.

More than 120 wild monkeys are living on the Arashiyama Iwatayama mountain.

The observation deck of Arashiyama monkey park is located 160m high,which is taller than Kyoto tower(131 m).

You can not only interact with wild monkeys, but also enjoy overlooking a panoramic view of Kyoto city.

It is the must-go place if you want to see monkeys with a great view.

This time,I'd like to introduce you Arashiyama monkey park in Kyoto!

Sponsored Links
Local Guide:Arashiyama Monkey Park in Kyoto!The best place to see monkeys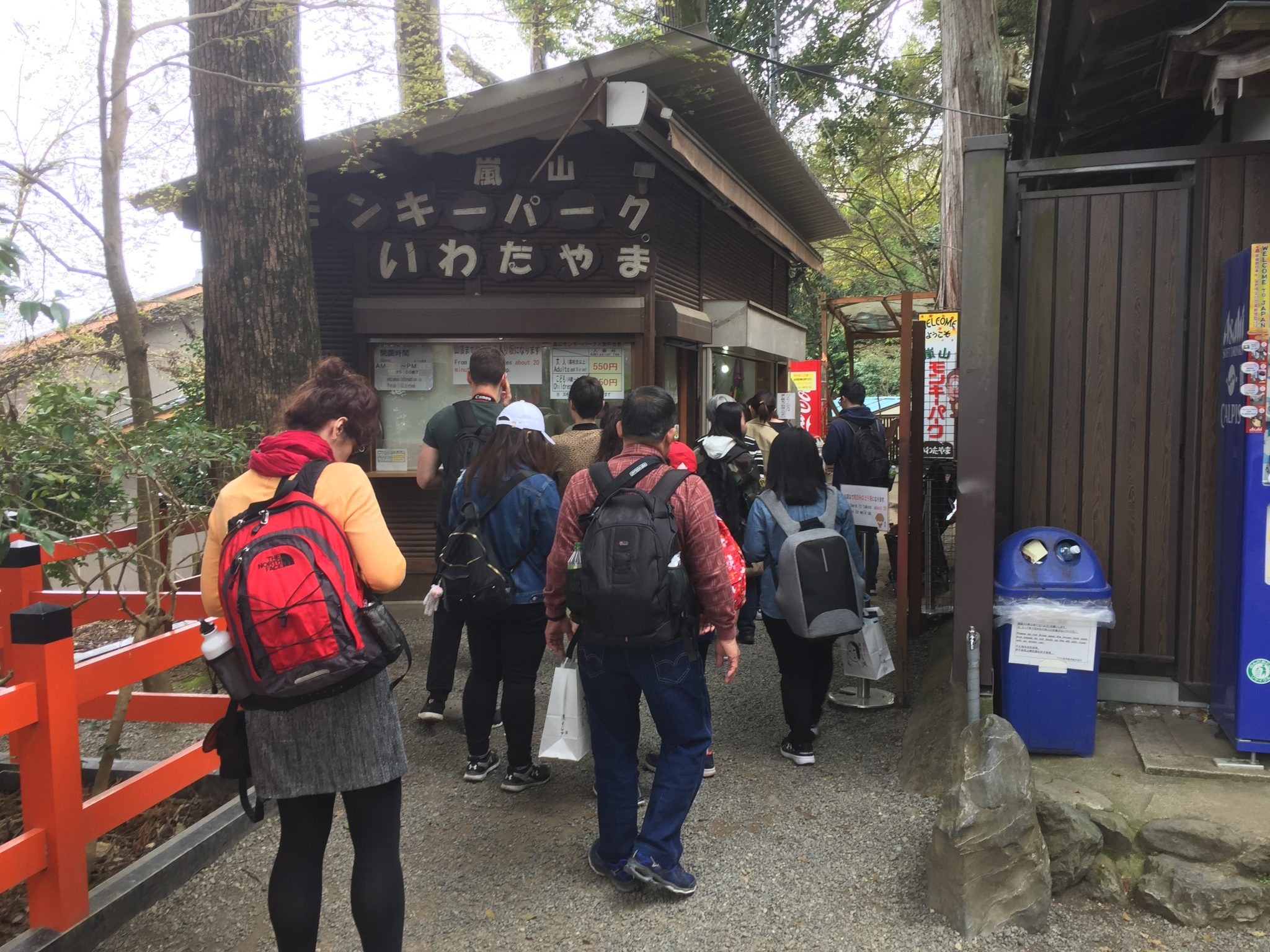 Only a few minutes away from Togetsukyo is the Arashiyama Monkey Park, located on the summit of the Iwatayama mountain.
The entrance of the park is located along the Katsuragawa River and is easily accessible from the Hankyu Arashiyama train station.
There were a few people waiting in line in front of the entrance.
Price for adult is only 550 yen,it's quite reasonable.
After I paid the entrance fee at the reception, I was lead to the trail which leads to the top of the mountain.
The sign board said "From here it takes about 20 minutes to walk up".
The 20 min.walk up was really tough for me because I had already walked a lot around Arashiyama in the morning and I usually don't exercise:)
But I climbed up the mountain in order to see cute monkeys.
Make sure to wear good walking shoes,not high-heeled shoes!
As soon as I climbed up the mountain, cute monkeys welcomed me.
One monkey was grooming,another one looked quite relaxing.
They were so cute!
I forgot about a long walking after seeing these cute monkeys.
When I've got to the top,there were great over Kyoto-City and the wild monkeys were roaming around all over without any cage or wall.
They were unafraid of people,and looked pretty relaxing.
There was a little hut where you can buy some foods(peanuts or fruits) for 100 yen to feed the monkeys.
I was very happy to see the monkeys at very close distance,and it was fun to feed the monkeys and have them take the apples right out of my hand.
The staff explained to me many monkey babies born in the spring.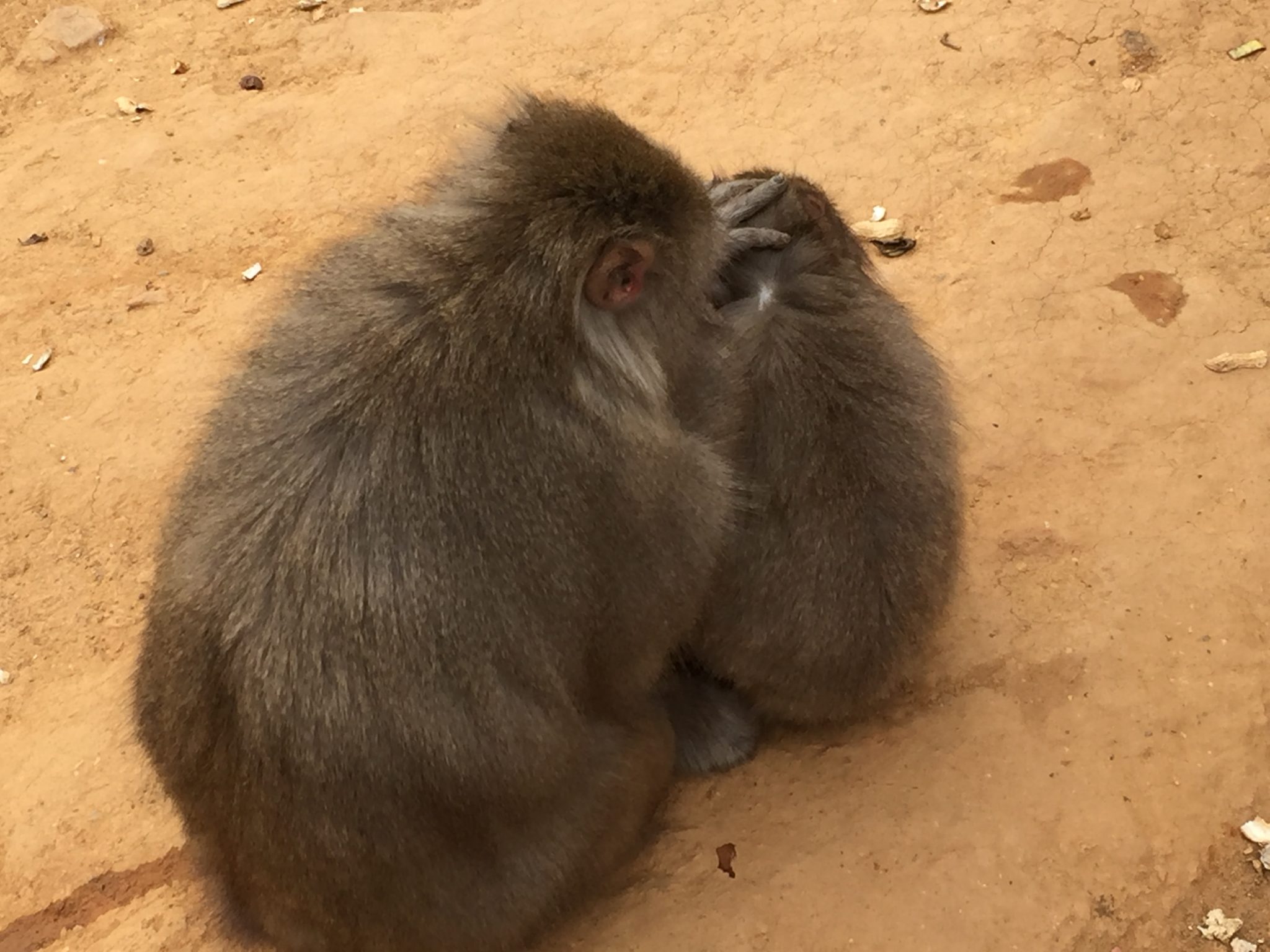 The mother monkey was grooming her baby.They were quite adorable!
There are 3 important rules when you interact with the monkeys:
Don't stare at the monkeys in the eye
Don't touch the monkeys
Don't feed the monkeys outside the hut.
In addition the staff said you have to be at least 2 meters from the monkeys.The monkeys are quite aggressive animals so it's important to follow the rules for your security.
The monkeys here are well trained and they behaved very well in the park but they might have unexpected behavior.
Make sure to follow the rules and enjoy interacting with the monkeys!
History of Arashiyama Monkey Park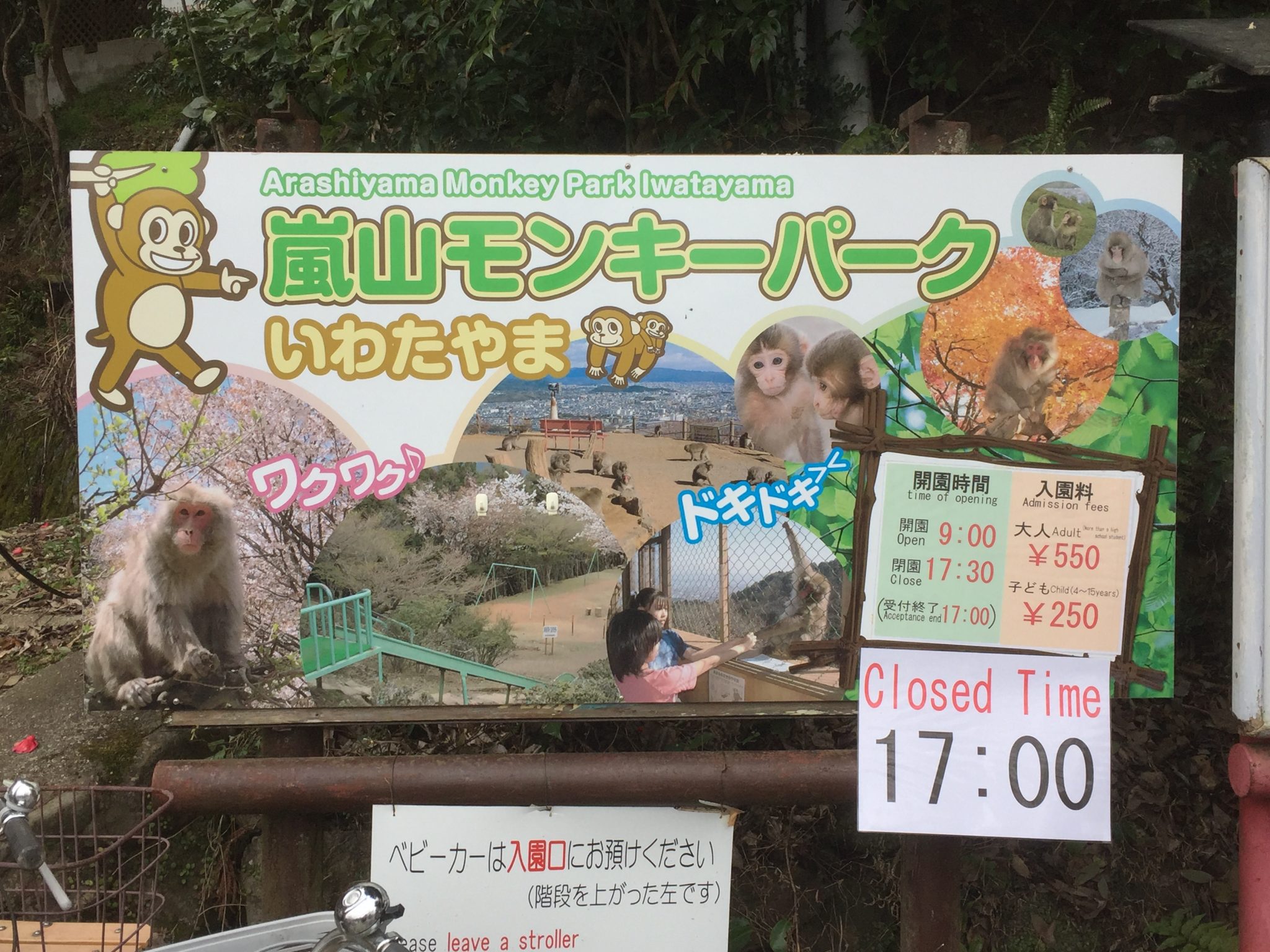 Arashiyama Monkey Park first started in 1954 when wild monkeys were fed and kept for a research conducted by Kyoto University.
This was then opened for the public in 1957 as the name 'Arashiyama Monkey Park' where these monkeys entertained the many tourists that visited this place.
The monkeys used to live the area called Kamomedani valley where 4 km far from Iwatayama mountain.
The staff gradually lure the monkeys with some foods to the Iwatayama mountain so that the tourists can see the wild monkeys.
Because of its good location, many people including kids and families, came to be entertained by these monkeys.
The biggest reason why Arashiyama Monkey Park is so popular is because these wild monkeys are not kept in cages.
Recently it has been especially popular among foreign tourists.
As mentioned before, there are no cages or walls so the monkeys are running and wandering around everywhere.
There are also jungle gyms and playground equipment installed for small children, and rest areas where people can take a little rest.
Not only is Arashiyama Monkey Park famous for its monkeys, but also for the beautiful view of Arashiyama that can be seen from the summit of the Iwatayama mountain.
Because Arashiyama is specified as a conservation area, tall buildings are not allowed to be built, and therefore the view is very clear and fascinating.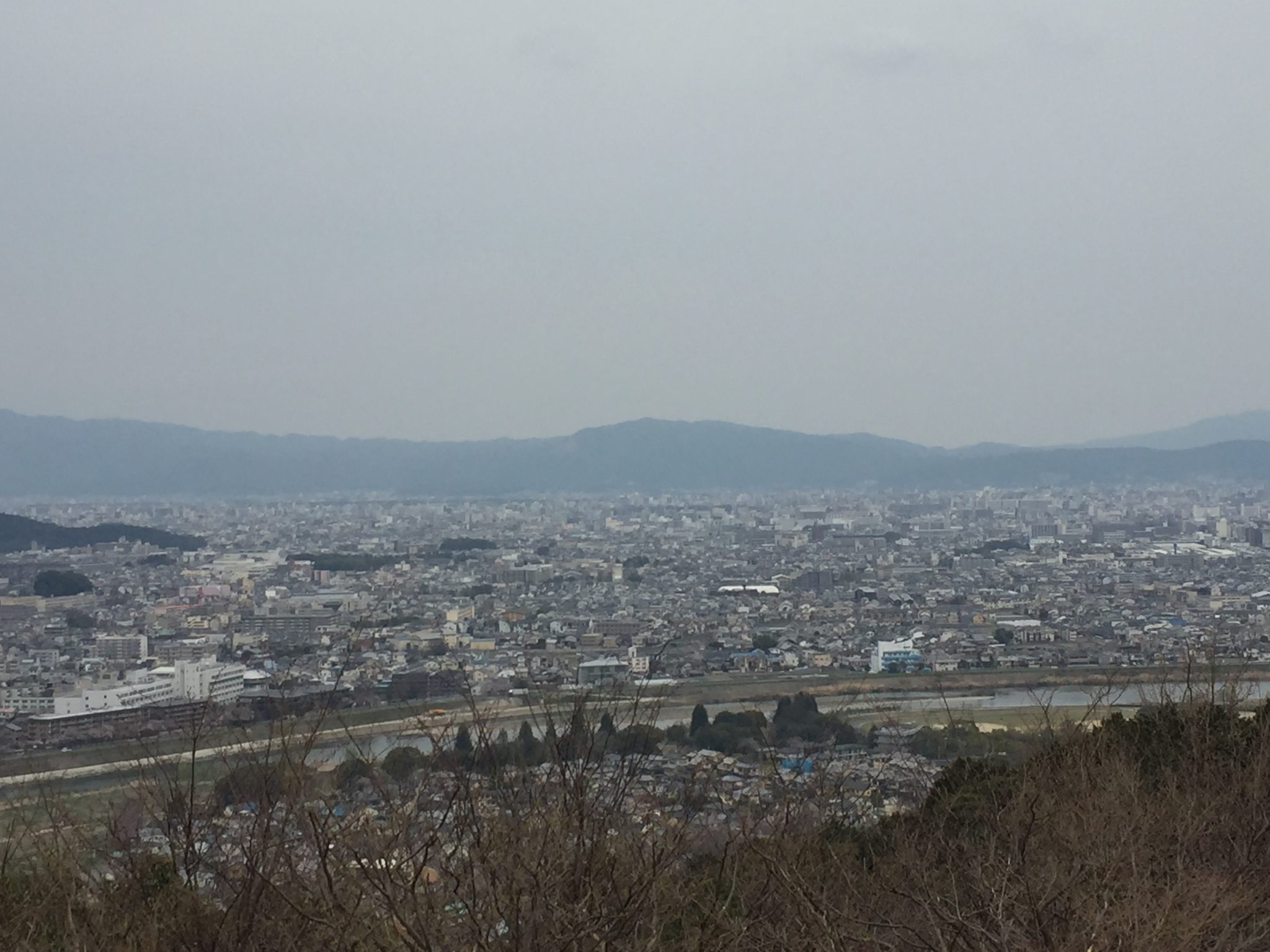 I enjoyed feeding the monkeys and it was a great opportunity for me to see the wild monkeys in a relaxed atmosphere.
It was also nice to get a panoramic view of Kyoto.
It definitely worth 20 min.hike when you get to the top.I was refreshed to be up an high mountain.
I hope you'll have a great time at Arashiyama monkey park!
Arashiyama Monkey Park Information
Address: 8, Arashiyama Genrokuzan-cho, Nishikyo-ku, Kyoto
TEL: 075-872-0950
Location: 5 minute walk from Hankyu Arashiyama staion, 5 minute walk from Keifuku Arashiyama staion, or 15 minute walk from JR Saga Arashiyama station
Price: Adult 550 yen,Child (4-15 years old) 250 yen
Open Hours: March 14 ~ October 31 9:00 ~17:30 November 1 ~ March 14 9:00~16:30
Click here for related information:
Local Guide:Arashiyama romantic train Review & Helpful tips!
Local Guide:Arashiyama in Kyoto Japan!The best walking course
Local Guide:Local tells Top 5 best Ryokans in Arashiyama,Kyoto!Luxury Inn with a great view
Related posts(Including ads)