Hi,I'm Keiko from Osaka!

Every time I go to a new location, one of the biggest questions I pose myself is "what should I bring to my new friends and host families?"

I have struggled to choose the best possible gift that can represent my hometown as well as Japan, that will truly be loved by them.

After traveling to 6 different countries to study, I now have a fairly good idea of what has been popular among friends and host family members.

So, in this article I want to share my tips with you all.

I am sure these souvenir items will also be appreciated by your friends and family back home.

Here are top 10 souvenir items to purchase in Kyoto.
Sponsored Links
Top 10 Souvenirs in Kyoto
1.Matcha Snacks/抹茶菓子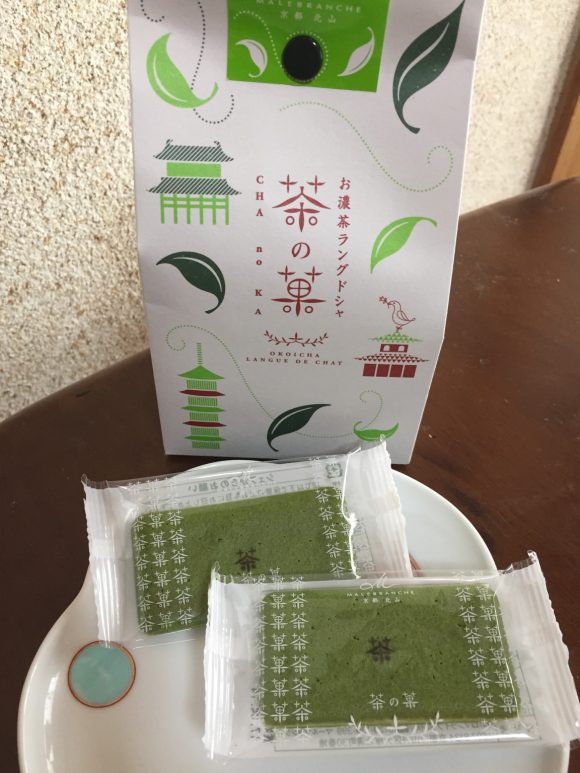 What can better represent the Japanese or Kyoto food culture than delicious green tea flavored snacks?
These are internationally popular items, loved almost by everyone, even among those without much interest in the Japanese sweets culture.
Kyoto offers so much of them from the traditional Japanese sweets to Matcha flavored cookies.
Some of my favorites are: langue de chat (thin cookies) by malebranche, or Baumkuchen (German Tree Cake) by Kyo Baum.
Malebranche JR Kyoto Isetan shop
Address:901, Higashishiokoujicho, Shimogyo-ku, Kyoto-shi, Kyoto JR Kyoto Isetan B1F
Location:3 minutes walk from JR Kyoto station
Phone:075-353-7733
Opening hours:10:00~20:00
Closed:Opens everyday
Price:〜2,000 yen
Others:For further information,please visit:
here
Map
Kyo Baum KYOTO TOWER SANDO Shop
Address:721-1 Higashishio-Koji Cho, Karasuma Dori Shichijo Sagaru, Shimogyo-Ku, Kyoto
Location:4 minutes walk from JR Kyoto station
Phone:075-744-6423
Opening hours:1F・2F:9:00~21:00 B1:11:00~23:00
Closed:Opens everyday
Price:〜2,000 yen
Others:For further information,please visit:
here
Map
2.Tenugui/手ぬぐい
Tenugui is a thin Japanese hand towel usually made of cotton.
It is convenient since it can be used as a hand towel, head band, decoration, or to wrap a gift or a bottle.
Souvenir shops in Kyoto usually offer various materials and designs of tenugui.
They are usually very colorful and many are extremely traditional looking, which makes tenugui a perfect practical gift for your friends and family.
3.Kanji T-Shirt/漢字Tシャツ
Kanji are Chinese characters adopted in the Japanese written system and used alongside the Japanese syllables such as Hiragana and Katakana.
If you toured around Japan, I am sure you saw them everywhere and might have been a source of your confusion!
Each of these beautiful characters has a meaning of its own and those of you who are learning Japanese might already have a few of your favorites.
Kanji T-Shirts are already popular overseas, so these authentic ones from Kyoto will be a great gift for your friends and family who are into the Japanese culture.
Also, some shops offer inserting your favorite Kanji on a shirt.
It will surely be a unique item that will represent your memory of Kyoto and Japan.
4.Yukata/浴衣
A Yukata is a summer casual kimono.
I am sure Anyone, or any female, interested in the Japanese culture dream of wearing or owning a Kimono.
Though Kimono is a bit difficult to wear (due to its complicated layers) and purchase (due to its cost), yukata is a perfect alternative that you can easily adopt even back home.
Many who come visit Japan buy a yukata as a decoration, costume, or as a daily bathrobe.
And, don't worry, since there also seem to be many youtube tutorial videos on how to wear yukata available in English.
It will be a great gift for your friends or can also be a special piece for yourself.
5.Lacquerware/漆器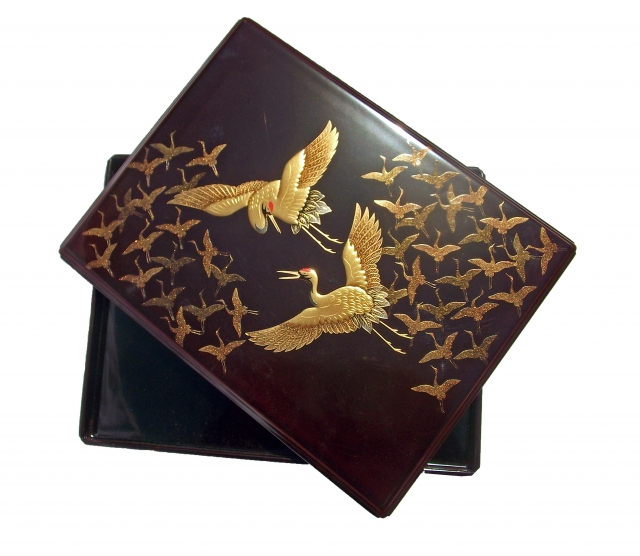 Lacquerware is known for its striking red and black pattern.
Referred as "urushinuri" or "shikki" in Japan, the Japanese cuisines and ceremonies use a lot of lacquerwares.
You might have seen them if you participated in a matcha ceremony or visited a traditional Japanese restaurant.
It is also noteworthy that Japanese lacquerware has been becoming increasingly popular overseas especially among Japanese restaurants overseas or among the dishware collectors.
For those friends and family back home interested in the traditional table wares or the Japanese cuisine, this will be a nice choice.
6.Japanese Fan/扇子
You might have seen many stores selling Japanese fans throughout Kyoto.
Kyoto offers fans with great designs made with different materials from silk to paper.
These represent the beauty of Japan and fairly easy and small items to carry around/bring back home.
It seems that a fan with a design of maiko/geiko (geisha) was a popular item that is well liked by my foreign friends and family.
7.Matcha from Uji City/宇治抹茶
Uji area of Kyoto offers one of the best green tea and matcha in Japan.
For those who love matcha and green tea, matcha powder from Uji region will be a nice gift.
There is nothing better than the authentic Uji matcha that has the nice balance of the bitterness as well as the sweetness of tea.
8.Folding Umbrella/折り畳み傘
Japanese folding umbrella are extremely popular aboard.
It is extremely light and high quality compared to those available overseas.
It is fairly inexpensive and Japan offers so many different designs.
There are even those folding umbrellas where designs (such as cherry blossom) appear when they get wet.
9.Coffee/Mug Cup/Tumblers/マグカップ・タンブラー
For those friends and family members back home collecting the country/region specific coffee cup/tumblers from Starbucks, Kyoto also offer several special designs.
If you visit Kyoto during the cherry blossom season, you can get cherry blossom patterns items which seem to be very popular overseas.
10.Bamboo Craft/竹細工
Kyoto also offers a great collection of bamboo craft items.
These are light materials beautifully designed that are perfect for souvenirs.
Ishikawa Takeno Mise (Kyoto Arashiyama Ishikawa Bamboo Shop) in Arashiyama offers beautifully designed bamboo craft such as a vase, kitchen wares, as well as cute accessories and jewelries that are fairly small.
These will be perfect for anyone interested in the traditional craft or unique jewelries.
Kyoto Arashiyama Ishikawa Bamboo Shop
Address:35 Sagatenryuji Tsukurimici-cho, Ukyo-ku, Kyoto
Location:1-minute walk from Arashiyama Station on Keihoku Electric Railroad Arashiyama Line.
Phone:075-861-0076
Opening hours:10:00~18:00
Closed:Opens everyday
Price:〜10,000 yen
Others:For further information,please visit:
here
Map
Related posts(Including ads)