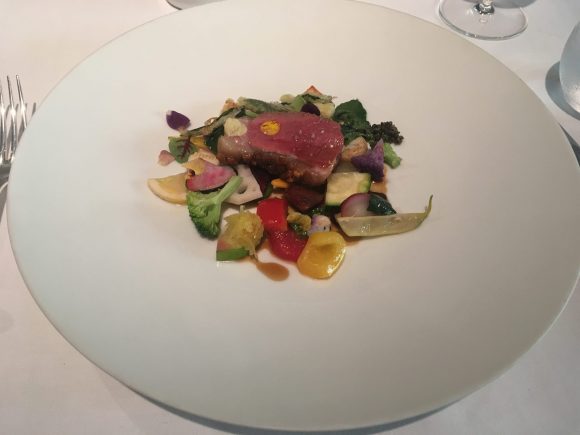 Hi,I'm Keiko from Osaka!

I went for lunch at Motoi in Kyoto.

Motoi is one Michelin starred french restaurant housed in a century old Machiya.

The Chef has traveled to France to learn the French cuisine from the best of the best.

He has served in Okura Hotel in Kyoto before establishing his own restaurant.

He incorporates Kyoto and Japan's best ingredients in his French cuisine.

It was opened in 2012, and it's already became very popular among gourmet,so I was excited to have their dishes!

This time,I would like to write a review for Motoi!

Review of French restaurant Motoi in Kyoto!
Sponsored Links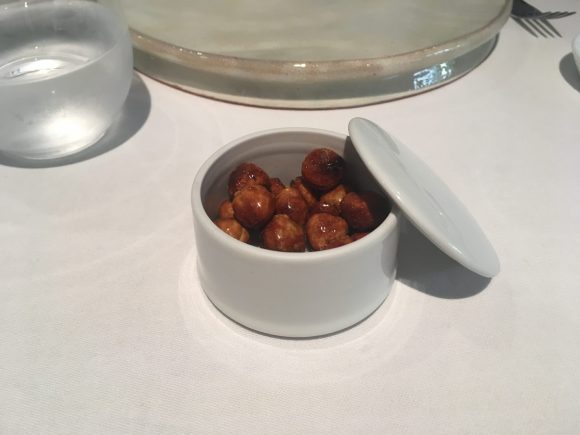 The meal started with roasted caramel hazelnuts.
They were perfectly crunchy and sweet.This was something girls would like.
Once I started to eat them, I couldn't put them down until it's all gone.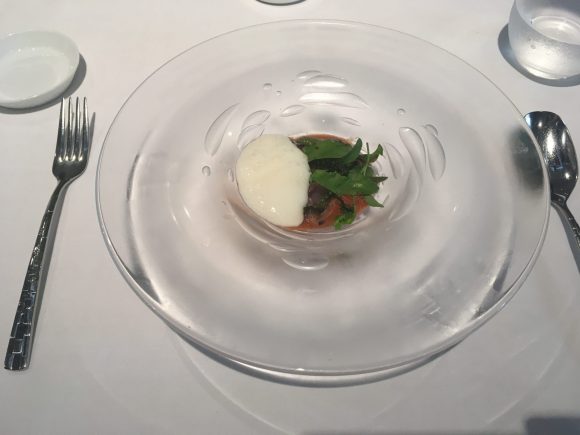 Then a cold gazpacho was served with marinated fish and vegetables topped with the mousse of lily bulb.
Gaspacho was delicious, especially how the texture of the sea grape grains matched perfectly with the marinated fish.
Freshly baked baguette or white bread were supplied with butter and flavorful olive oil.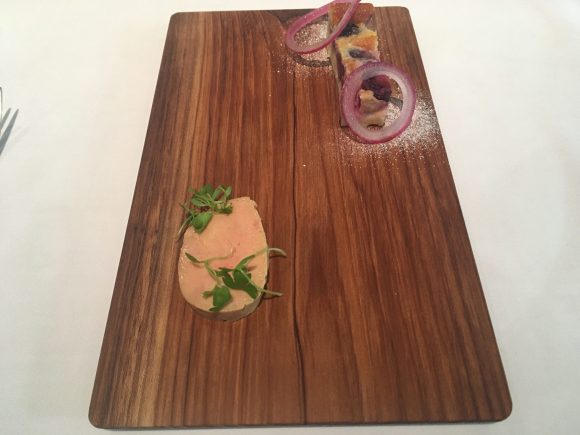 Next up were the foie gras and a cherry cake.
Unique combination of salty foie gras and cherry cake brought surprises and joy.
I recommend you taste them together, not separately.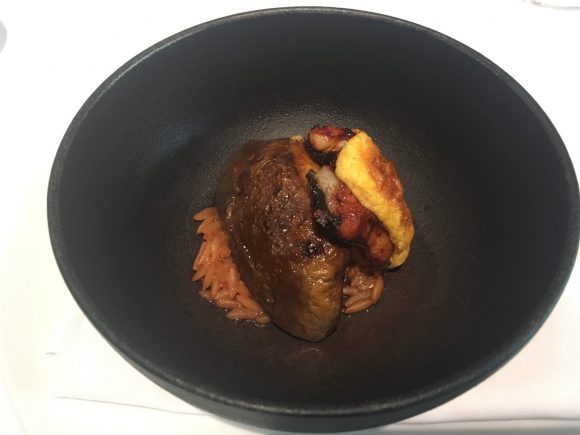 Then came the eggplant and shellfish risotto.
What appeared like rice was actually rice-shaped pasta.Seasoned with shrimp prawn sauce for a great taste.
Eggplant and eel were so soft that they could be cut with a spoon.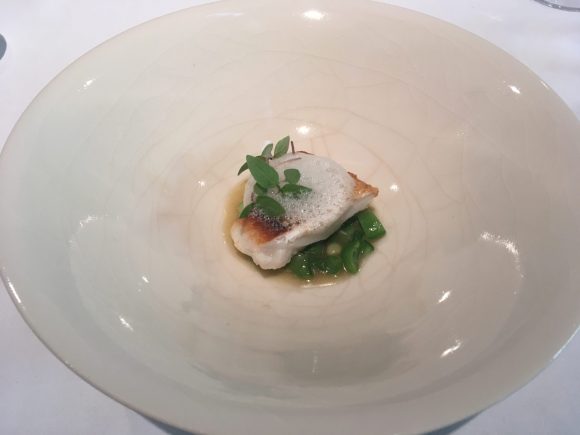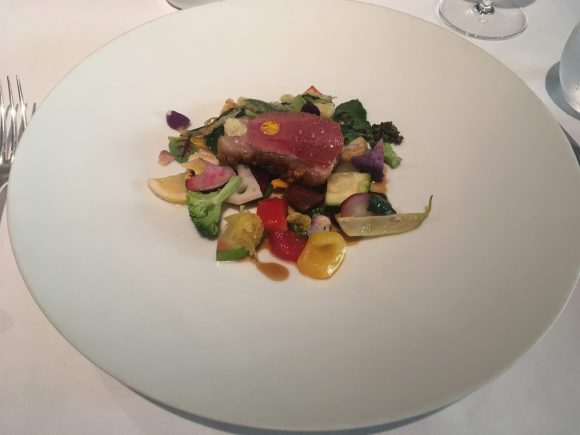 Main dish came with sauteed sea bream and charcoal-grilled ram.
The sauteed sea bream was garnished with clam sauce and balsamic vinegar mousse which tasted very delicate.
The ram wasn't gamey at all,and it was the best ram I've ever had in my life.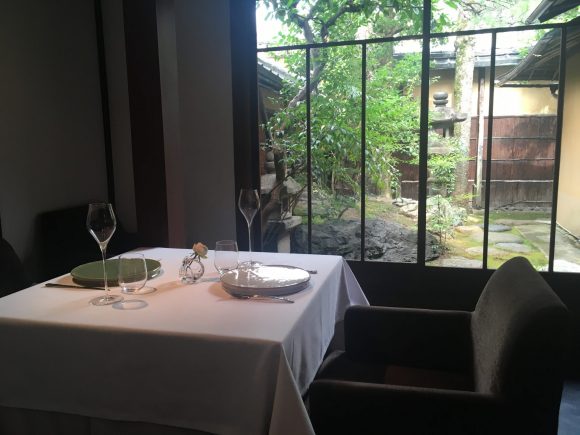 The restaurant has 2 private gardens,you can enjoy your food while looking out at the beauty of the Japanese gardens.
Next up were desserts!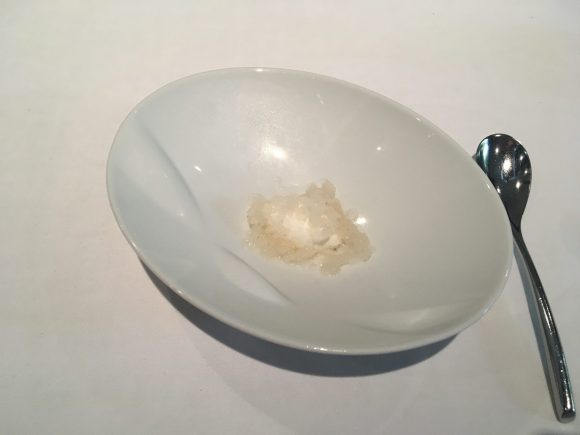 The first dessert – condensed milk with Gingembre, is a refreshing ginger flavored sorbet.
Matcha cheesecake was covered with crushed sponge and it was very delicious as it wasn't too sweet.
The third dessert was Melon's parfait.(Sorry,I forgot to take a picture of it:))
It was made with raspberry sauce and coconut mousse on top of melon and aloe.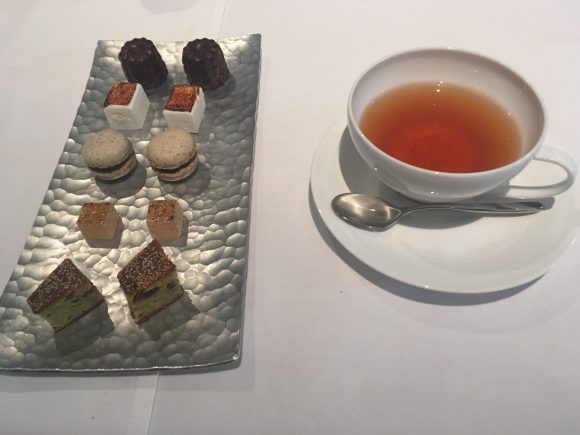 Lastly they brought me hot drink with a platter of petit fives including kanure,roasted marshmallow,macaron,jelly and baked matcha sweets.
I feasted my eyes and my mouth on these cute sweets.
The 2-hour being offered the cuisine and enjoying them was a luxurious time, surrounded by amazing dishes and a view of the beautiful Japanese garden.
I loved everything,the foods,service and atmosphere!
It is also the best place where you would celebrate an anniversary, or special occasions.
I highly recommend Motoi for those who want to have an excellent dining experience in Kyoto!
Restaurant Motoi
Address:186 Tawaraya-cho, Tominokoji Nijyo Sagaru, Nakagyo-ku, Kyoto
Location:10 minutes walk from Subway Karasuma Line Karasumaoike station
Phone: 075-231-0709
Opening hours:Lunch 12:00~13:30(L.O.13:00) Dinner 18:00~20:00(L.O.20:00)
Closed:Wednesday,Thursday
Price:Lunch 6,500yen,8,500 yen~,Dinner 15,000 yen 18,000yen〜
Others:You must make a reservation in advance.
For further information or to make a reservation in English,please visit
here
Service Charge:10%
Map
Click here for related information:
Local tells Top 5 best soba restaurants in Kyoto!Enjoy Authentic Japanese Soba!
Local tells Top 7 Tofu Restaurants in Kyoto!From high-end to casual!
Local tells Top 5 Must-eat restaurants in Kyoto!Enjoy the best casual dining!
Related posts(Including ads)