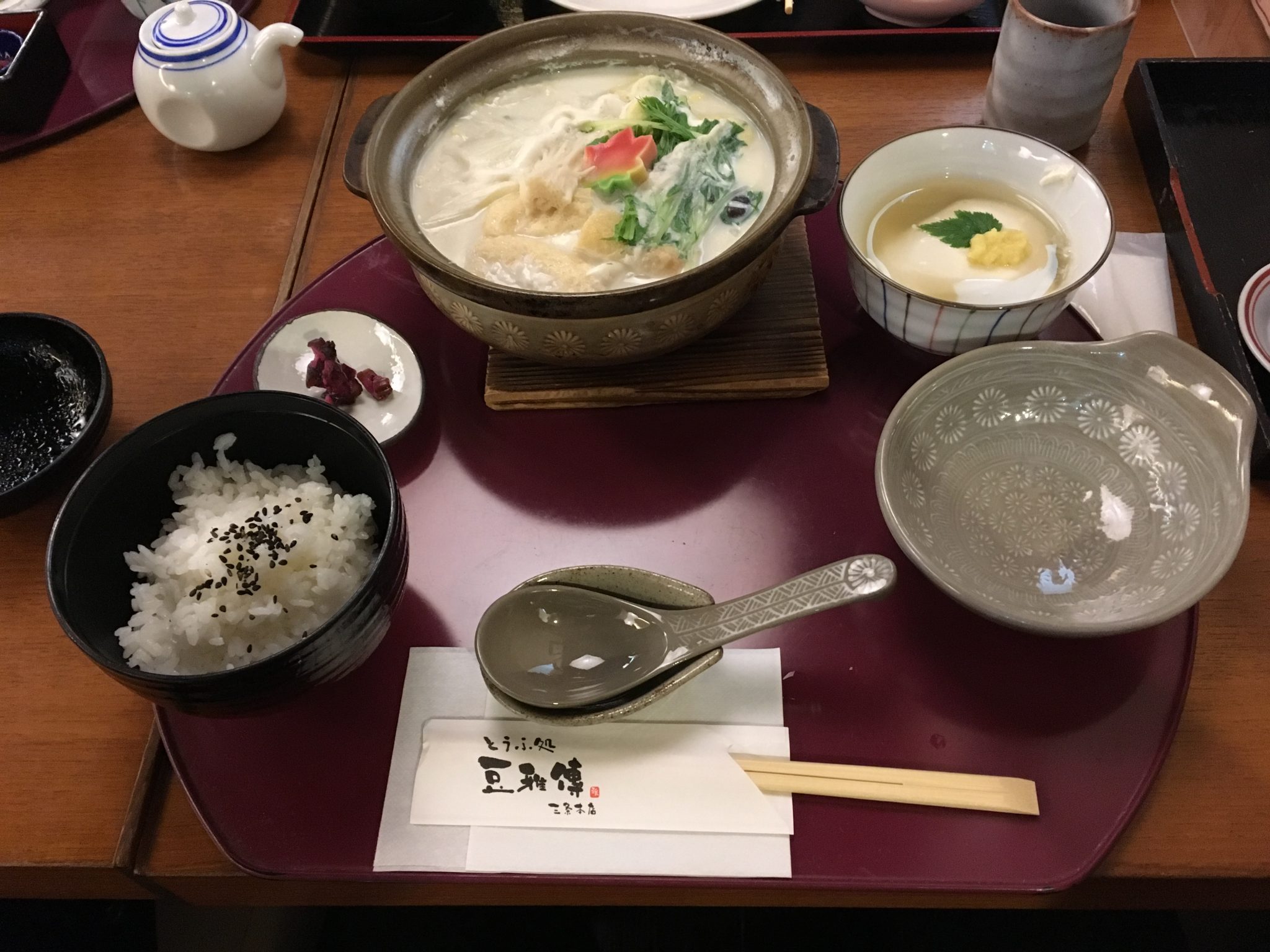 Hi,I'm Keiko from Osaka!

One of the most popular Kyoto specialties in Kyoto is Tofu.

Also known as bean curd, tofu is made by coagulating soymilk and then form the soybean curds in blocks.

If you travel to Japan, you may notice that there are various kinds of tofu: from extra firm to silken soft; deep-fried, steamed, fresh; hot or cold; and various tofu by-products such as yuba (which are tofu skin).

With so many options, and being so healthy, you must try a few tofu dishes while in Kyoto!

Here are the best 7 Tofu restaurants you can try in Kyoto. I will introduce tofu restaurants from high-end to casual!
Sponsored Links
Local tells Top 7 Tofu Restaurants in Kyoto!From high-end to casual!
1. Sohonke Yudofu OKUTAN/総本家 湯豆腐 奥丹
Possibly the most famous tofu restaurant in Kyoto, Okutan is located at two locations: one in front of Nanzen-ji temple, another located in the touristic area of Kiyomizu.
At both locations, you will be pleased not only through your taste buds but also through your eyes, as the restaurants are located in the beautiful gardens.
Try a yudofu course, available either at 3,000yen or at 4,000yen(Tax excluded).
It is a delicious course meal of tofu in hot broth, that also comes with beautiful side dishes such as goma (sesame) tofu and grilled tofu with miso.
These course meals will make you feel full and satisfied while being so healthy.
At the Nanzen-ji location, the restaurant sits inside a beautiful sub-temple.
If it is sunny, make sure you try the outside seating. It is magical.
Sohonke Yudofu OKUTAN Nanjenji shop
Address:86-30 Fukuchi-machi, Nanzenji, Sakyo-ku, Kyoto
Location:10 minutes walk from Kyoto subway Keage station
Phone:075-771-8709
Open Hour:11:00~17:00(L.O.16:15)
Closed:Thursday
Price:3,000~4,000 yen
Map
Sohonke Yudofu OKUTAN Kiyomizu shop
Address:3-340 Kiyomizu, Higashiyama-ku, Kyoto
Location:15 minutes walk from Keihan Main line Gion-shijo station
Phone:075-525-2051
Open Hour:Mon-Fri:11:00~16:30(L.O.16:00),Sat,Sun,Public holiday:11:00~17:30(L.O.17:00)
Closed:Thursday
Price:3,000~4,000 yen
Map
2.Nanzen-ji JUNSEI/順正
Located in the beautiful and vast temple complex, Junsei used to serve monks of Nanzen-ji for a long time.
In this beautiful and historical setting, you can enjoy the premium tofu dishes.
Yudofu is the specialty here and has become so popular, even to foreign tourists.
Yudofu course meals are available from 2,570yen up to 4,110yen depending on the number of items in the meals.
There is an interesting option of Otemae-tofu.
In this course, you can make your own tofu from soy milk hot pot, which may be fun and educational.
After your meal, make sure to stroll around the beautiful and vast garden complex.
Nanzen-ji JUNSEI
Address:60 Nanzenji Kusagawa-cho, Sakyo-ku, Kyoto
Location:10 minutes walk from Kyoto subway Keage station
Phone:075-761-2311
Open Hour:11:00~21:30(L.O.20:00)
Closed:Irregular holiday
Price:3,000~4,000 yen
Map
3. Ryoan-ji SEIGEN-IN/龍安寺 西源院
Located inside the compound of Ryoan-ji temple (UNESCO Heritage temple), Seigen-in is another sub-temple that serves tofu dishes to the interested public.
Seigen-in sits in a beautiful setting of a temple Pagoda in front of the beautiful pond.
Going through a photogenic gate, you enter into a peaceful and beautiful garden.
In this charming environment, you can enjoy delicious and healthy tofu dishes, that have long been loved by monks of Kyoto.
You can choose either nanakusa tofu (tofu with seven different herbs and greens, known to be good for the stomach) at 3,300 yen or yudofu course meal at 1,500 yen(Tax excluded).
They are consisting of yudofu and other shojin ryori items (a type of vegetarian dishes served for monks).
Ryoan-ji SEIGEN-IN
Address:13 Goryonoshita-machi, Ryoanji, Ukyo-ku, Kyoto
Location:7 minutes walk from Randen Kitano Line Ryoan-ji station
Phone:075-462-4742
Open Hour:10:00~17:00
Closed:-
Price:Yudofu course meal:1,500yen,Shojin ryori+Nanakusa yudofu3,300yen
Map
4.TOUSUIRO Kiyamachi Honten/豆水楼 木屋町本店
Along the Kamo river, sets a tofu specialty restaurant, Tousuiro.
It is a Machiya styled building (traditional townhouse) conveniently located in downtown Kyoto that welcomes you to beautiful tofu dishes.
Here, you can enjoy tofu in a kaiseki style (traditional course meal) with various side dishes of the season, served along with a set of bamboo chopsticks.
You can enjoy the scenic Kamogawa river from the restaurant.
During the summer, you can be seated on the elevated platform that is built above the Kamo river.
Kaiseki meals range from 2,500yen to 5,800yen (consisting of various tofu dishes, sashimi, tempura, etc.), excluding tax.
This scenic restaurant is within a 5 minutes' walking distance from Kyoto Shiyakusho Subway station.
TOUSUIRO has two branches in Kyoto.
TOUSUIRO Kiyamachi Honten
Address:517-3 Kamiosaka-cho, Sanjo-agaru, Kiyamachi-dori, Nakagyo-ku, Kyoto
Location:3 minutes walk from Kyoto Subway Kyoto Shiyakusho-mae Station Exit 1
Phone:075-251-1600
Open Hour:Mon-Sat:11:30~14:00(L.O.),17:00~21:30(L.O.),Sun,Public holiday:12:00~15:30(L.O.14:30),12:00~20:30(L.O.)
Closed:New year's days,Irregular holiday
Price:2,000〜6,000yen
Map
TOUSUIRO Gion Shop
Address:38-1,Bisyamonten-Cho,4 Matubara-Agaru,Higashioji,Higashiyama-Ku,Kyoto
Location:15 minutes walk from Keihan Railway Gion-shijo station
Phone:075-561-0035
Open Hour:Tue.-Sat: 11:30~14:00(L.O.),17:00~21:30(L.O.),Sun,Public holiday:11:30~20:30(L.O.)
Closed:Tuesday,Irregular holiday
Price:2,000〜7,000yen
Map
5.Yudofu Sagano/湯豆腐 嵯峨野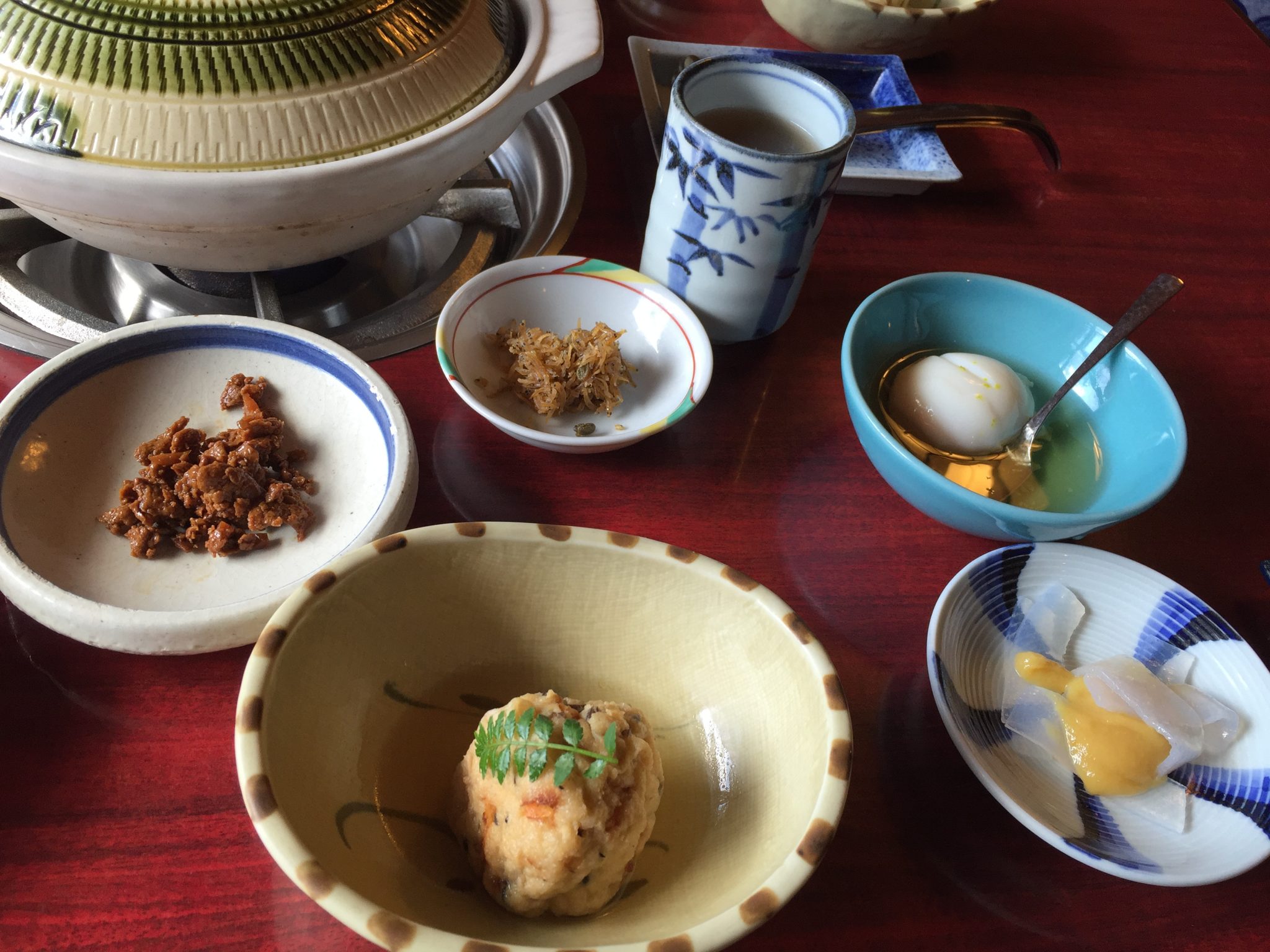 Yudofu Sagano is located close to Tenryuji-temple,20 minutes walk from Hankyu Arashiyama station.
Yudofu Sagano is famous for tofu dishes in Arasihayama.
They offer lunch Kaiseki set menu for only 3,800 yen per person.The set menu come with 10 different side dishes ranging from yudofu to tempura.
The fresh yutofu is so soft which melt in your mouth.
They have traditional Japanese garden where you can enjoy the change of season of Arashiyama.
It's great to have Yutofu Kaiseki dishes overlooking the beautiful garden in a calm relaxed atmosphere.
In spring you can see the cherry blossoms while autumn offers the chance to see the autumn leaves from the window.
If you want to have a great tofu dining experience in Arashiyama,you should try Yudofu Sagano!
Yudofu Sagano
Address: 45 Susukino-baba, Saga Tenryu-ji, Ukyou-ku, Kyoto
Location:20 minutes from Hankyu Arashiyama station,3 minutes from Keifuku Arashiyama Station
Phone:075-871-6946
Opening hours:11:00~19:00
Closed:4th Wed. and Thurs.in July 30th,31th Dec.,1stJan,
Price: Lunch 3,000~4,000 yen,Dinner3,000~4,000
Map
Next,I'll introduce tofu restaurants that are offering tofu meals below 2,000 yen!
6.Toyouke Chaya/とようけ 茶屋
Built in 1897, this is a very popular tofu shop.
On the first floor, they sell their famous tofu, tofu dishes, and various tofu by-products.
On the second floor is Toyouke chaya (tea house), where you can enjoy various dishes including yudofu.
You can enjoy a nice yudofu set meal at 1,100yen(Tax excluded).
Considering its popularity and reasonable price, people sometimes line up 20 minutes before its opening time.
I recommend you get there early, especially during the peak season (spring, fall).
It is located right in front of Kitano Tenmangu Shrine.
This may be a perfect stop on your way to or back from the Shrine.
Toyouke Chaya
Address:822 Kamiyagawa-machi, Imadegawadori Gozen-nishi-iru, Kamigyo-ku, Kyoto
Location:1 minute walk from Kyoto City Bus Kitano-tenmangu-mae bus stop
Phone:075-462-3662
Open Hour:Restaurant:11:00~15:00,Shop:10:00~18:30
Closed:Thursday,Irregular holiday,
Price:〜1,500yen
Map
7.Tofu Dokoro TOGADEN/豆腐処 豆雅傳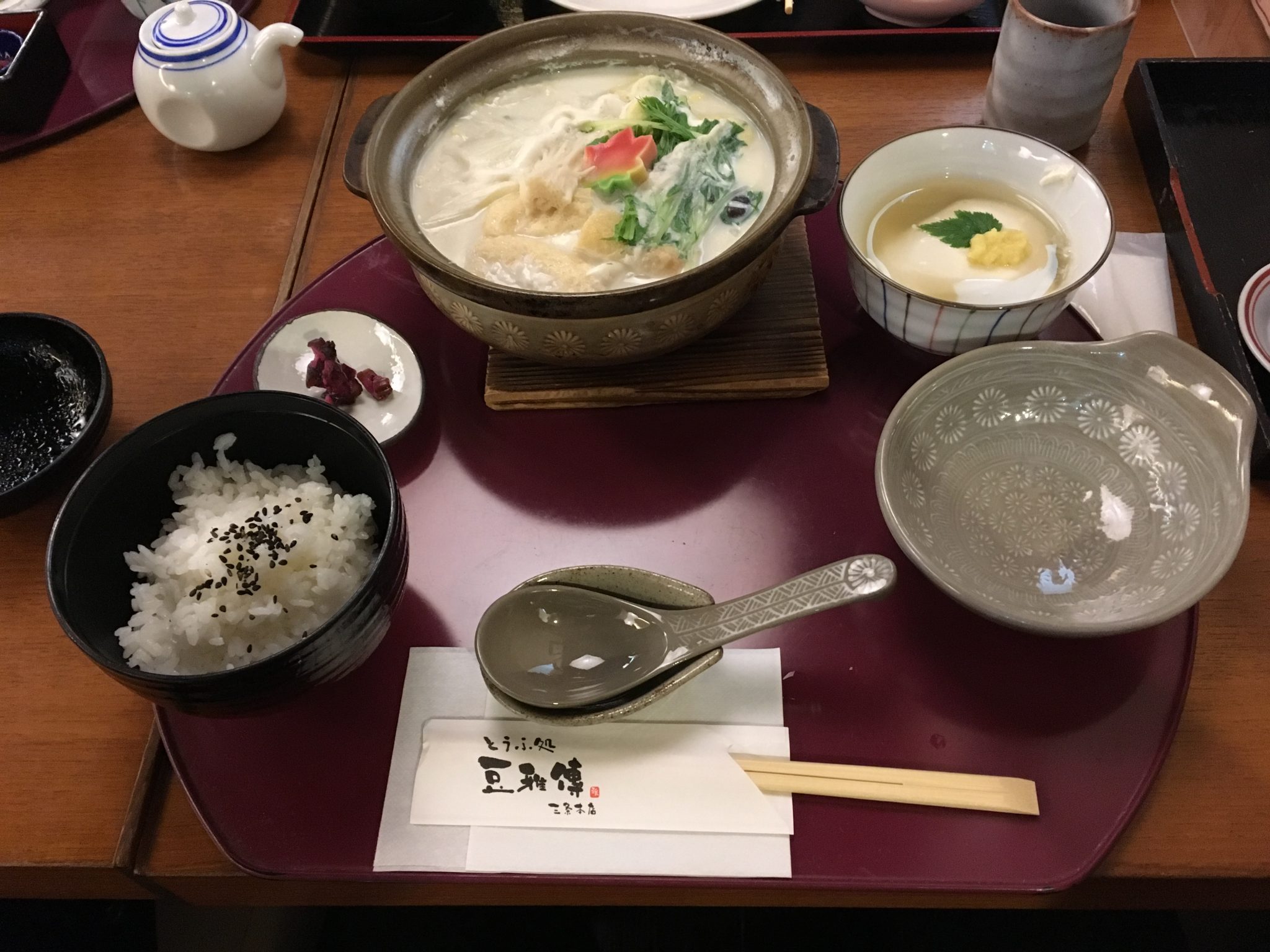 Another popular shop/restaurant with the long-standing history, Togaden offers various set meals for anyone to enjoy casually.
It offers tofu kaiseki, fresh yuba (tofu skin) tempura, a light yudofu, karaage tofu (deep fried tofu), soymilk hot pot, yuba sashimi (tofu skin sashimi), tofu Salisbury steak, as well as soy milk cheesecake.
If you want to try various tofu dishes casually, this is the best place for you.
Also, if you are traveling with children, they might enjoy tofu dishes here.
It is conveniently located within 3 minutes' walk from Sanjo Station (exit 6) on Keihan Line.
The first floor sells various tofu items, serving its neighbors and tourists.
This may be a good place for you to buy some souvenirs to take home.
The first 4 restaurants allow you to enjoy the environment as well as delicious tofu dishes.
The last two options, which are extremely economical, would allow you enjoy the top-notch tofu dishes.
Tofu Dokoro TOGADEN
Address:87 Nakajima-cho, Sanjo Kawaramachi-dori Higashi-iru, Nakagyo-ku, Kyoto
Location:3 minutes walk from Keihan Railway Sanjo station
Phone:075-212-1209
Open Hour:11:00~20:30
Closed:New years days
Price:〜1,500yen
Map
I hope you'll enjoy great tofu meals in Kyoto!
For your information
If you're looking for unique activities and experiences in Kyoto,you can find them here:

There are also a variety of unique food tours in Japan.

If you are a foodie looking for a nice hang-out plan out in the city with the locals, these tours will truly delight you!

Kyoto:
Kyoto Bar Hopping Night Tour:

Kyoto Night Foodie Tour

Osaka:
Osaka Bar Hopping Food Tour in Namba:

Tokyo:
Classic Food Tour in Shinjuku

Related posts(Including ads)