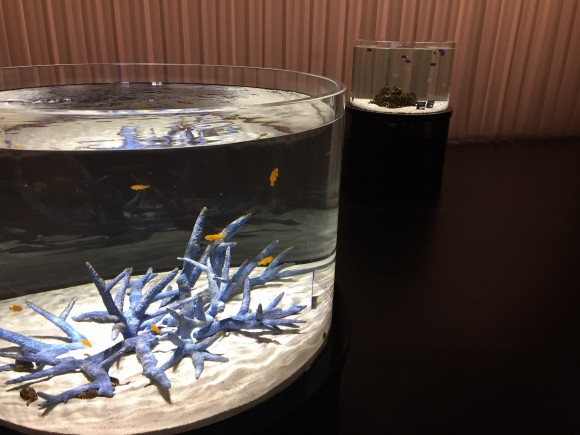 Hi'I'm Keiko from Osaka!

NIFREL is an interactive aquazoo where you can meet many rare animals and sea creatures.

The tanks were much smaller than the usual aquarium, but they do a great job of displaying specific features such as blue jelly fish,sea anemones and clownfish.

There were also white tiger,pigmy hippopotamus,and ring-tailed lemur Lemur catta etc.

NIFREL displays an interesting mix of sea creatures and animals.

NIFREL parts in seven zones under the theme of "moving your sensitivity".

These 7 zones are "COLORS", "ABILITIES", "SHAPES", "WONDER MOMENTS", "WATERSIDE", "BEHAVIOR" and "BIODIVERSITY"

Let's see the world of NIFREL for each theme!

Sponsored Links
Local Guide:NIFREL, EXPOCITY in Osaka Japan!An Unique aqua zoo
1.COLORS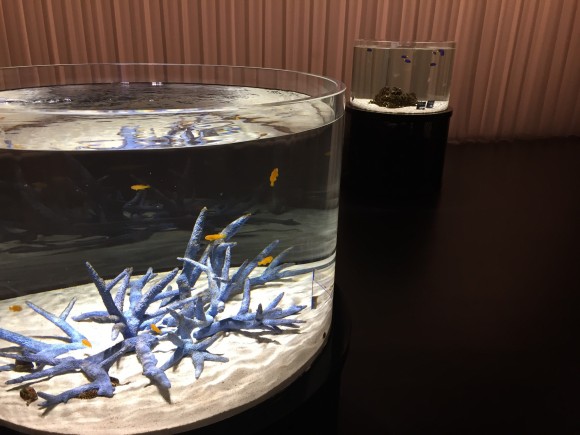 Beautiful jelly fish has caught my eye in the zone COLORS.
They were floating effortlessly to the calm music in the aquarium.
The movement of the jelly made me feel at ease.I wish I could watch them all day long…
The music and soft lighting created a special atmosphere in the room.
Here you can enjoy the the world of sea creatures with distinctive colors such as blue jellyfish,tropical fish.
2.ABILITIES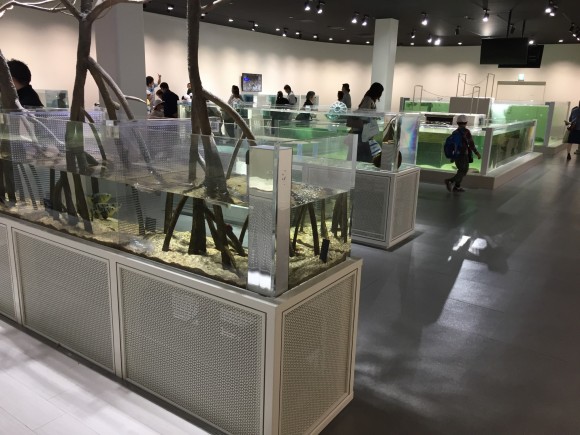 In ABILITIES zone, you will see creature's unique performance .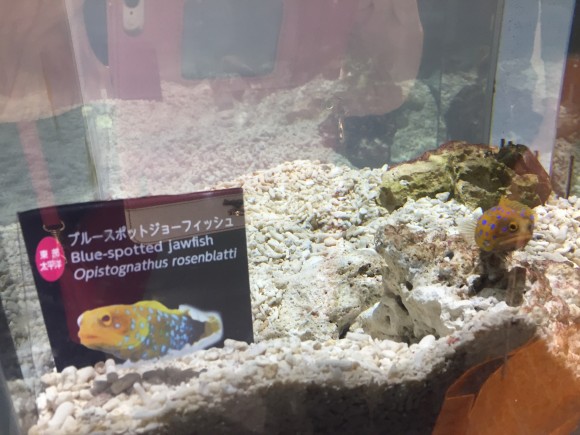 This yellow head blue spotted jawfish buried himself in the hole, but sometimes his head popped out of the hole.
His movements were so cute!
Enjoy watching their performance closely in the ABILITIES zone!
3.SHAPES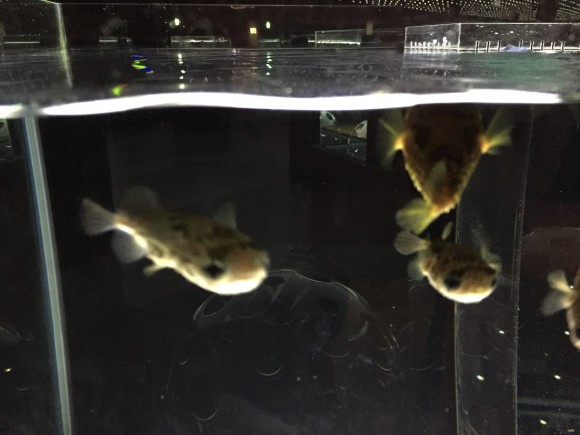 In "SHAPES" zone you will find many sea creatures with unique shapes such as Boxfish, long eel and sea horse.
Aquarium lights illuminated fish colors in the dark room. This unique display makes the sea creatures look more beautiful than it is.
It made me happy to see unique sea creatures in a relaxed atmosphere.
4.WONDER MOMENTS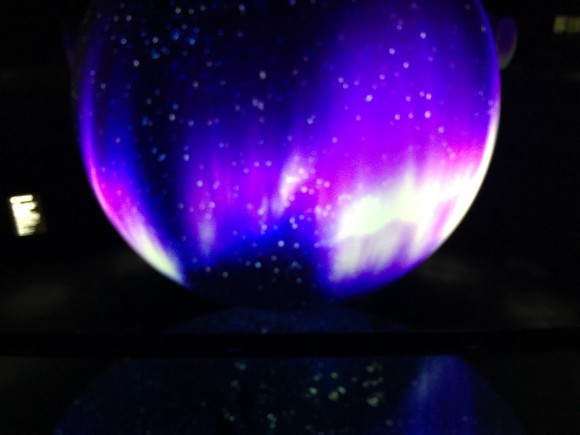 "WONDER MOMENTS" has been created by Japanese artist Takahiro Matsuo.
You will be taken to mysteries of universe,which could give you a sense of viewing the earth and other stars from the space.
The color of the earth gradually shaded into blue,purple,and pink.
I enjoyed seeing this unique yet beautiful"WONDER MOMENTS" for a while.
5.WATERSIDE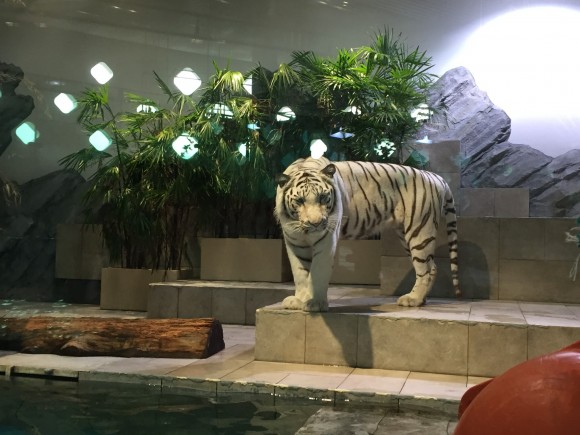 In WATERSIDE zone you will see chameleons,frogs,pigmy hippopotamus,and white tiger.
I didn't expect that white tiger is in the "WATERSIDE"zone, so I was a bit surprised to see it.
It explained that white tiger preys on deer,young elephants,rhinoceroses fish and other animals.It sometimes swims in pursuit of prey.
White tiger was so big and it's Fangs were long and sharp,it was really impressive.
6.BEHAVIOR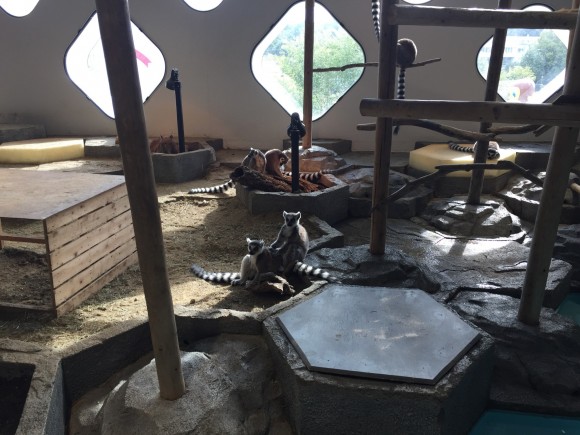 In "BEHAVIORY" zone you can see many rare birds, and mammals not in the cage.
Some ring-tailed lemurs were running in front of me.It was quite exciting for me to see them so closely since I've seen them only on TV.
There were also Capybara,Toco toucans,african penguins etc.
You will be able to enter their world in "BEHAVIOR"zone.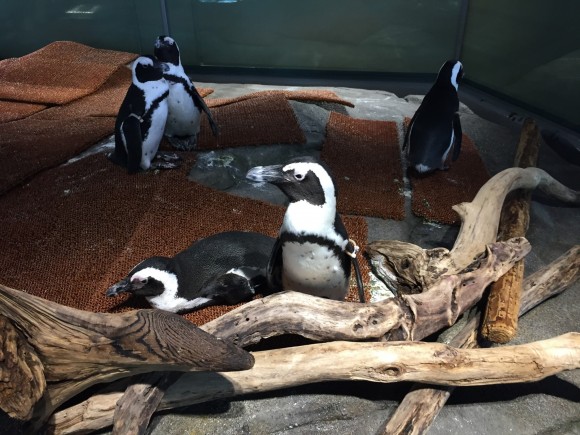 7.BIODIVERSITY
Here you will enjoy dynamic and powerful 3D images displayed on a screen made up of a wall and a floor.
This 3d images will tell you about the connection between humans and all living creatures and things.
Sorry,I didn't watch it so carefully:)
Please check it if you visit NIFREL!
NIFREL EXPOCITY Information
Address:2-1 Senribampaku Koen, Suita-shi, Osaka
Location:From Umeda station:Take the Midosuji subway line to Senri Chuo Station and change to Osaka Monorail bound for Kadoma-shi.Get off at Banpaku Kinen Koen Station and walk for 3 minutes.
Phone: 0570-022060(Navi dial)
Opening hours:10:00~20:00 Admission closed at 19:00(Opening hours are subject to change according to the season)
Closed:-
Admission fee:Adults:1900 yen,Junior High and Elementary School Students:1000 yen, Preschoolers(aged 3 or older)600 yen
Map
Click here for related information:
Local Guide:EXPOCITY Osaka in Japan!Enjoy largest Entertainment facilities
Local Guide:Orbi Osaka,EXPOCITY in Japan!5 Must-See Attractions!
Related posts(Including ads)