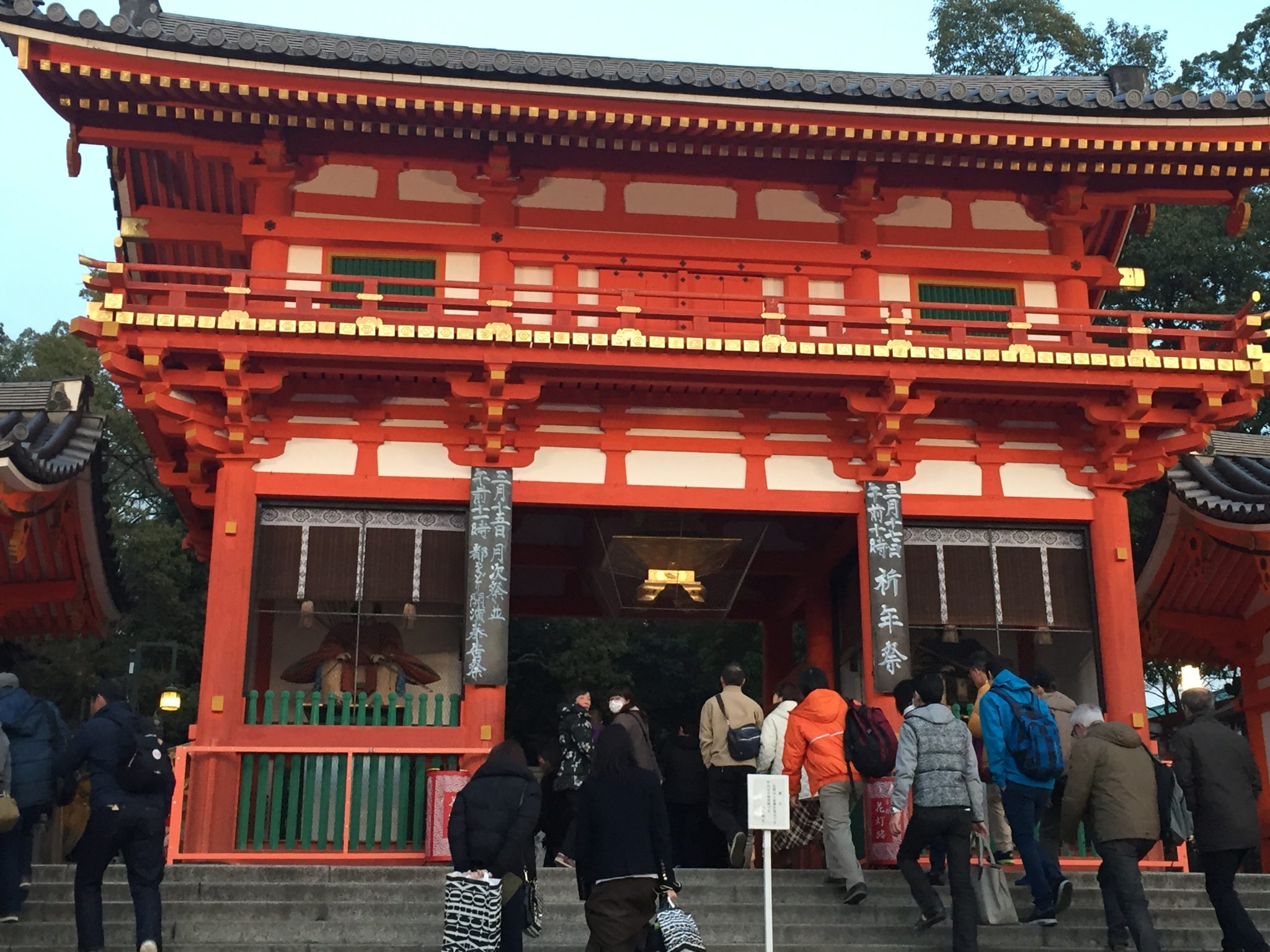 Hi,I'm Keiko from Osaka!

​It is probably well-known that Kyoto is a wonderful city to take a walk in, because of it's compactness, flatness, and the great weather.

The weather is mostly stable throughout the year, and needless to say, the view of everywhere in the city is breathtaking.

I love walking in Kyoto!

Every time I walk in Kyoto,there is always something new to discover like alley of small streets,antique shops,and souvenir shops.

I've been to Higashiyama area many times, and I discovered the best route to enjoy a great view of Kyoto.

Today I would like to introduce to you the walking course of Higashiyama district in Kyoto!

Sponsored Links
Local Guide:Higashiyama Walking Course in Kyoto! The best route with a great scenery
1.Yasaka Shrine/八坂神社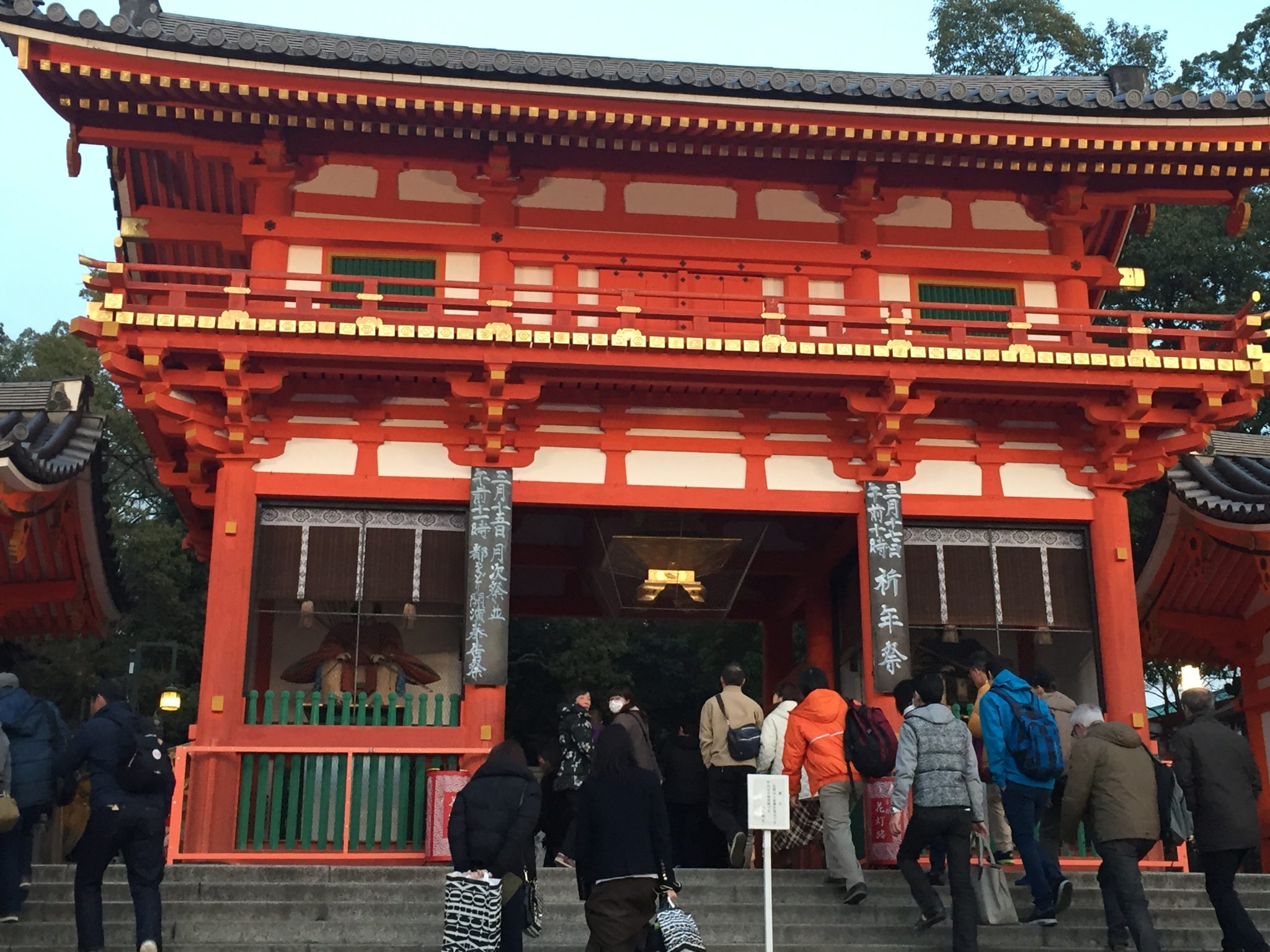 Let's start this walking tour from Yasaka Shrine!
​Yasaka Shrine, also known as the Gion San, is located in downtown Higashiyama area.
Although it is located downtown, you can feel the holy and sacred power.
It is well known for the Gion Festival in July, and the Okera Mairi on New Years Eve.
There is a bottomless pond before the main shrine, and a myth says that it is where the dragon lives.
The official entrance of the Yasaka Shrine is called the Minami Rowmon.
There is a Chozuya, which is a place where you can ritually cleanse your hands and mouth with water.
Also on the east side of the temple is a fountain of sacred water called the Chikara Mizu.
It is said that its best to make your prayers after having a sip of this Chikara Mizu.
​After taking a look around Yasaka Temple, I like to walk up Jingu Michi which leads to the Shouren-In Temple.
Opening hours:24 hours
Admission fee:Free
2.Shoren-In Temple/青蓮院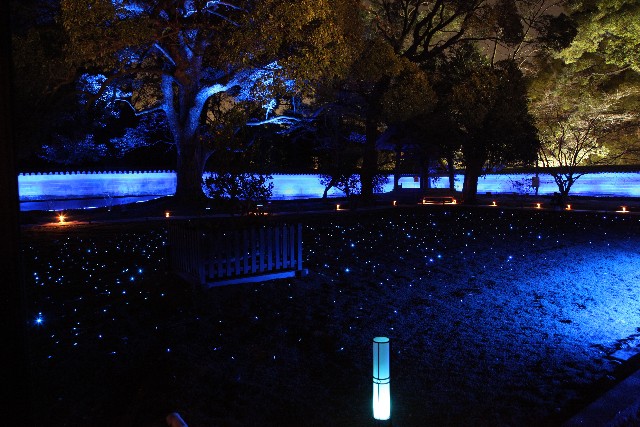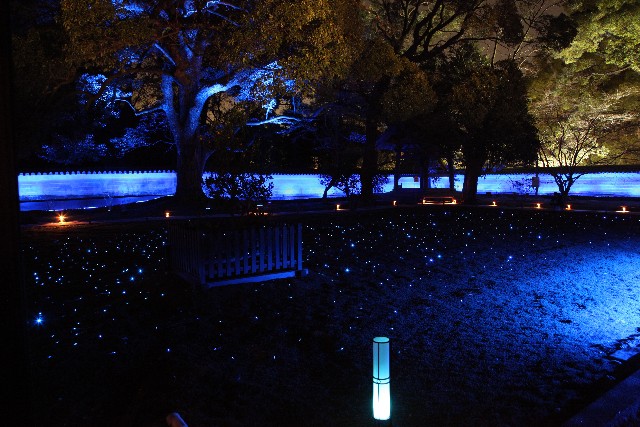 Shoren-In Temple was built during the Heian Era, which is nearly 1000 years ago. I like spending time at the Kachoden which is located right near the entrance.
You can sit and relax while watching the beautiful garden, and it will make you feel so calm you will forget about time.
The best part of the Shouren-In Temple is the beautiful pond which you can take a walk around.
During fall time, the trees that surround the pond change their colors to red and orange, which makes a breathtaking scenery.
After walking around, I always like to strike the gong before I leave.
​Now we will walk down Jingu Michi where our next stop is.
Opening hours:9:00~17:00(L.E.16:30)
Admission fee:Adults 500 yen
3.Chion-in Temple/知恩院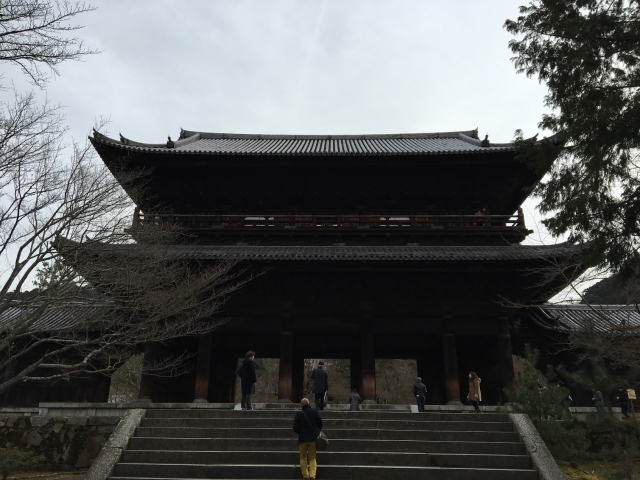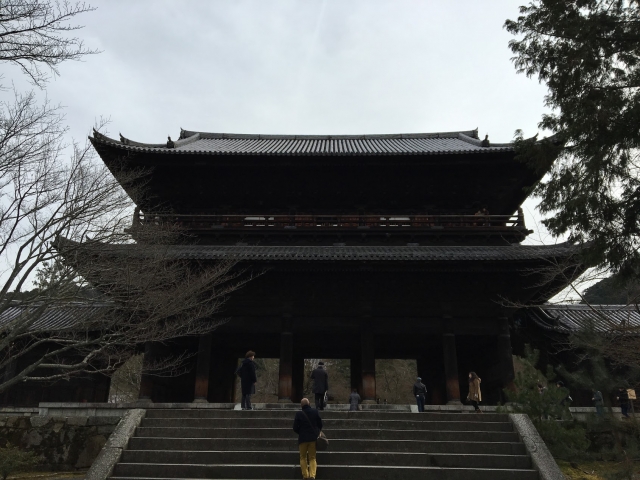 The large Sanmon Gate is the Chion-in Temple's main entrance gate which will lead us inside.
The massive gate stands 24 meters tall and 50 meters wide, as it is the largest wooden gate in Japan.
There are 3 gateways, each representing the teachings of the temple; never to fuss over something, never to judge by appearances, and never to be a slave of your desires.
I like to sit by the Sanmon Gate and just relax, feeling the cool breeze flow by.
Opening hours:9:00~16:30 (L.E.15:50)
Admission fee:Adults 500 yen (both gardens), 400 yen (Hojo Garden only), 300 yen (Yuzen Garden only)
4. Gyoujya bashi bridge/行者橋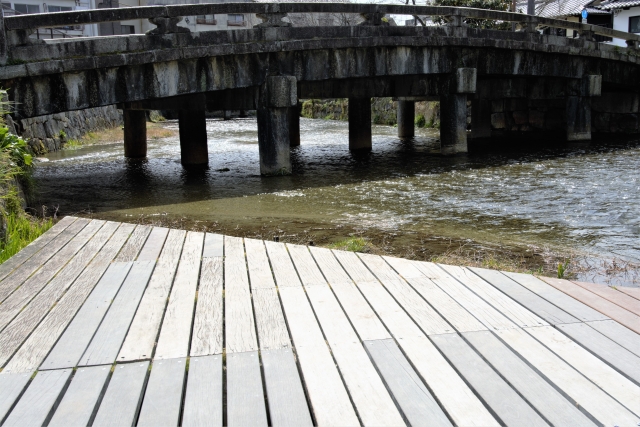 ​Right near Chionin Temple is a simple stone-built bridge wide enough for one person to pass.
This bridge is called Gyoujya bashi bridge, and it is called so because it was the bridge that the monks (also called Gyoujya in Japanese) of Hieizan crossed during their 1000 days of religious practice.
Gyoujya bashi bridge was used for location shooting for TV dramas in Japan.
I love walking the willow trees that line both sides along the Shirakawa River.
It makes you feel like you have time slipped your childhood days; the simplicity of the architecture of the bridge and the glowing river stream definitely creates a retro image.
5.Maruyama Koen/円山公園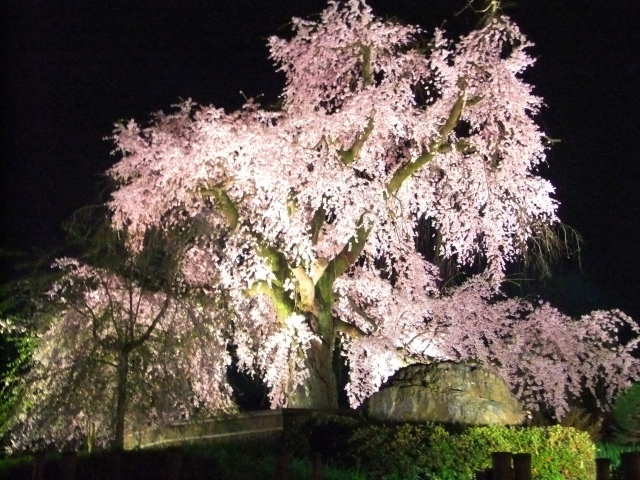 Maruyama Koen is the most famous cherry blossom viewing site in all of Kyoto, and the Shidare Zakura (weeping cherry blossom trees) is the best attraction of this park.
It becomes lighted up at night, and we can enjoy the cherry blossom trees both during the day and at night.
Therefore, Maruyama Koen can get extremely crowded during the time of the cherry blossoms, which is April.
Although it can be crowded during April, it is highly recommended to visit when the cherry blossoms are in full bloom.
The scenery with the cherry blossoms both during day and night, is just too beautiful to describe in words.
The park is a nationally designated place of scenic beauty, so taking a walk to Maruyama Koen is a must when you visit the Higashiyama area of Kyoto.
Next,let's have a lunch!
6.Izuju/いづ重(Lunch)
​Now I will give you some tips about having lunch in this area.
Located very close to the Yasaka Temple stands a Sushi Restaraunt called Izuju.
Normally, sushi is served with very fresh seafood and so famous sushi restaraunts are usually located in areas near the sea.
Since Kyoto is a bit far from the sea, people developed a different kind of sushi, which is called the Saba Sushi.
It is a sushi roll where mackerel is treated with kelp and salt (so that it will last longer than normally treated raw fish), and rolled with rice. Izujyu is one of the most famous restaurants that serve Saba Sushi.
Of course, these sushis can be enjoyed inside the restaurant, but what I like to do is have a take out lunch.
Other than Saba Sushi, you can take out Inari Sushi (sushi rice wrapped inside seasoned deep fried tofu pockets called Inari Age) or even Chirashi Sushi (scattered sushi salad, ingredients all scattered and topped on sushi rice with no rolling involved).
Since Izuju is close to Maruyama Koen, I love to take some sushi out and have lunch outside in the park, watching the full bloomed cherry blossoms and taking a rest in the spring time.
Maruyama Koen is a highly recommended lunch site, they have benches and also many restrooms available.
Opening hours:10:30~19:00
Closed:Wednesday
7.Anyoji Temple/安養寺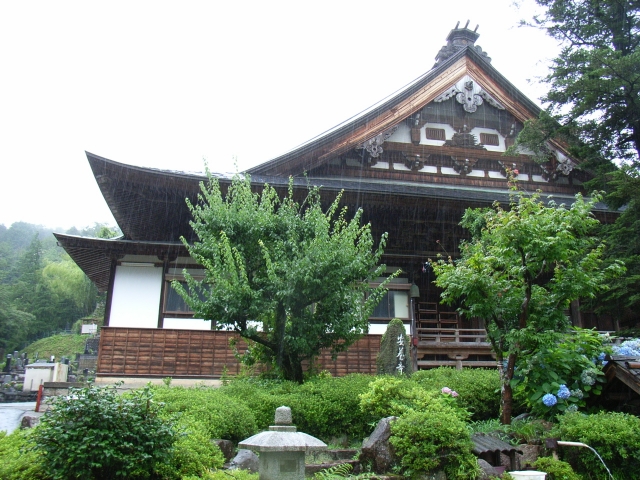 Anyoji Temple is located next to Daishoro (great bell tower) of Chionin Temple.After you go up the steep slope on the east side of Maruyama Park,you'll find it.
This temple was built by Dengyo Daishi Saicho at the order of Emperor Kammu during the early Heian Period(794〜1192)
I love overlooking the magnificent view of the city from the hall of the Anyoji temple.
You should definitely see that too.
Opening hours:8:00~17:00
Admission fee:Free
8.Chorakuji temple/長楽寺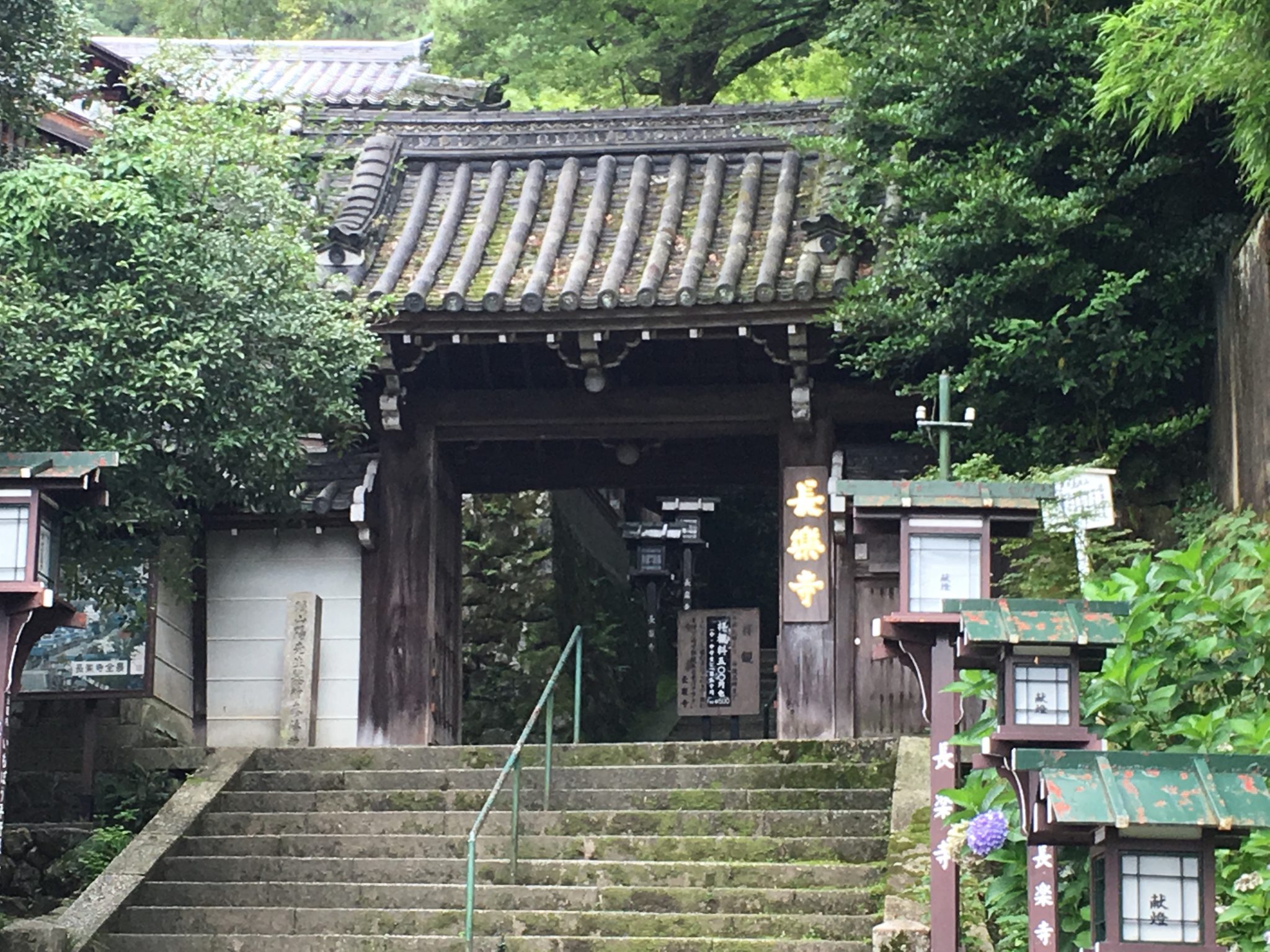 After you go down the slope to the east from Anyoji Temple, you'll see Chorakuji Temple.
Chorakuji Temple was also built by Dengyo Daishi Saicho at the order of Emperor Kammu in 805.
The approach leading to the precincts autumn leaves dyed in red which reflect the graceful landscape.
Looking at red-colored autumn leaves from the beautiful garden is really awesome, this temple is known as Kyoto hidden attractions.
Opening hours:9:00~17:00
Admission fee:Adults 500 yen
9.Kodaiji Temple/高台寺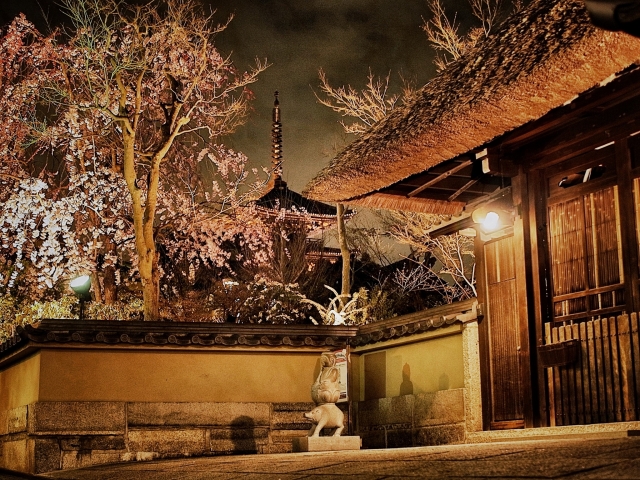 Kodaiji Temple was built by Nene for her husband a Toyotomi Hideyoshi in 1605 after he passed away.
Hideyoshi was one of the most powerful man in Japan at the end of the Warring States period.
It is said Nene and Hideyoshi were married for love.When political marriages were the norm,it was a rare case to get married for love at that time.
You will see some elements of how much she loved her husband when you visit this temple.
Opening hours:9:00~17:30(L.E.17:00)
Admission fee:Adults 600 yen
10.Nene's Street/ねねの道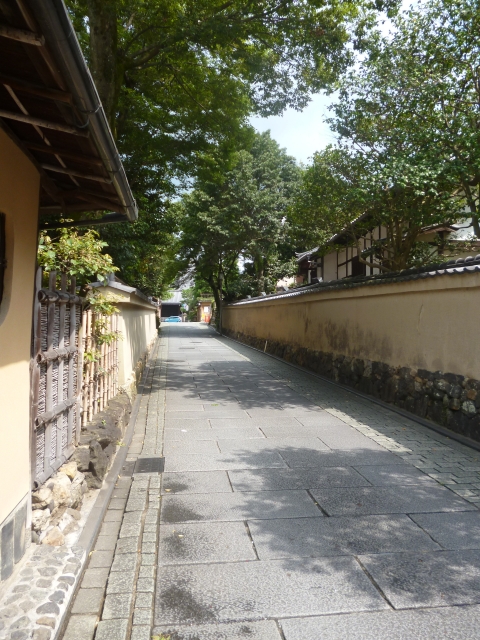 ​Last but not least, let me introduce Nene's Street.
When you left Kodaiji temple, there is Nene's Street which lead you to Shijyo-dori.
It was also built by Nene for her husband a Toyotomi Hideyoshi.
Nene's street is a beautiful flagstone walkway with a traditional atmosphere of Kyoto where many rickshaws goes by.
There are many shops along the street, so you can also enjoy shopping.
Higashiyama Walking Course
Yasaka Shrine/八坂神社
Shoren-in Temple/青蓮院
Chion-in Temple/知恩院
Gyoujya bashi bridge/行者橋
Maruyama Park/円山公園
Izuju/いづ重
Anyoji Temple/安養寺
Chorakuji Temple/長楽寺
Kodaiji Temple/高台寺
Nene's Street/ねねの道
This walking course is my favorite route to enjoy the beautiful scenery in Higashiyama area.
I'm happy if you like it too!
If you're looking for Private Walk & Taxi tour, you can reserve it through Voyagin:
here
Click here for related information:
Local tells Top 5 best Sushi restaurants in Kyoto!Dining in a traditional atmosphere
Local Guide:Arashiyama in Kyoto Japan!The best walking course
Local tells Top 5 best affordable Kaiseki in Kyoto!The restaurants local love
Related posts(Including ads)