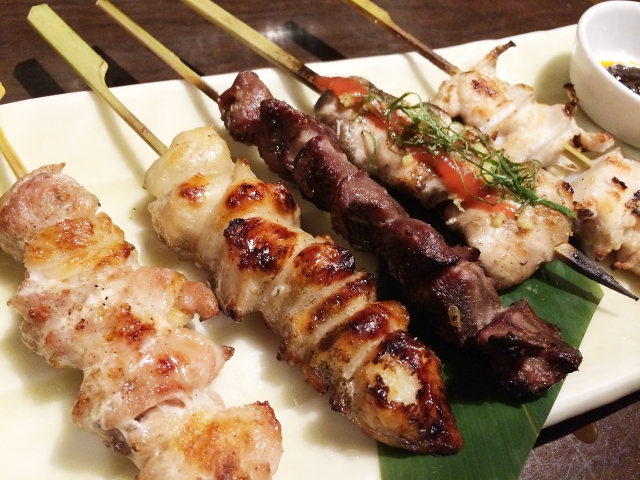 Hi,I'm Keiko from Osaka!

Yakitori is traditional Japanese grilled chicken skewers cooked with either sweet soy sauce or just salt.

It is usually consists of a wide variety of parts of the chicken from the skin, wing, to hearts.

It goes well with alcohol drinks including Japanese sake and liqueur and Beer.

I love yakitori, I often go to yakitori restaurants in my neighborhood with my family and friends.

Once I started to eat yakitori, I can't stop eating it!

This time I would like to tell you Top 5 best yakitori restaurants in Osaka.

Sponsored Links
Local tells Top 5 best Yakitori restaurants in Osaka!
1.Kashiwaya Shamo/かしわや闘鶏
Kashiwaya Shamo is a local restaurant which is located very close to JR Fukushima station in Osaka.
There are many popular yakitori restaurants in Fukushia district,and this shop always ranks No.1 of "Tabelog" in Osaka area.
They serve a wide variety of yakitori dishes including charcoal-grilled Miyazaki jidori(Miyazaki chicken),chicken sashimi, and vegetables.
Kashiwaya Shamo exquisite charcoal grilling technique make chickens so tasty and juicy.
Chicken Breast yakitori is served medium rare,that's supposed to show how fresh the meat is.
Their yakitori dishes are very creative such as confit of chicken gizzards and rillettes of chicken that you haven't encountered before.
They also offer a wide range of wine and sake selection which goes well with yakitori dishes.
I highly recommend this restaurant for those who want to enjoy creative yakitori dishes.
Reservation must be made in Japanese in advance, and you need to bring someone who can speak Japanese.
Address:1F Bibiru 7-5-20 Fukushima Fukushima-ku Osaka
Location:3 minutes from JR Fukushima station
Phone:06-6452-4705
Open Hour: Wed-Sun 18:30~24:00(L.E.22:00)
Closed:Monday
Price:Dinner 6,000~7,000 yen
Others:Reservation must be made in advance from 2p.m. to 5p.m.on openings days.
Map
2.Yakitori Ichimatsu/焼き鳥市松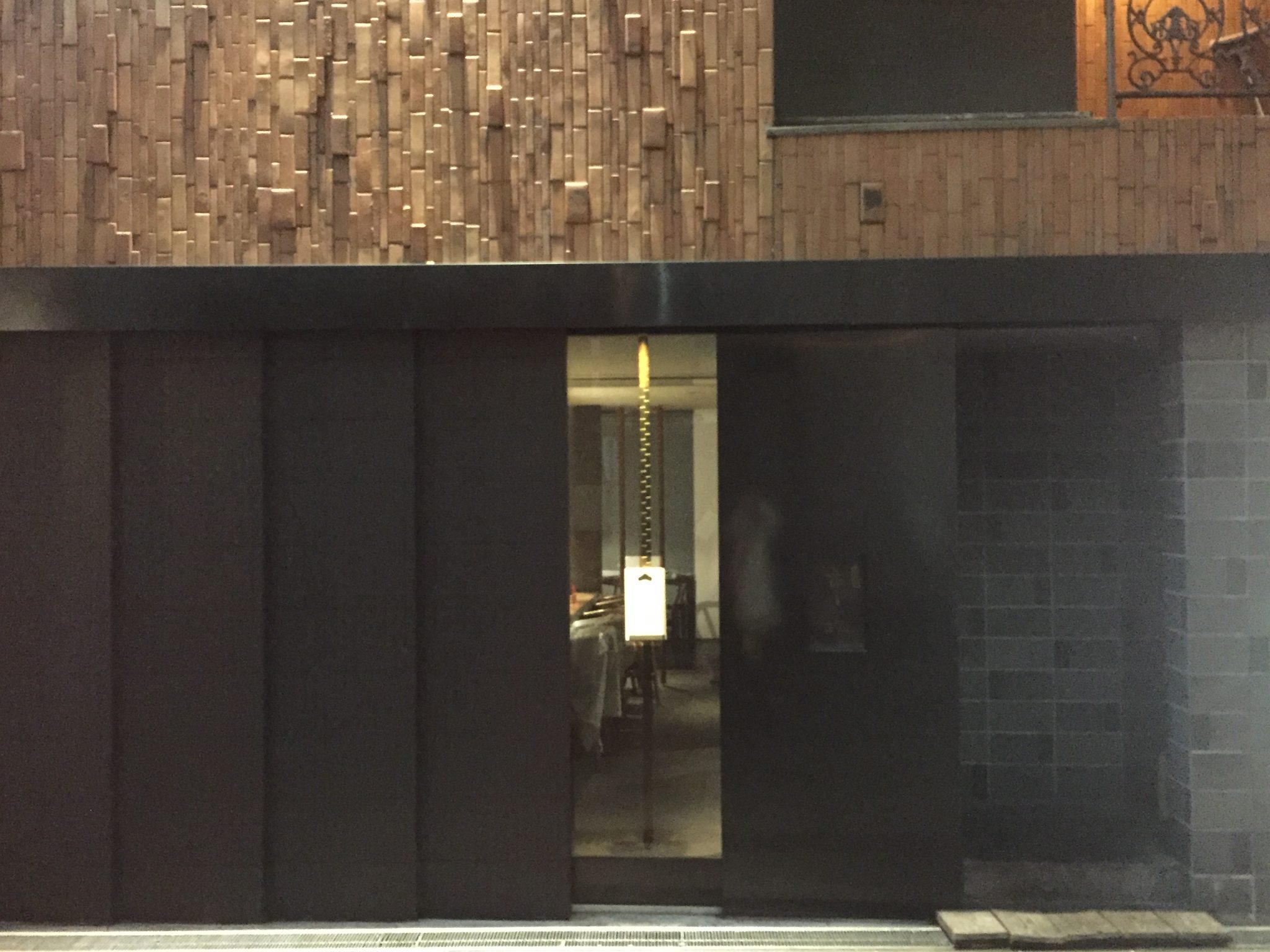 Yakitori Ichimatsu is located in Kitashinchi area which is considered the nightlife district in Osaka.
There is only one omakase course consists of 20 dishes at 6,500yen which includes Oden of Ricotta cheese(stewed Ricotta cheese),sashimi of jidori(Chicken),and yakitori set.
The seared chicken sashimi is lightly cooked on the outside but the center is still raw.
Yakitori dishes consist of chicken and leak, chicken wings,chicken meatballs and so on.
Each dish is served one by one,it's really like a Kaiseki style yakitori course.
You can eat it with a wide variety of original seasoning such as sesame oil powder,soy sauce mouse and lime.
The chef,Mr Takeda is particular about ingredients,he visit every region of Japan to buy the best ingredients on weekends.
His dishes is simple yet creative and tasty.
They also offer 30-40 kinds of Italian wine, and 15 kinds of half-size bottle wines.
You need to make a reservation in advance
Address: 1F Espace Kitashinchi23,1-5-1 Dojima, Kita-ku ,Osaka(The same address as famous Kaiseki restaurant Koryu)
Location:5 minutes walk from JR Tozai-line Kitashinchi station,5 minutes walk from Subway Yoysubashi-line Nishiumeda station
Phone:06-6346-0112
Open Hour: 18:00~22:30
Closed:Sunday
Price:Dinner6,000~7,000 yen
Map
3.Tsuki no Odori/月のおどり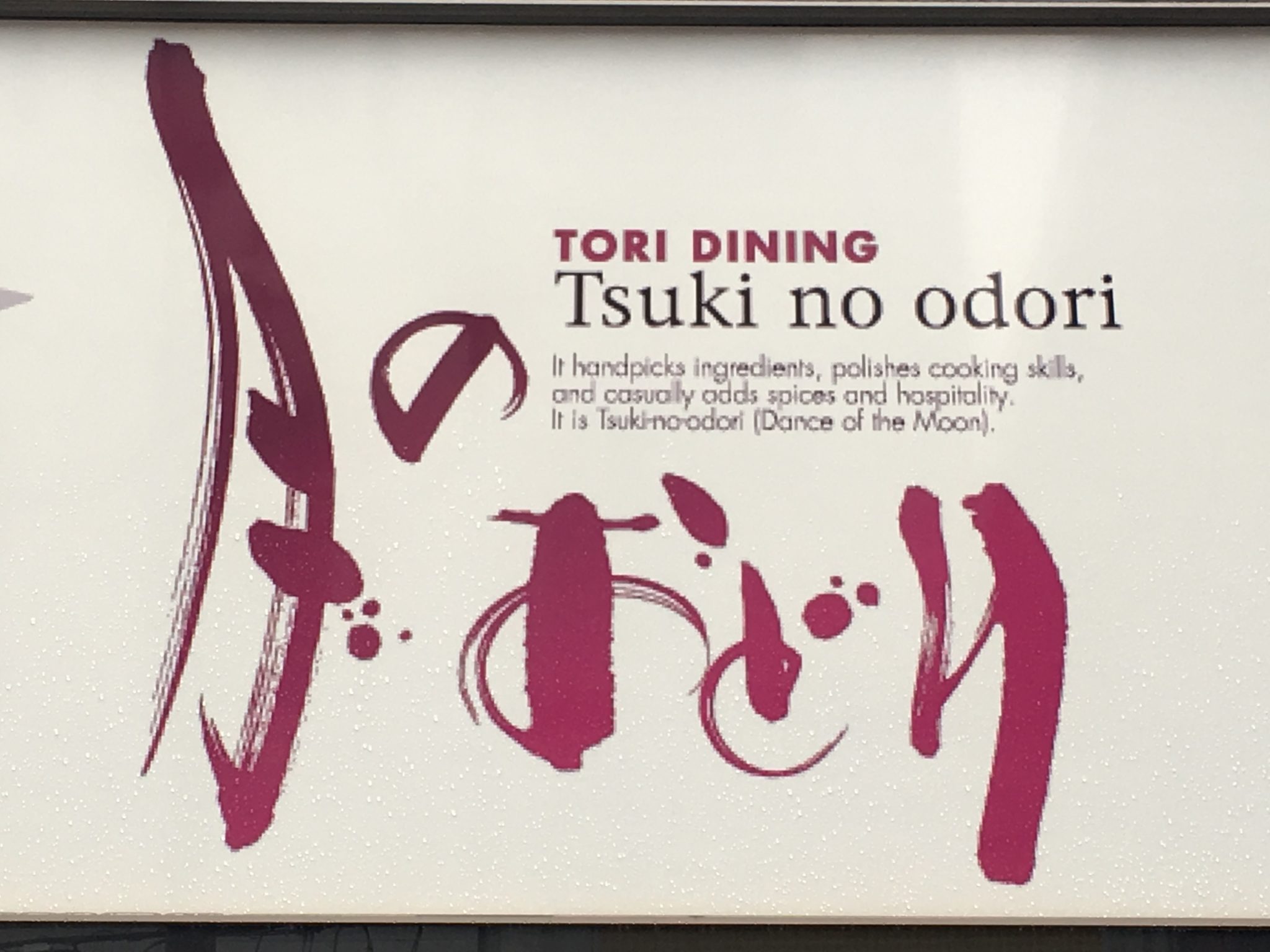 Tsuki no Odori is a popular yakitori restaurant especially among foreign tourists.
It is Izakaya-style restaurant,the main items are yakitori but there are also almost every part of the chicken grilled dishes.
First,they will welcome you with a Tsukidashi (a small appetizer from the chef) which cost 380 yen per person.
You can enjoy great Yakitori and various chicken dishes here.There are unusual items such as Kyoto duck yakitori,escargots,and foie grais.
The popular item here is spicy chicken wings, chicken with onion.They are very tasty and juicy.
They started to offer authentic halal dishes from 2016 every day which is very popular among Muslims.
There are also many kinds of wines and Japanese sake available which goes well with the chicken dishes.
The staff are super friendly, and they can speak English fluently. They will explain to you in English if you have any menu questions.
As far as I know most yakitori restaurants in Osaka don't have English menu,so it would be very helpful for you.
Address:2F K24 Bldg,1-1-11 Dotonbori, Chuo-ku,Osaka
Location:5 minutes from Subway Midosuji-line Namba station Exit 25,3 minutes walk from subway Sakaisuji-line Nipponbashi station Exit 2
Phone:06-6213-9988
Open Hour: Mon-Wed,Fri-Sun 16:00~24:00(L.O.23:00)
Closed:Thursday
Price:Dinner3,000~4,000 yen
Map
4.Akiyoshi/秋吉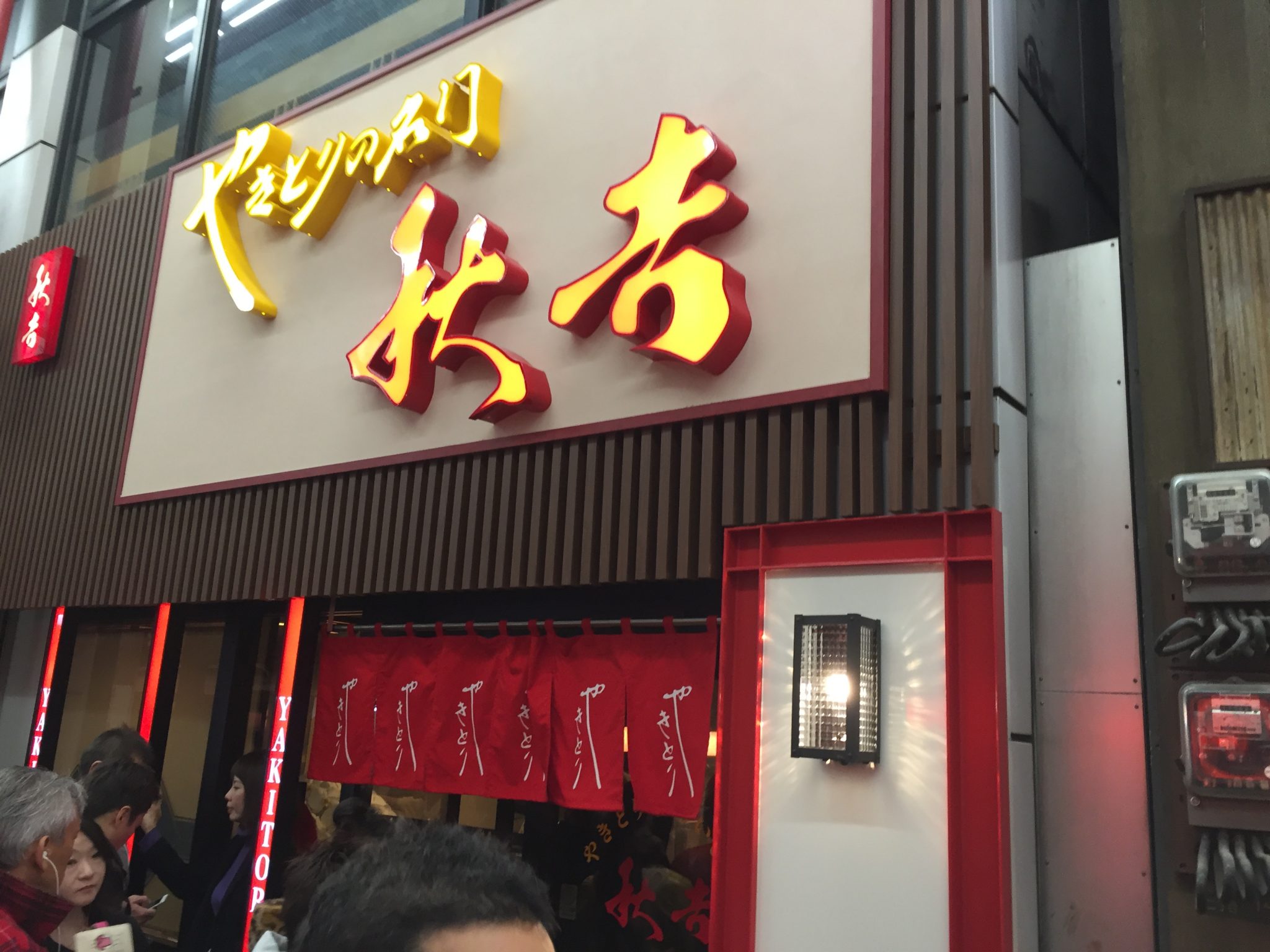 Akiyoshi is a famous yakitori Izakaya chain restaurants first opened in Fukui Prefecture and it spread throughout the Hokuriku region(North of Japan),Tokyo and the Kansai area.
You can enjoy delicious yakitori dishes at a reasonable price here.
The recommended item here is 5 yakitori pieces called "Jyunkei" at only 385 yen. 1 piece cost only under 80 yen!
It uses only carefully selected hen chicken that is very tender and juicy.
There are also kushiage, which are deep-fried skewers of grilled vegetables,grilled mushrooms and green peppers.
You can eat it with miso sauce or spicy mustard.
There are also a wide variety of mixed drinks based on Japanese sake and Japanese liquors.
There is always a long line outside the restaurant,so I recommend you to arrive 10 minutes early before the opening time.
Address:1F, US Bldg.2-14-14 Sonezaki Kita-ku Osaka
Location:3 minutes from Subway Tanimachi-line Higashiumeda station
Phone:06-6316-0753
Open Hour: Mon-Fri:17:30〜23:30,Sat,Sun,Public holiday:17:00〜23:30
Closed:Opens everyday
Price:Dinner 3,000~4,000 yen
Map
5.Namba Sumiyakishoten Yo 難波 炭焼笑店 陽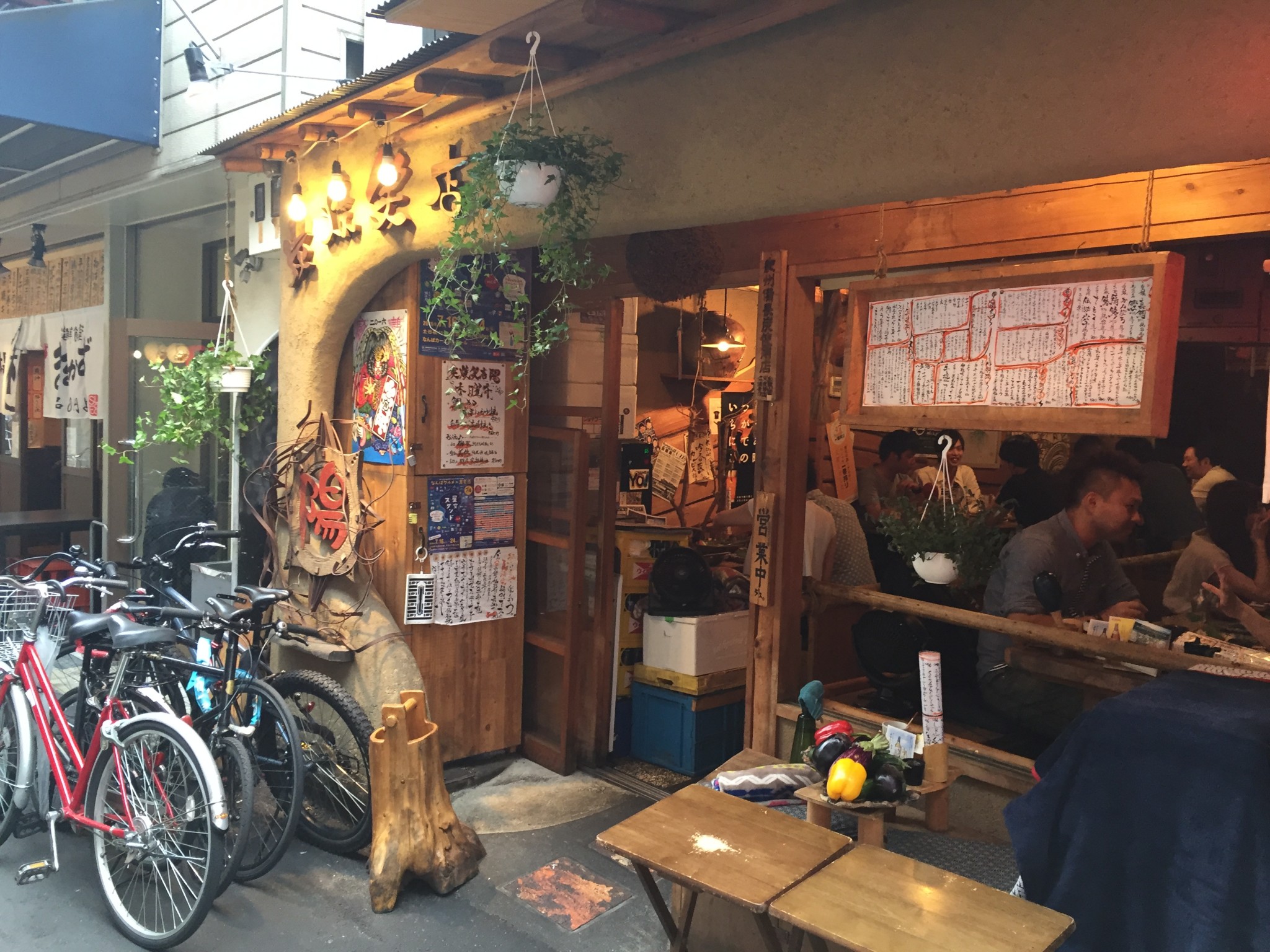 Sumiyakishoten Yo is a traditional char-grilled restaurant in Osaka.
This restaurant is located at the area called "Ura Namba" which is always filled with locals.
It is Izakaya-style restaurant which serves not only yakitori dishes, but also Japanese home-style dishes ranging from Buridaikon(simmered yellowtail with radish) to oyakodon.(a bowl of rice topped with chicken and eggs)
They grill yakitori over white charcoal until it's juicy and tender on inside and crispy on outside.
They have a large selection of drinks including Japanese sake,cocktails and wine.
This is the best place for those who want to enjoy authentic Japanese dishes with different kinds of alcohol drinks in a local atmosphere.
Address:Hannan Bldg.1F 14-25,Sennichimae,Namba,Chuo-ku,Osaka
Location:3 minutes from Subway Midosuji-line Namba station
Phone:06-6647-8988
Open Hour: Mon-Sat 11:30〜15:00 17:00〜3:00(L.O.2:30)
Closed:New years day
Price:Lunch ~1,000yen Dinner3,000~4,000 yen
Map
I hope you'll enjoy best yakitori dishes in Osaka!
If you're looking for unique activities and experiences in Osaka,you can find them here:
If you want to try Izakaya and other finest Osaka's food, try Osaka Bar Hopping Food tour with Magical Trip.
They'll get to experience authentic Osaka foods and drinks by pub crawling local izakaya bars that travelers normally couldn't find.
Click here for related information:
Top 5 best kushikatsu restaurants in Osaka!
Top 5 Must Eat Foods in Namba!Location and Map
3 Things to do in Amerikamura! Shopping area and Map
Related posts(Including ads)