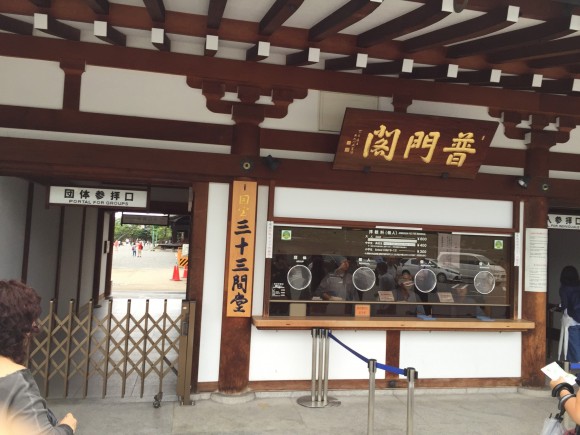 Hi,I'm Keiko from Osaka!

Sanjusangendo Temple is a very unique temple in Kyoto.

As you enter the temple, you will see 1001 Kannon statues is standing in the 120-meter long main hall.

This is my third time to visit Sanjusangendo, but I was always impressed with this sight.

I wanted to take some pictures of Kannon statues, but unfortunately Sanjusangendo prohibits picture taking inside the hall.

Then I do my best to explain inside of Sanjusangendo!

Sponsored Links
Local Guide:Sanjusangendo in Kyoto!1001 Kannon Status will welcome you!
History of Sanjusangendo
Sanjusangendo was originally built by Taira no Kiyamori in 1164 AD at the demand of retired emperor GoShirakawa.
The original building was destroyed by a fire in 1249 and only the main hall was rebuilt in 1266.
It is recorded one hundred and fifty six of these statues were rescued from this fire.
The meaning of Sanjusangendo
Sanjusangendo means "A Hall of thirty three bays"
The number of 33 derived from the belief that Kannon Bodhisattva saves all mankind by disguisind himself as 33 different figures.
So the architectual plan of this hall is based on arranging,1001 Kannon statues on the vast alter with 33 bays (one between Pillars).
The meaning of Senju Kannon
This Kannon Satue is called Senju Kannon.
Senju means"1000 arms" in Japanese. But you will notice each Senju Kannon has only 42 arms.
Do you know why is it called Senju Kannon even though it has only 42 arms?
Senju Kannon is equipped with 11 heads and 42 arms. There are two regular arms, and 40 arms to help fight human suffering.
It is said that one hand can save twenty five worlds. 40 arms x 25 worlds = 1000 saving.
The words 'thousand' express infinity
That means one Senjukannon has one thousand savings and infinite mercy in the hall.
That is why it is called Senju Kannon.
It is said that each of the Kannon statues has a different face, and everyone can find a statue that have a similar face to their own in 1001 senju-Kannon statues.
Let's find the statue which has a similar face to you!
Cafe around Sanjusangendo
One of my pleasures to go to Kyoto is visiting cafes.
Of course I went to the cafe after visiting Sanjusangendo!
This time I've been to Shichijo Kanshundo(七條甘春堂),which is famous for "kyogashi".
Kyogashi is hand-crafted,traditional Japanese sweets made in Kyoto.You will enjoy the beauty and deliciousness of kyougashi.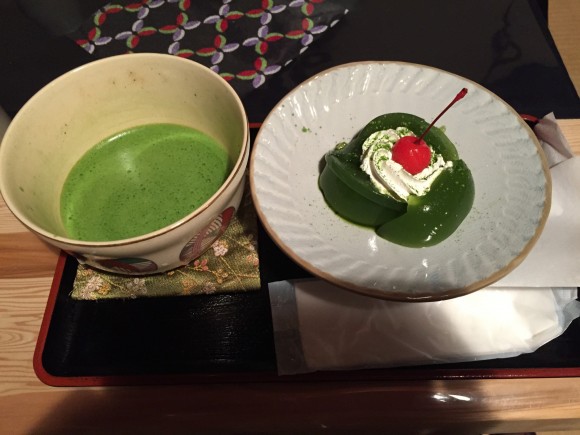 I picked up green tea jelly with green tea!
Green tea was bitter and a green tea jelly was very sweet.
It was a great balance of bitterness and sweetness.
I'm getting used to the bitterness of green tea, but it might be too bitter for the people who try for the first time.
For other options there are seasonable parfait or Kakigo-ri(shaved ice topped with flavored syrup)etc.
Menu contents may vary according to the season.
Cafe information
Name:Shichijo Kanshundo(七條甘春堂)
Address: 551 Shichijo-dori Honmachi Higashi-iru, Nishino Kadomachi Higahashi-iru, Kyoto
Location: 5 minutes from Keihan Shichijyo station.1 minute from sanjusangendo
Phone: 075-541-3771
Open Hour: 10:00~18:00 (L.O.17:30)
Closed: –
Price:~1500 yen
Sanjusangendo Information
Address:657 Sanjusangenndo-mawari-machi, Higashiyama-ku, Kyoto
Location:5 minutes walk from Keihan Shichijo Station,The taxi ride from JR Kyoto Station is approximately 10-15 minutes
Phone: 075-561-0467
Opening hours:9:00-16:00(Nov.16 to Mar.)8:00-17:00(Apr. to Nov.15)
Closed:-
Admission fee:Adults: 600 yen,Junior High and Elementary School Students:400yen,Child:300 yen.
Map
Sanjusangendo is a one of a kind Buddhist hall.I definitely recommend you to visit there!
Click here for related information:
Local Guide:Kiyomizu Temple in Kyoto! Top 5 Must see spots!
Related posts(Including ads)