I experienced the tea ceremony with a geisha at Maikoya in Kyoto.

I've always wanted to see a real geisha,but meeting geisha is not easy for even locals because of the strict rule called "Ichigen-san okotowari(invitation-only)".

However,Maikoya offers the place where you can experience the tea ceremony with a real geisha.

Here, you can meet and talk with a real geisha.

It was actually a lot more fun than I expected.

Let me share this amazing experience with you this time!
Sponsored Links
Best Geisha Experience at Maikoya in Kyoto
Maikoya Kyoto
is located just a few minutes' walk from Keihan Railway Gion-shijo station or Hankyu Kawaramachi station.
First, I was dressed in Kimono and had my hair set.
After I dressed up in a beautiful Kimono,they took me to the tea room where I can meet a geisha.
We were a small group of five,and everyone except me is foreign customers.
The hostess explained us about geisha's makeup, hair and clothing etc.
Finally she showed up.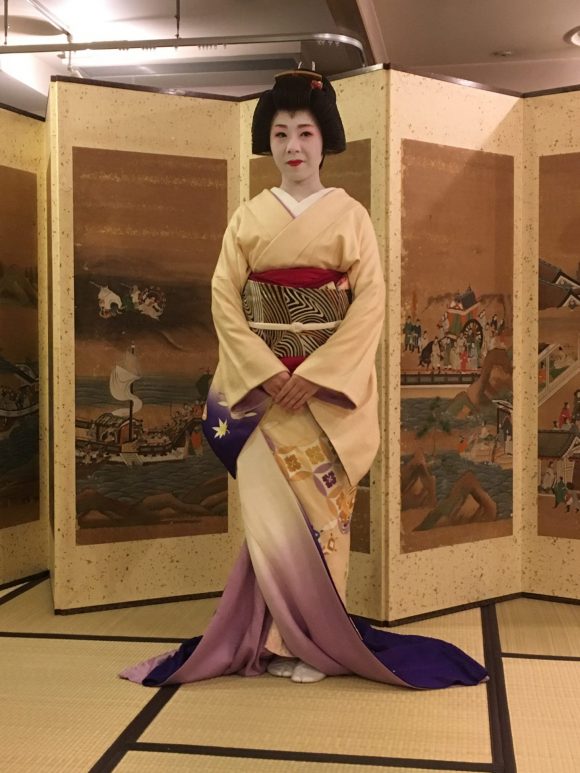 She is so gorgeous!
Her name is Ryouka-san.
Kyoto has 5 geisha districts:Gion Kobu,Gion Higashi,Miyagawa-cho,Kami-schichiken and Ponto-cho.
And Ryouka-san is a geisha from Gion Higashi district.
She performed Japanese dance for us.
The motions were delicate and beautiful from her head to toe, and I couldn't take my eyes off her.
After her performance,we experienced the tea ceremony.
The hostess carefully taught us about the history of the tea ceremony, how to set up the tea, and how to drink the tea.
They served us green tea with sweets called "chagashi".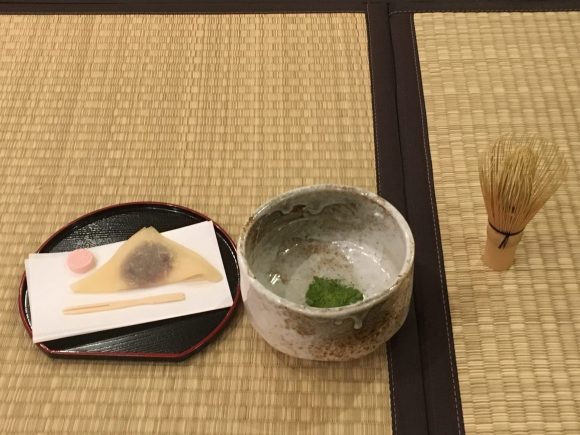 She also told us green tea would taste milder and less bitter if we stir it well using a bamboo whisk until the tea starts to become frothy.
So I stirred it well.
Eating sweets made a green tea more delicious.
Ryouka-san showed us purification part of the tea ceremony.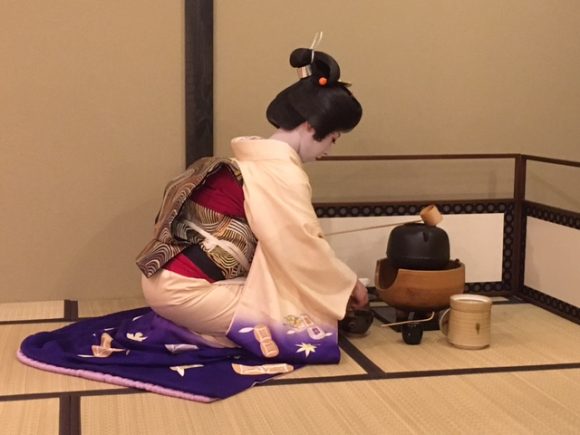 She was so beautiful from behind too.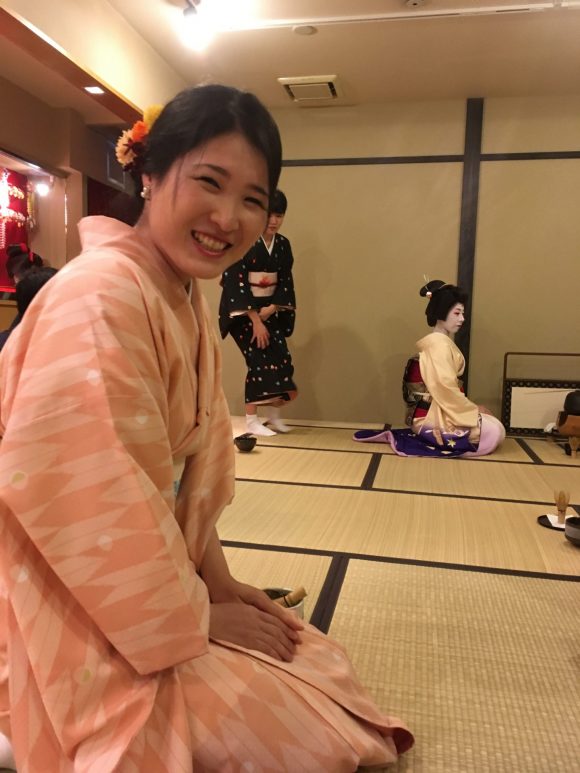 The staff took some pictures with Ryouka-san for me.
If your legs hurt, you do not need to sit in the "seiza" kneeling position.
After the the tea ceremony, there was a time to ask questions to Ryouka-san.
The participants asked her why she became a geisha or what did her parents say about being a geisha.
She carefully answered any questions.
Since they have many foreign customers, they mistook me for a foreigner.They were surprised when I spoke Japanese:)
The staff were very kind and helpful and I really had a great time!
There are more cultural activities such as Japanese cooking classes,calligraphy,origami and experiences with samurai and ninja at Maikoya in Kyoto.
The price of geisha tea ceremony(includes kimono wearing)starts at ¥10,000 per person.
Maikoya is a dream location where you can experience all of Japanese culture in a day.
Make sure you go to
Maikoya
if you are in Kyoto!
Maikoya
Address:3F, 576 Gionmachi Minamigawa, Higashiyama-ku, Kyoto
Location:5 minutes walk from Keihan Railway Gion-shijo station or Hankyu Kawaramachi station.
Phone:075-741-7554
Email address:kyoto@mai-ko.com
Price:¥10,000〜
Map
Related posts(Including ads)