Hi,I'm Keiko from Osaka!

Osaka is known as the central kitchen of Japan.

The region is full of dishes popular not only in Japan but world wide.

You may be familiar with some of these dishes.

Takoyaki (grilled bowls with octopus inside), okonomiyaki (Japanese savory pancake), kushikatsu (deep fried meat and vegetables on skewers)….

Does it ring any bells?

If you are in Osaka, it is a perfect opportunity for you, not only to eat these great dishes but also to learn how to make these dishes.

In this article, I will introduce you to 5 top cooking classes that teach you how to make authentic Japanese food, especially Osaka's regional dishes.

Some are classroom types taught by a professional chef, while others are more about connecting tourists with the locals over food.

I am sure you will find a class matching to your interest.

Here are top 5 cooking classes in Osaka.
Sponsored Links
Top 5 Cooking Classes in Osaka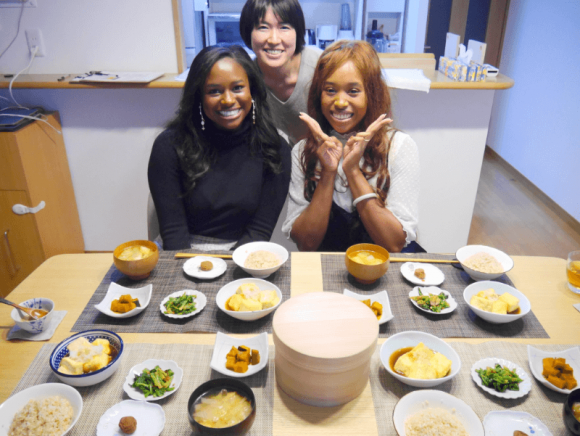 Air Kitchen is not just a simple listing of cooking classes.
It is a matching platform that connects travelers with a local host who can show how to make Japanese dishes.
This is a great platform to connect with the locals and experience local culture.
Being such a crowd-based platform, you can learn an infinite number of local dishes.
For the location of Osaka, there are over 120 hosts willing to share their favorite recipes.
If you are in Osaka, why don't you learn how to make such local dishes as,
Gyoza
, unique
Bento Box Making
,
Udon
and
Okonomiyaki
&
Takoyaki
from a local host?
It's also nice to learn authentic Japanese dish like
Sushi
or
Ramen.
The great thing about this platform is that there are several listings of vegan dishes classes, which are usually difficult to find.
The price varies depending on a host and dishes but starts around 3,000 yen and goes up over 10,000 yen.
The platform is really easy to use.
The contents of the class, services included, and the price are clearly stated.
Why don't you check out the site to see if there is any dish you may want to learn?
Check Best Cooking Classes in Osaka!
2.Cooking Class Yayo

This homey cooking class is a top rated one in Osaka.
Yayo is a kind and knowledgeable teacher who can teach you how to cook as well as the food culture of Osaka.
When you book her class, she will meet you at a local station to take you to her kitchen studio.
She can show how several Japanese dishes are made with her eloquent English.
The classes are small, maximum of 6.
So it will be guaranteed that you will enjoy hands on teaching by Yayo and lots of interaction while in your class.
She offers 3 kinds of classes: Osaka food, sushi, Japanese home cooked meals. Sushi course is 11,000 yen while Osaka food and Japanese home cooked meals are 9,000 yen.
In Osaka cooking class, you can learn how to make okonomiyaki, takoyaki, and miso soup.
You can book her class on
Trip Advisor

3.Eat Osaka
What a clever name…
Because you will be doing exactly that if you join this cooking class.
In Eat Osaka cooking classes, you will be experiencing the food culture of Osaka itself.
They offer two classes: Osaka street food and home style Japanese cooking.
In Osaka street food class, you will learn how to make udon noodle from scratch as well as lollipop style okonomiyaki and yakitori (chicken BBQ on skewer).
In home style Japanese cooking class, you will learn miso soup, ginger pork and mochi.
For both classes, the class fee is 7,500 yen inclusive of a welcome drink.
They have daily offering of 11am or 5pm classes so you can choose if you want to go for a lunch class or dinner class.
Classes are offered in English.
They also offer a private class starting at minimum of 2 people.
It may be fun to organize a cooking class party among your friends.
You can book their class on
Eat Osaka
Eat Osaka
Address:1-4-7 Ebisuhigashi,Naniwa-ku, Osaka
Location:5 minutes walk from Osaka Metro Sakaisuji Line Ebisucho Station
Phone:080-5325-8975
Email address:eatosaka@gmail.com
Map
4.Sakura cook
This is another great cooking school that offers variety of cooking classes.
You can learn such popular dishes as sushi, ramen, takoyaki, tempura, seasonal Japanese cooking, sweets, obento (lunch box).
The great thing about this school is that even in one themed dish, such as sushi, there are a basic class and an in depth class.
So you can decide depending on how deep you want to learn or how hungry you are!
For most of the classes you can learn either in English, Japanese, or Chinese.
Depending on your dietary restriction, you can request vegan, vegetarian or halal cooking, so you can make sure to learn the cooking method fitting to your or your family's preference.
The price varies depending on the course however starts around 4,000 yen.
Check Cooking Classes on
Sakura cook
Sakura cook
Address:ZEPHYROS Minami-horie 304, 1-16-16, Minami-Horie Nishi-ku, Osaka
Location:5 minutes walk from Osaka Metro Yotsubashi line Yotsubashi Station
Phone:06-6626-9088
Email address:contact@sakuracook.jp
Map
Voyagin offers tourists with deep local experiences.
Here, you can find various cooking classes being offered by local chefs and food enthusiasts.
For example, you can learn to make udon noodle from a professional noodle maker along with sake tasting for 6,800 yen.
Or how about having the ultimate Osaka street food experience by learning and experiencing takoyaki on an actual takoyaki stand for 5,000 yen?
These unique experiences can be booked at the following voyagin site
Check Cooking Classes on
Voyagin
For your information
You can apply for a wide variety of fantastic tours and activities in Osaka from overseas through
Voyagin
Related posts(Including ads)