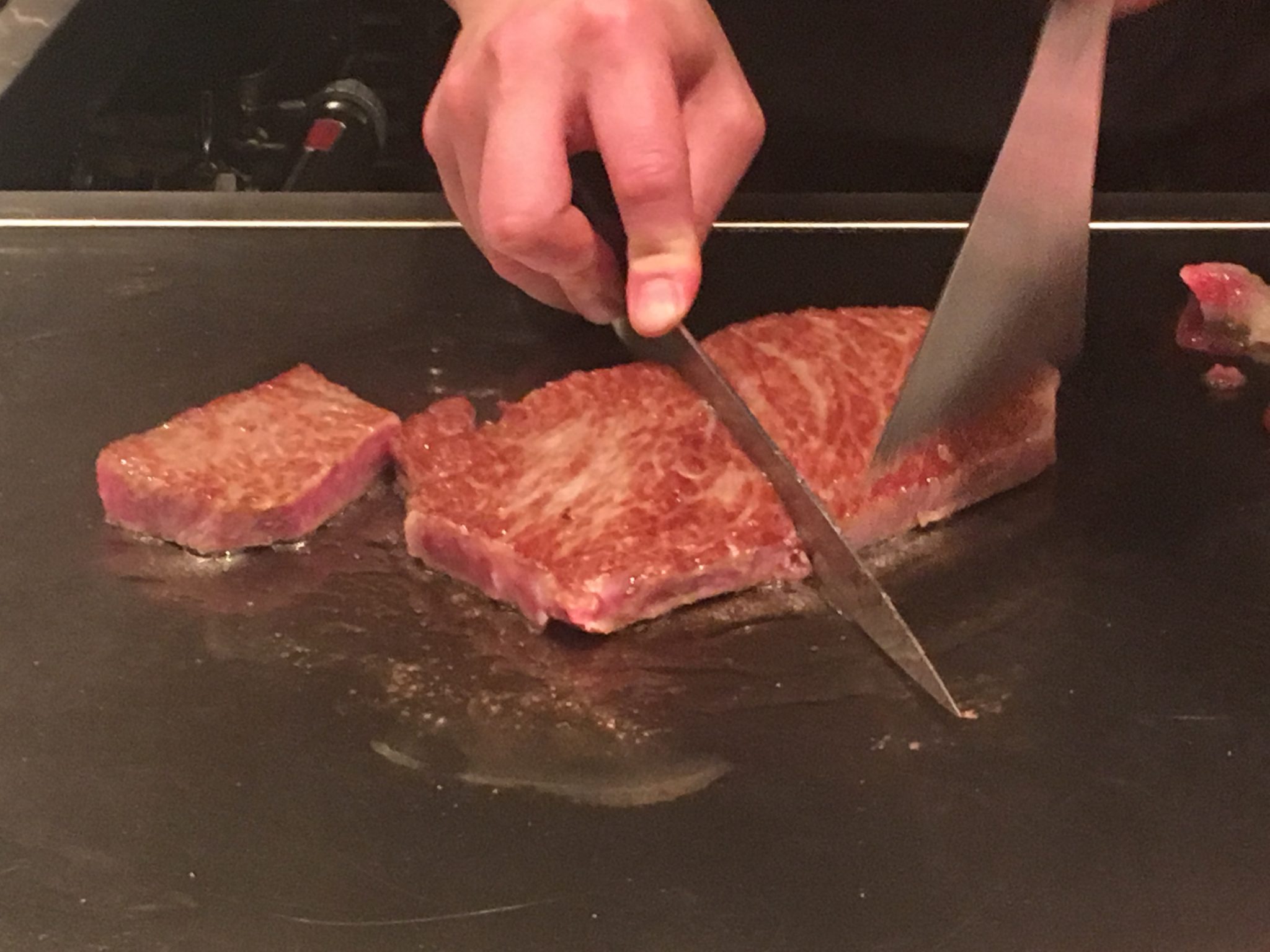 Hi,I'm Keiko from Osaka!

I went for the lunch at Ishida,one of the most famous Kobe beef restaurants in Kobe with My Concierge Japan team.

What is My Concierge Japan?Please visit→here

I was really excited to try their Kobe beef.

This time I would like to write the review of Ishida where I have had the great Kobe beef experience!
Sponsored Links
Review of Kobe beef restaurant Ishida in Kobe,Japan!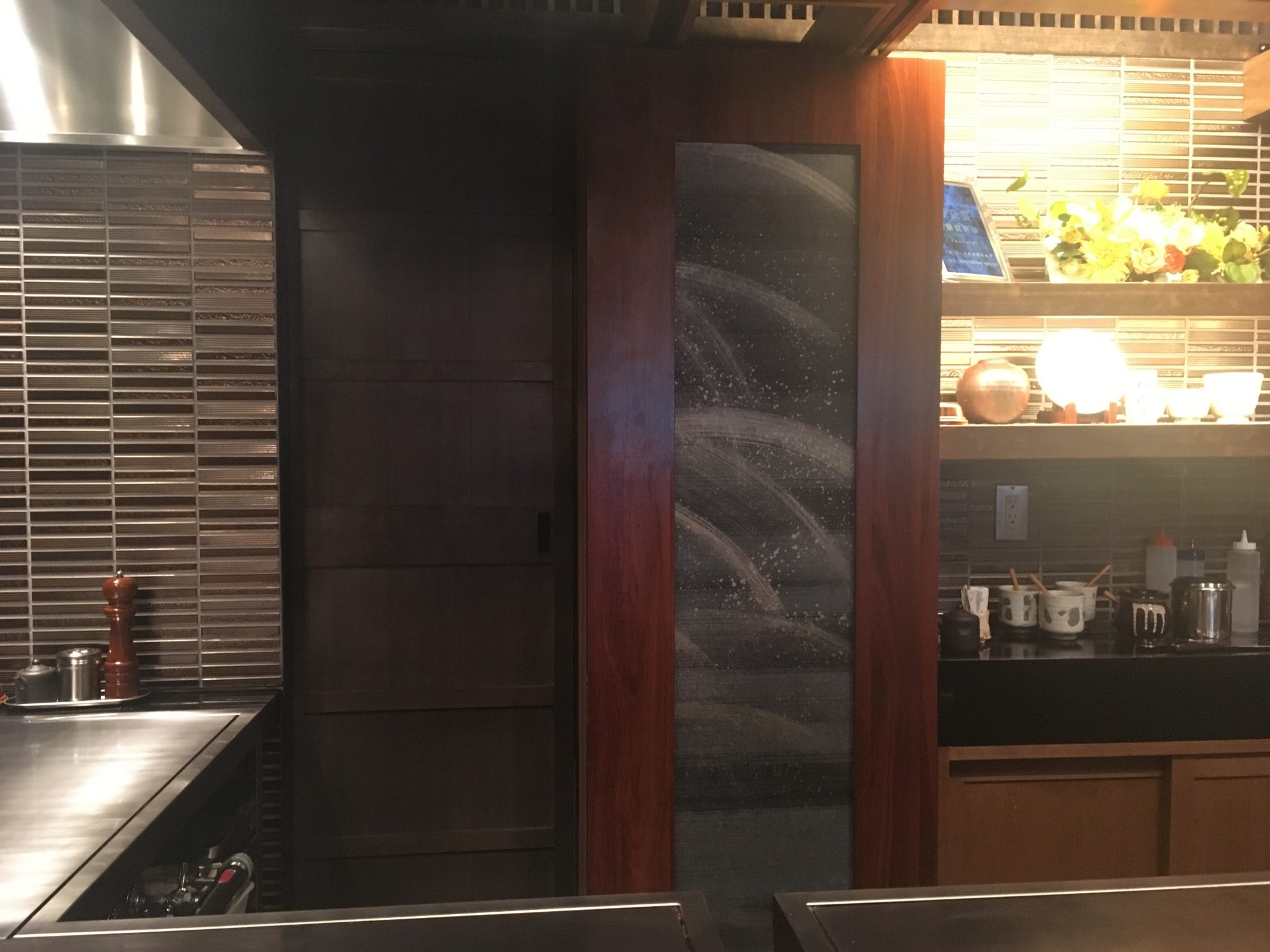 Ishida has four branches,and we went to Ishida kitanozaka shop which was located only 5 minutes walk from JR Sannomiya station.
We were there at 1:30 p.m.
It seemed to me that most customers were from overseas.Maybe we were the only Japanese:)
The restaurant has peaceful atmosphere and modern Japanese style interior.
There are 5 types of lunch menus you can choose from, such as Grade A4 or A5 Kobe beef,Japanese black fillet,Japanese black beef and Hamburg steak.
I ordered the 8,800yen lunch set with the 150g Grade A5 Kobe beef steak.
It came with appetizer, a salad, miso soup,rice,some pickles,dessert and drink.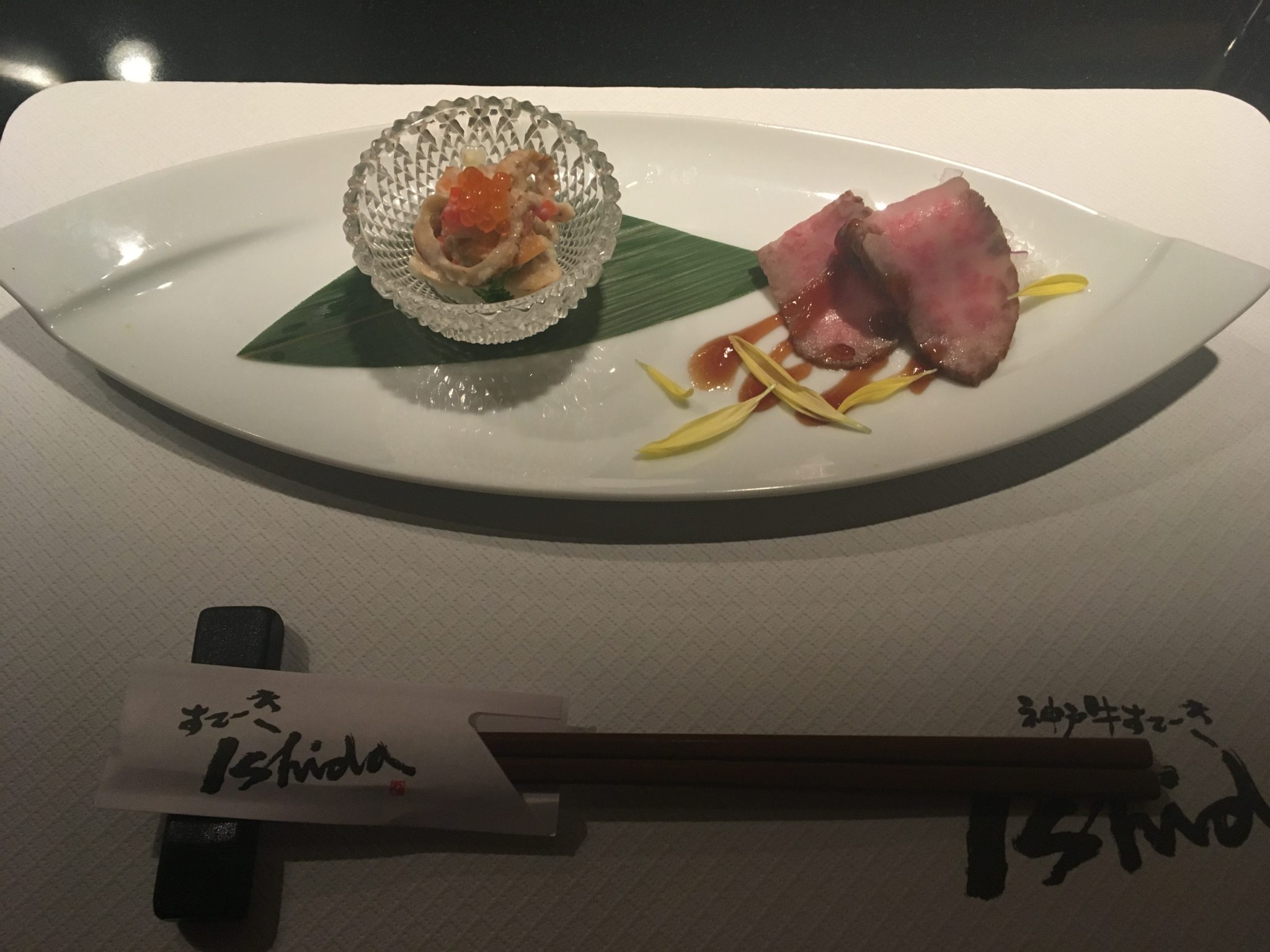 The appetizers were roast beef and seafood marinade.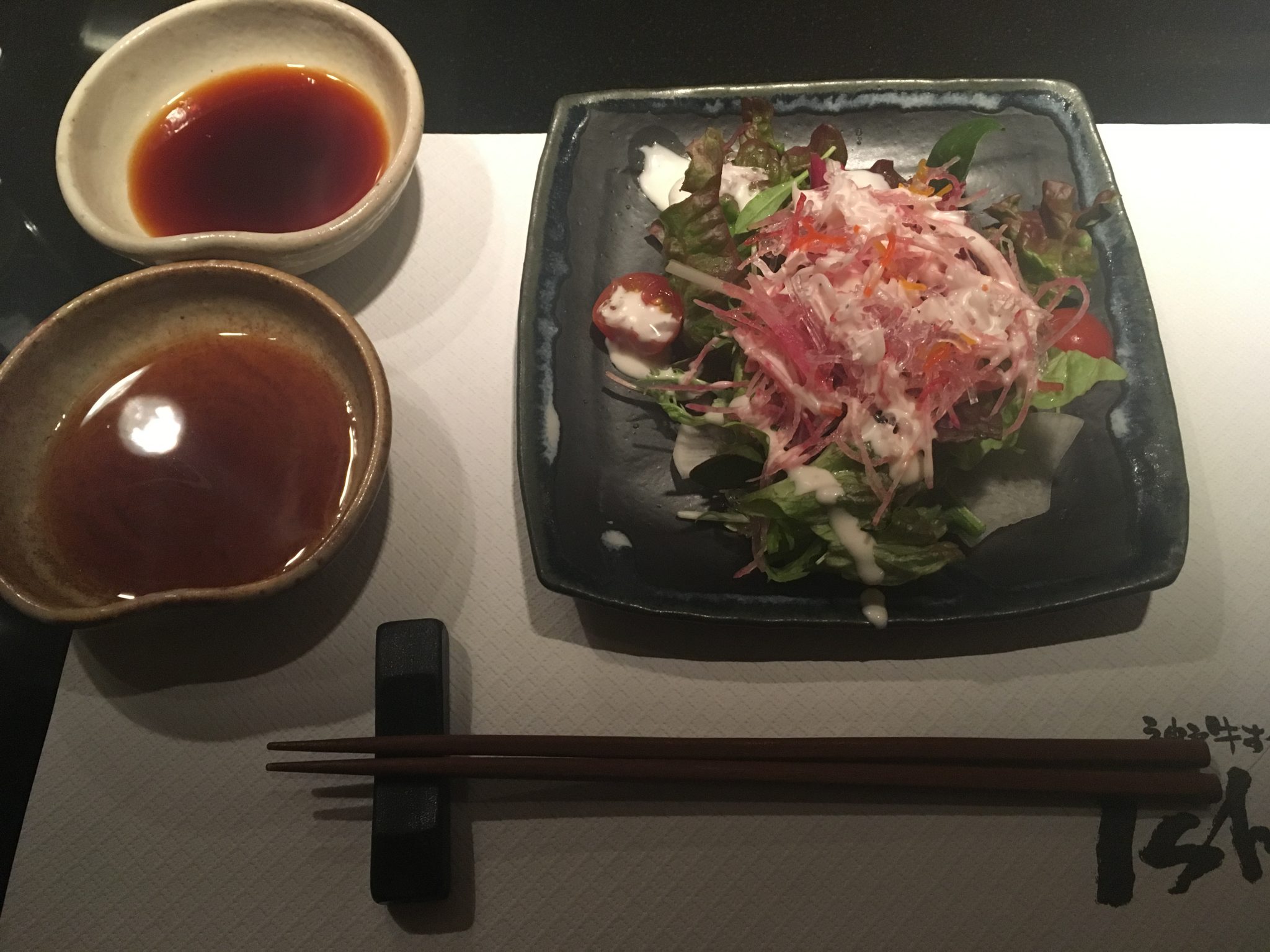 Then I had a fresh plate of salad.
They were pretty good.
The chef showed me the beef in front of my eyes first before he cook them.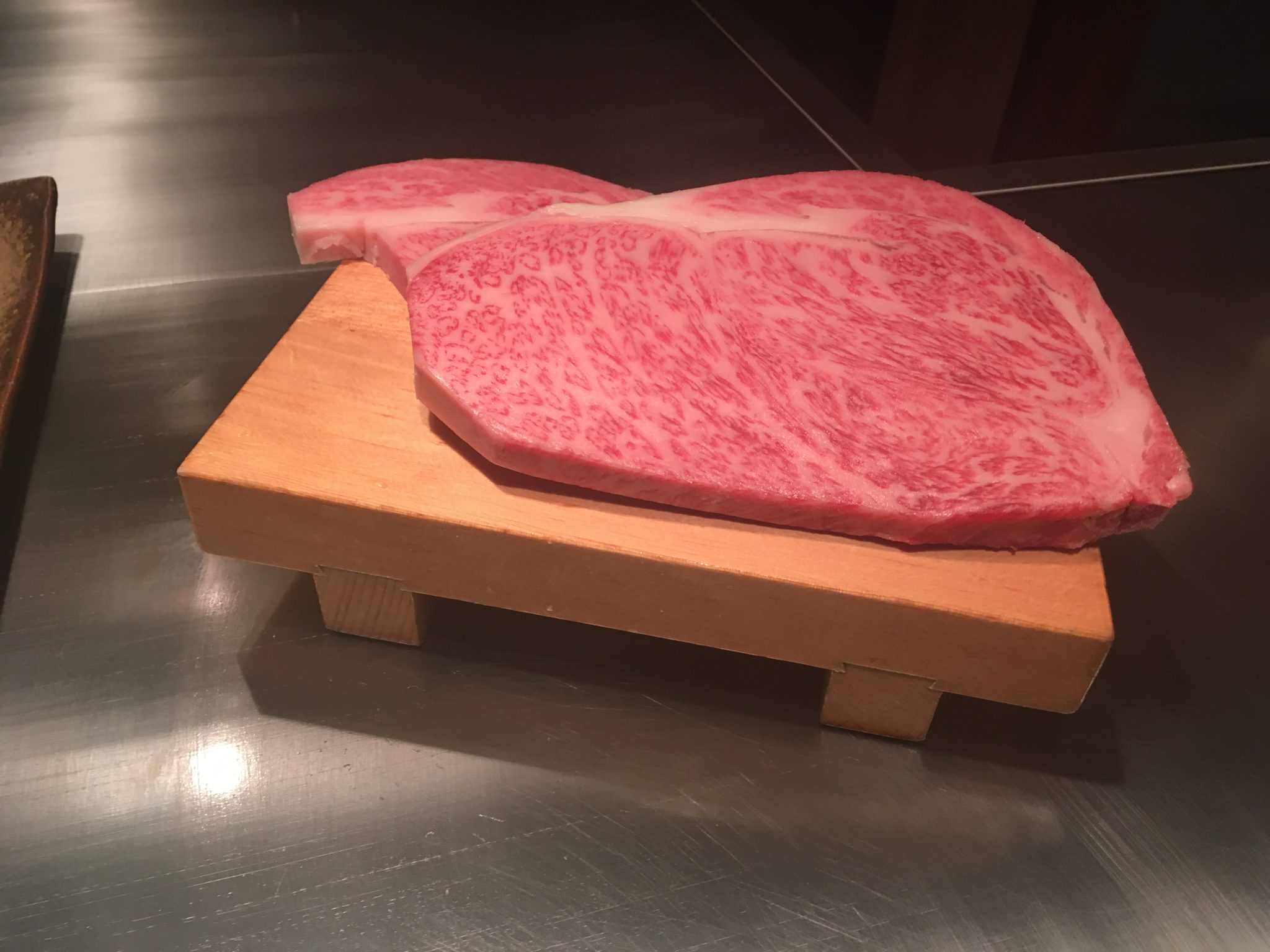 Check out the marbling on the beef!It made my mouth water:)
I asked him to cook it medium rare.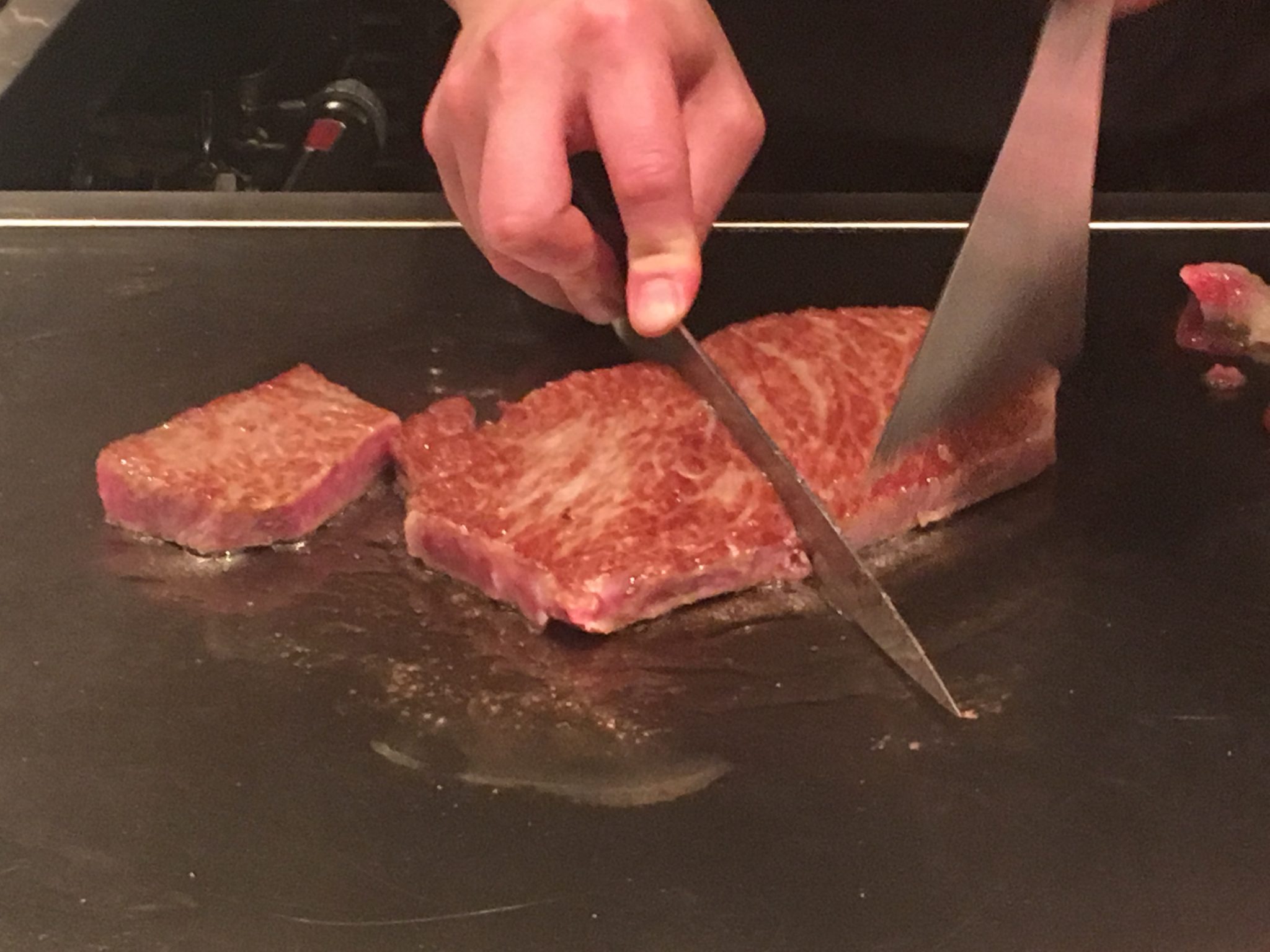 He cut up the steak into bite-size pieces and put some on my plate.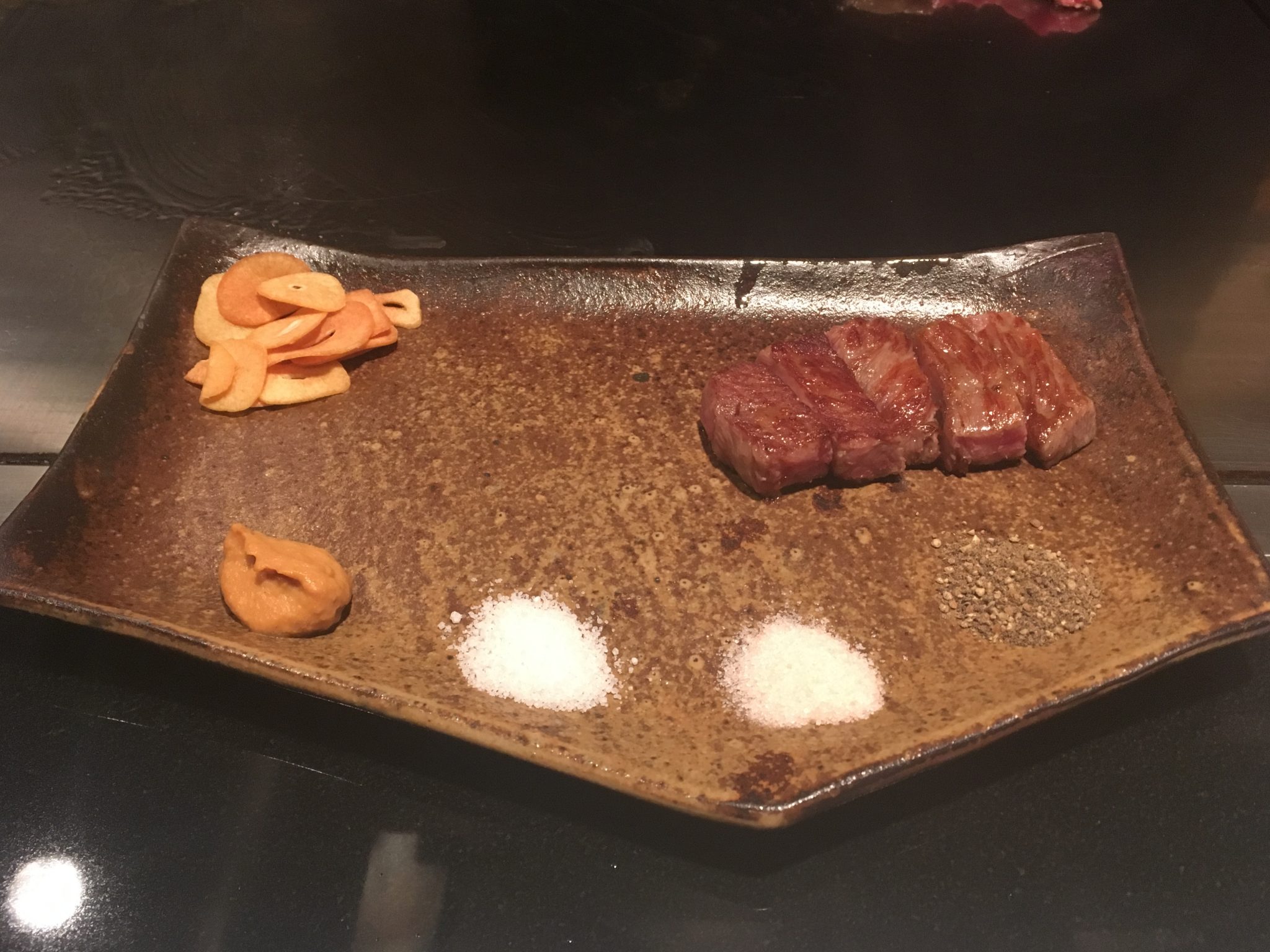 It looked quite nice.I've been waiting for this moment!
On the plate, they had garlic chips, mustard, rock salt, sea salt and black pepper.
The chef told me to first try the beef with a bit of salt to enjoy the quality of the beef.
So I tried it.
The beef was amazing!!
It was rich,succulent and melt-in-your-mouth tender.
The rock salt and sea salt were the perfect match for the beef.
He also prepared some grilled lotus root, cabbage, kimchi and mushrooms as side dishes.
The meals were served with rice,miso soup and some pickles.
Then the chef cooked the scrap pieces of the beef and seared bean sprouts on an iron plate.
The meal finished with yuzu(citrus) sorbet and a cup of tea.
I really enjoyed the foods and the atmosphere of the place.I always loved the Kobe beef, but since eating it at Ishida, I loved it even more!
I highly recommend Ishida if you want to have an authentic Kobe beef experience.
If you want to try the same steak as me, please visit
here
I hope you'll have a great Kobe beef experience in Kobe!
Ishida Main Shop
Address:3F 1-21-2,Kitanagasadori,Chuo-ku Kobe Hyogo
Location:2 minutes from JR Kobe Line/Hankyu Line Sannomiya Station
Phone:078-599-7779
Open Hour: 11:30 ~15:00(L.O.14:30 ),17:00 ~22:00(L.O.21:00)
Closed:Tuesday
Price:Lunch 2,000〜4,000yen Dinner 8,000yen〜20,000yen
Map
For your information
If you're looking for unique activities and experiences in Japan,you can find them here:

There are also a variety of unique food tours in Japan.

Tokyo:
Classic Food Tour in Shinjuku

Tokyo Traditional Foodie Tour in Akasaka

Osaka:
Dotonbori Food Crawl & Food Sample Tour:

They'll get to experience authentic Japanese foods and drinks by pub crawling local izakaya bars that travelers normally couldn't find.
Related posts(Including ads)