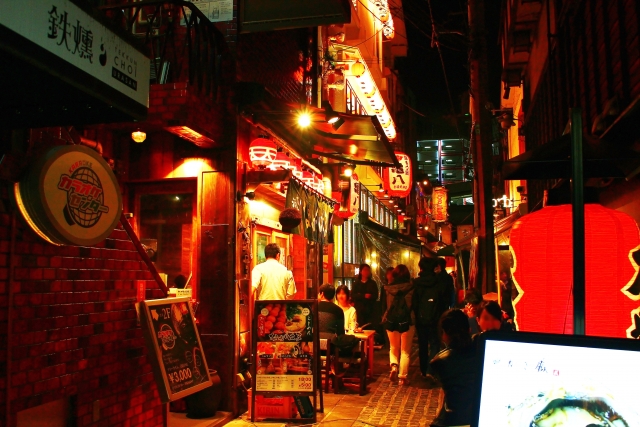 Kyoto has a vibrant nightlife and you really cannot talk about the Japanese nightlife without mentioning izakaya.

Izakaya has long been an important place where the Japanese gather with friends and colleagues after work.

It is a local bar, catering drinks and delicious inexpensive food. "Unwinding" in izakaya can get fairly loose and at a time loud.

The locals get together elbow to elbow, talking about their day's events, laughing, and drinking…

A trip to one of izakaya should be on your bucket list, if you want to see the real face of the Japanese.

Being a place where the locals gather, you may appreciate the atmosphere more, if you go along with a Japanese friend or someone who understands Japanese.

Here are 5 popular izakaya in Kyoto you and your friends can enjoy!
Sponsored Links
Local tells Top 5 Best Izakaya Restaurants in Kyoto!Experience local atmosphere!
1.Shinme/神馬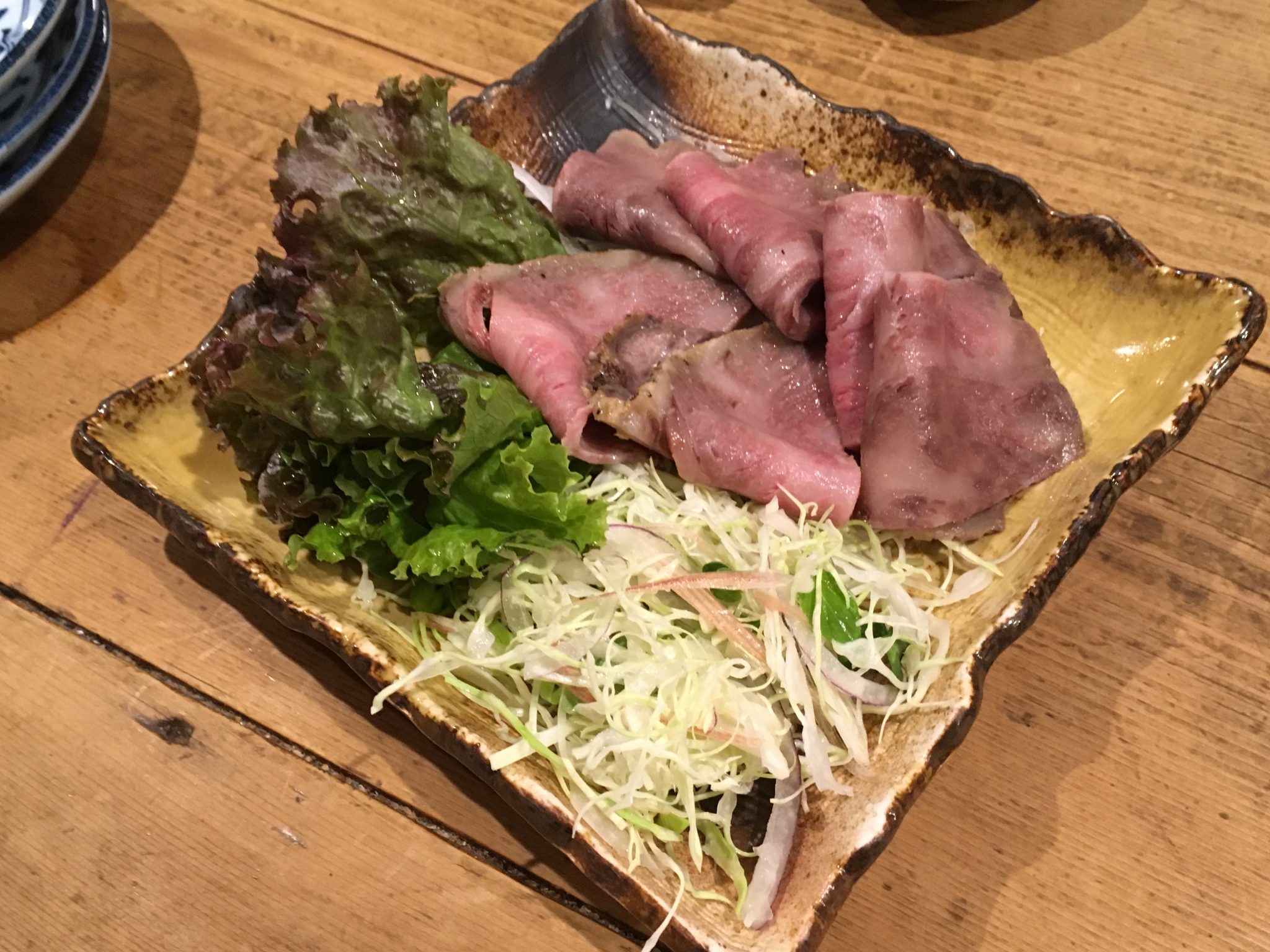 Established in 1936, Shinme is one of the oldest and most popular izakaya in Kyoto.
The exterior of the shop looks like a traditional Sake brewery and the interior has a nice retro feel for you to relax and unwind.
The shop's aim has always been to provide the fresh ingredients at the best possible condition.
Shinme is known for their fresh fish (sashimi) and tender roast beef.
Their staff is extremely kind and attentive.
If you need a taxi on your way back home or to your hotel, they will make such arrangement for you.
This izakaya is perfect in its food as well as its customer services.
Reservation is a must here. To get to Shinme, you can either take City Bus #50 or #206, then get off at Senbon Nakadachiuri stop.
English menu is available.
Shinme
Address:38 Tamaya-cho, Nishigawa, Nakatachiuri Agari, Senbondori, Kamigyo-ku, Kyoto
Location:5 minutes taxi ride from JR Nijo station,1 minute walk from Kyoto City Bus Senbon Nakadachiuri bus stop.
Phone:075-461-3635
Opening hours:Mon.-Sat.:17:00~21:30
Closed:Sunday
Price:5,000〜10,000yen
Map
2.Ukon/卯今
Ukon is a very popular izakaya that can satisfy any food enthusiast with its vast menu on chicken, beef, and fish.
Particularly popular items here are: chicken sashimi (yes, raw chicken) and grilled chicken that you can compare of different origins.
These are free-range chicken of different regions.
Ukon also offers many items on the grill.
It is located in the quiet neighborhood near Nijo Castle.
It is a very popular izakaya, so you should make a reservation in advance.
Ukon
Address:Tesoro Nagano 1F, 474 Taruyacho, Anekoji-Dori Nishi Horikawa Nishi-Iru, Nakagyo-Ku,Kyoto
Location:5 minutes from Subway Nijojo-mae station
Phone:075-777-8134
Opening hours:17:30~1:00(The following day)
Closed:Thursday
Price:4,000〜5,000yen
Others:Reservation is a must
Map
3.Shokudo OGAWA/食堂 おがわ
Ogawa is known to be the izakaya that is hardest to get a reservation.
You will need to make a reservation a few months in advance at least.
It was given a Michelin star.
Despite its popularity and the star, Ogawa manages to keep its cost down for everyone to enjoy its local izakaya feel.
The most popular items here include; tilefish sashimi, mackerel sushi, smoked duck breast, all of which are the specialties of Kyoto.
Most of the dishes here are made in a home-cooking style.
You can taste the best version of the Japanese traditional home meals that go perfectly with Japanese beer or sake.
If you want to go to Michelin awarded izakaya restaurant, you should visit Shokudo OGAWA!
Shokudo OGAWA
Address:204 Sendocho, Nishikiyamachidori Shijo-sagaru, Shimogyo-ku, Kyoto
Location:5 minutes from Hankyu Kawaramachi station,7 minutes walk from Gion-shijo station
Phone:075-351-6833
Opening hours:16:30~23:00(L.O.22:00)
Closed:Wednesday,The last Tuesday
Price:6,000〜15,000yen
Others:Reservation is a must(Reservation is available between 12:00 and 14:00)
Map
Next,let's go to a traditional izakaya restaurant in Kyoto!
4.Akagakiya/赤垣屋
If you want an authentic izakaya experience, where the Japanese enjoy unloading their stress of the days, this is a place to go.
The interior and the exterior look like a movie set of a traditional Japanese film.
Akagakiya offers great dishes along with local drinks.
It is usually packed with the locals, so you would want to make a reservation in advance.
You might want to try the Kyoto classics here: duck roast, hamo (conger eel pike), basashi (horse sashimi), or various tofu dishes like yuba (tofu skin), agedashi tofu (deep fried tofu in dashi stock), or goma tofu (sesame tofu).
You can also enjoy oden (hot pot dish with various processed fishcakes, radish, eggs, etc.), which could be perfect in the winter.
Akagakiya
Address:9,Magohashi-cho, Sakyo-ku, Kyoto
Location:5 minutes from Keihan Sanjo Station, 7 minutes walk from Kyoto Subway Kyoto Shiyakusho-mae Station
Phone:075-751-1416
Opening hours:17:00~23:00
Closed:Sunday,Subsequent Public Holidays
Price:2,000〜5,000yen
Others:Reservation is a must
Map
5.Gion YUKI/祇園 遊亀
Unlike the other izakaya introduced here, Yuki might be more accommodating to foreign tourists.
It offers the English menu and it is a great izakaya where you can experience the traditional izakaya style while understanding what you will eat.
You will see the great mix of the locals and tourists here.
The restaurant is owned by Okamura Honke Brewery that is located in the neighboring prefecture.
So it is only natural that you try their premium sake.
It is located in the middle of Gion. The first floor is izakaya while they have the second floor, which is set up more like a restaurant.
The plate of the assorted sashimi looks more like an art than a dish.
As most of their customers are stopping by here for a few drinks along with a few food items, the turn over of customers is fairly quick.
If the place is full, just wait for a few minutes until some seats become available.
I guarantee that it is worth the wait. If it is open, sit at a counter so you can observe the chef preparing sushi.
Gion YUKI
Address:111-1 Gion Tominagacho, Higashiyama-ku, Kyoto
Location:5 minutes from Keihan Gion-shijo station
Phone:075-525-2666
Opening hours:Mon-Fri:17:00~22:00(L.O.21:15),Sat,Sun,Public holiday:17:00~24:00(L.O.23:15)
Closed:Sunday,Public Holidays
Price:3,000〜4,000yen
Others:Reservation is a must.English menu is available
Map
I hope you'll enjoy local atmosphere in these Izakaya restaurants!
For your information
If you're looking for unique activities and experiences in Kyoto,you can find them here:

There are also a variety of unique food tours in Kyoto.

If you are a foodie looking for a nice hang-out plan out in the city with the locals, these tours will truly delight you!

Kyoto Night Foodie Tour:

If you want to explore the back-streets of Gion and Ponto-cho, Try Kyoto Bar Hopping Food Tour with MagicalTrip.

They will help you navigate through hidden izakaya bars in the backstreets that hard to find and enjoy various types of Kyoto local food and drinks!

Kyoto Bar Hopping Night Tour:

Click here for related information:
Local tells Top 5 Best Sake Breweries in Kyoto!Enjoy sake tasting!
Local tells Top 5 best Coffee Shops in Kyoto!Great places for Coffee Lovers!
Local tells 5 Things to Do in Kyoto at Night!
Related posts(Including ads)