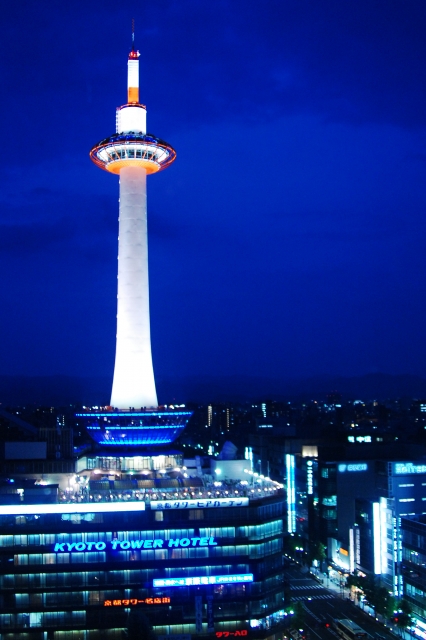 Hi,I'm Keiko from Osaka!

Kyoto is beyond temple and shrine viewing.

As matter of fact, Kyoto offers one of the most vibrant nightlife you can have in Japan, presenting you both traditions of the old capital and glimpse of the modern city life.

You will find whatever you are looking for in this city that never sleeps!

Here are 5 things you can try to enjoy Kyoto at night.
Sponsored Links
Local tells 5 Things to Do in Kyoto at Night!
1.Stroll around Houkan-ji Temple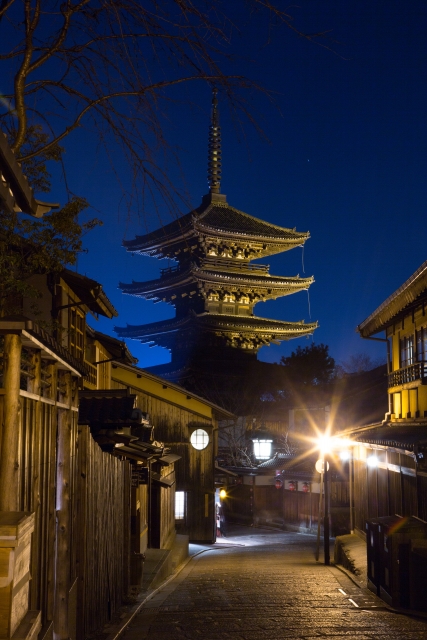 Houkan-ji Temple, or more commonly known as "Yasaka-no-tou (Yasaka Pagoda)" is a 46-meter tall pagoda that stands gracefully on the scenic paths between Kiyomizu temple and Yasaka Shine.
At night, the magically lit pagoda becomes one of the most sought-after views in Kyoto.
The point here would not necessary be to see the Pagoda from its temple compound, but rather to enjoy its view from the surrounding areas of Higashiyama.
The lantern-lit cobble stone paths leading to or from Kiyomizu Temple would be a nice place to view the Pagoda from.
The paths, which are usually packed with tourists during the day, become a quiet background for the majestic Pagoda.
From Maruyama Park, you can enjoy the illuminated Pagoda against the beautiful Kyoto's skyline.
Or how about sipping a premium cup of coffee while viewing sunset or twilight views of the Pagoda from Slow Jet Coffee Shop located next to Kodaiji temple.
In order to get to area, take the City Bus #206 from Kyoto Station to Higashiyama Yasui stop.
Houkan-ji Temple(Yasaka Pagoda)
Address: 388 Yasaka Kami-machi, Kiyomizu Higashiyama-ku, Kyoto
Location:5-minute walk from City Bus Stops Higashiyama-Yasui or Kiyomizu-michi,15 minutes from Keihan Main Line Gion-shijo station
Phone:075-551-2417
Opening hours:10:00〜16:00
Closed:Not fixed
Admission fee:400 yen (free for under elementary school students)
Map
2.Visit Fushimi Inari Shrine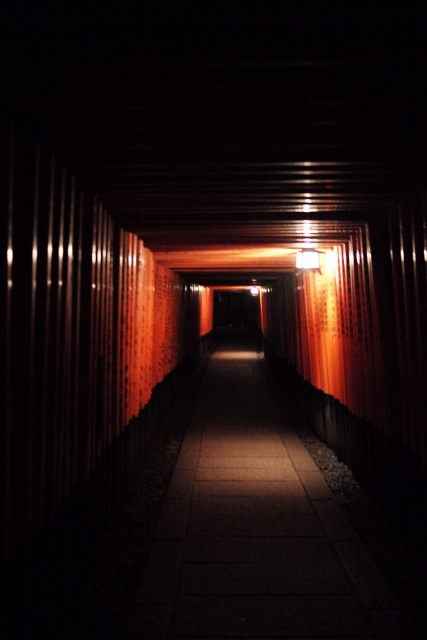 Fushimi Inari Shrine is famous for its thousands of vermilion torii gates.
This iconic shrine is open to public 24 hours a day.
People sparse at night even for this shrine that is usually flooded with tourists.
You are likely to have great opportunities to capture photos of magically lit vermilion gates without being pushed around by waves of tourists.
Gates are lit, though the shrine which is located inside the mountain can be still dark.
Please do watch your steps, and for those who are scared of shrines at night, you might want target at sunset and twilight.
Fushimi Inari Shrine
Address:68 Fukakusa Yabunouchi-cho, Fushimi-ku, Kyoto
Location:1 minute walk from JR Nara Line Inari Station,5 minutes walk from Keihan Main Line Fushimi-inari Station
Phone:075- 641-7331
Opening hours:24 hours
Closed:-
Admission fee:-
Map
3.Dine and Wine at Ponto-cho and Kiyamachi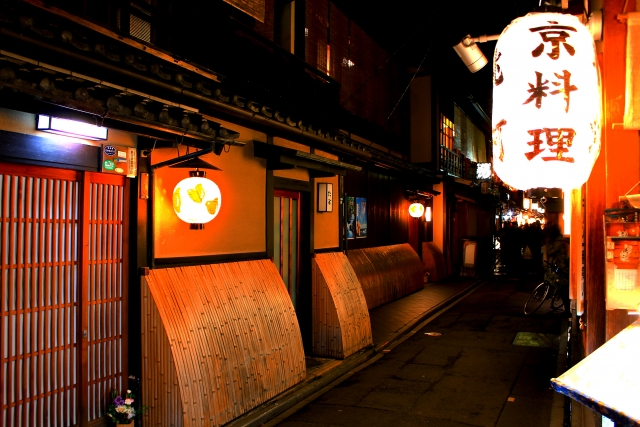 Kyoto's nightlife cannot end without experiencing Ponto-cho or Kiyamachi.
Ponto-cho Alley is a narrow street lined with dimly lit wooden buildings along Kamo River with a nostalgic old capital feel of Kyoto.
The alley is packed with bars, clubs, restaurants, as well as formal teahouses where Geisha perform/serve.
Kiyamachi strip, a modern and larger version, stretches one block off, around Shijo and Sanjo Streets.
This area offers bars, restaurants, and clubs of various styles and sizes, that can be more accessible than those in Ponto-cho.
How about a nice cocktail in Bar Atlantis, who has seats outside on wooden-platforms overlooking Kamo-river (May to September) or Sent James Club Bar in Ponto-cho that has the traditional Japanese atmospheres?
Jo Social Sake Bar is a great choice for those wanting to try sake bar, and Samboa Kiyamachi would be great for whisky lovers.
Stroll around and try a few places to fully enjoy the Kyoto nightlife!
To get to Ponto-cho or Kiyamachi areas, you can take CIty Bus to Shijo-Kawaramachi, or take Hankyu Railway to Kawaramachi Station.
Pontocho Alley
Address:226 Nabeyacho Pontochodori Shijo Agaru, Nakagyo-ku, Kyoto
Location:5 minutes from Keihan sanjo station,5 minutes walk from Hankyu Kawaramachi Station
Map
4.Enjoy the glitters of Kyoto from Kyoto Tower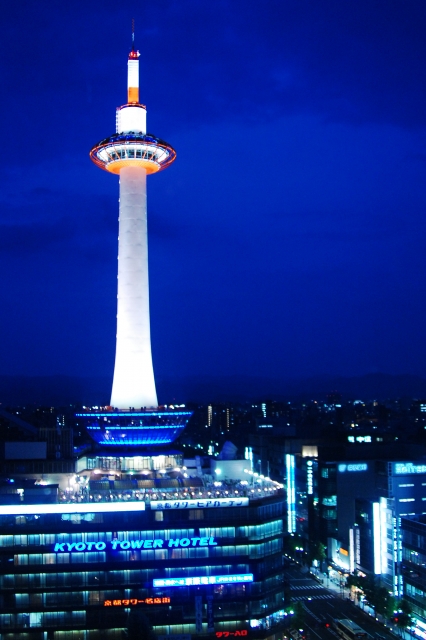 Kyoto Tower is the tallest modern building in Kyoto at 131m.
On the observation deck, which is at 100m, you can have a 360-degree night view of Kyoto.
There are telescopes set up at different directions which can be used for free.
Though 100m isn't one of the highest for an observation deck, since Kyoto doesn't have many tall buildings, you can enjoy the full and clear view of the beautiful skyline.
Try going there around the sunset, and enjoy the sunset, twilight, and night scenes.
This is guaranteed to be one of the most romantic places in Kyoto.
The entrance fee to the observation deck is ¥770 for an adult.
This sounds too pricy?
Cross over to Kyoto Station Building.
Though not as majestic as the views of the observation deck, you can still admire the city's night view through a skyway on the 11th floor, for free.
Kyoto Tower
Address:721-1,Karasuma-dori,Shichijo-sagaru,Shimogyo-ku,Kyoto
Location:3 minutes walk from JR Kyoto station
Phone:075-361-3215
Opening hours:9:00〜21:00
Closed:-
Admission fee:Adults:770 yen,High school students:620 yen,Junior high and elementary school students:520 yen,Infant:150 yen
Map
5.Club Scenes in Kyoto
Kyoto, being one of the major and cosmopolitan cities in Japan, offers one of the most vibrant and diverse club scenes in Japan.
You will enjoy great music, excellent drinks, and mingling with other tourists or Japanese locals.
"Club World, Kyoto" does just that.
It is a massive and internationally acclaimed club, focusing on techno and house, that hosts DJs from all over the world.
"Kitsune Kyoto" is another great and newer option popular among foreign visitors and expats, with its 800-capacity space with a great sound system perfect for electronic dance music.
"Club Metro" is a Kyoto classic, where you'll get to dance to house, techno and R&B.
"Club Metro" hosts many interesting events.
Every last Fridays of the month are the Club's drag queen night, one of the favorites of club enthusiasts.
Here is the video of Kitsune Kyoto.
For booking of Club World or further information, please visit:
Voyagin
1.Club World,Kyoto
Address:B1F-B2F Imagium Bldg 97 Shinmachi Shimogyo-ku Kyoto
Location:1 minutes walk from Hankyu Kawaramachi Station,2 minutes walk from Keihan Main Line Gionshijo station
Phone:075-213-4119
Opening hours:21:00〜4:00 See Calender→
Schedule
Closed:Irregular holiday
Admission fee:1000 yen〜
Map
2.Kitsune Kyoto
Address:FS Kiyamachi Bld.3F-4F 179 Zaimokucho Sanjyo,KiyamachiDohri Chukyo-ku Kyoto
Location:5 minutes walk from Hankyu Kawaramachi Station,5 minutes walk from Keihan Main Line Sanjo station
Phone:075-255-0421
Opening hours:Fri-Sat:21:00〜5:00,Sun-Thu:22:00〜4:00
Closed:-
Admission fee:1000 yen〜
Map
3.Club Metro
Address:B1F Ebisu Bldg. 82 Simodutsumi-cho kawabata Marutamachi sagaruru Sakyo-ku,Kyoto(The first floor of the building is 100YEN Lawson convenience store)
Location:5 minutes walk from Keihan Jingu-Marutamachi station Exit 2
Phone:075-752-4765
Opening hours:Depending on the events.See Calender→
Schedule
Closed:Irregular holiday
Admission fee:1000 yen〜
Map
I hope you enjoy the nightlife in Kyoto!
For your information
You can apply for a wide variety of fantastic tours and activities in Kyoto from overseas through
Voyagin
Related posts(Including ads)