Hi,I'm Keiko from Osaka!

I've been to Matsusakagyu Yakiniku M, Hozenji Yokocho in Osaka with my friend on last Saturday.

It's been 3 years since the last time I visited here.

It became more popular than before,so it was hard for us to reserve a table.

This is the most popular yakiniku restaurant in Osaka among foreign tourist!

I'd like to introduce Matsusakagyu Yakiniku M to you!

Sponsored Links
Matsusakagyu Yakiniku M, Hozenji Yokocho in Osaka! Tip and Review
The restaurant opened at 5 p.m.sharp
We ordered our drinks first.
The Japanese staff explained the different kinds of beef and where they were taken, and how to cook the beef properly.
There is a Beef tallow(Cow fat) on the table, and she rubbed it on the grill plate before we cook the meat.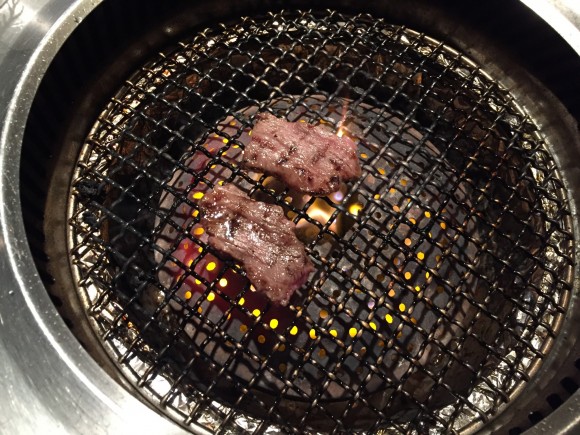 We ordered lean meat and the Chateaubriand.
There are 3 kinds of the lean meats. They were all good!!
But it seems to me the lean meats are "average good" so I recommend you to order marbled meat or matsusaka beef,which seemed nicer than lean meats!
Chateaubriand was awesome,the meat was so tender,it almost melt in my mouth!
You can choose 3 kinds of flavors which are salt,miso,and soy sauce.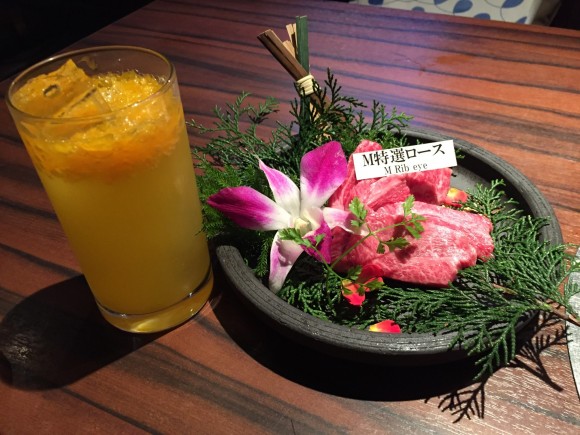 I ordered Mikanshu. It's a bit rare drink.Mikan means Orange,Shu means Sake in Japanese. This is juicy alcohol drink with vesicles of oranges.
I love this drink!!
Staff told me it's one of the most popular drink, so I highly recommend you to try this one.
We ordered M rib eye,tender tongue,and wagyu beef, we stuffed ourselves with beef!!
Tips for Matsusakagyu Yakiniku M, Hozenji Yokocho
Matsusakagyu Yakiniku M, Hozenji Yokocho is very hard to reserve the table. When I called to them,they are fully booked for the next 1 month.
If you couldn't reserve a table,you can ask if " Hozenji Yokocho Hanare" is available or not.
Harare means "away" in Japanese. Hozenji Yokocho Hanare is located 1 minute away from Hozenji Yokocho yakiniku restaurant.
It is much easier to reserve a table at "hanare" compare to other Matsusakagyu Yakiniku M restaurants.
Review for Matsusakagyu Yakiniku M, Hozenji Yokocho
Here are 3 reasons why Matsusakagyu Yakiniku M restaurants are so popular among foreign tourists.
Firstly:languages
The customers next to our table were Korean, and the Korean staff explained them in their own language.
I understand how happy they are speaking their own language in foreign country.
Most staff can speak good English, so it's very helpful for foreign customers to visit this restaurant.
Secondly:Japanese styles of customer service
As I talk to staffs in this restaurant,every staff is polite,friendly.and smily.
If the staffs are smily, it's easy for customers to talk to them.
I think Japanese service is high quality, you can feel it at this restaurant!
Lastly:The staffs are knowledgeable about the beef
I've visited many yakiniku restaurants before, but no yakiniku restaurants explained so precisely about the beef.
I understand why Chateaubriand is so tender since staff explained it very well.
If you are meat lovers, you will definitely enjoy this place!!
Restaurant's information:
Address: 1-1-19 Namba, Chuo-ku, Osaka
Location: 5 minutes from Subway Namba station
Phone: 06-6211-2917
Open Hour: Mon-Fri 17:00~24:00(L.O.23:00)/ Sat-Sun and Holidays 12:00~15:00
Closed: –
Price(Lunch) ~1000 yen (Dinner) 4000~5000 yen
Map
If you want to try Izakaya and other finest Osaka's food, try this
Osaka Bar Hopping Food tour
with Magical Trip.
They'll get to experience authentic Osaka foods and drinks by pub crawling local izakaya bars that travelers normally couldn't find.
Click here for related information:
Local tells Top 5 Must-Visit Restaurants in Dotonbori,Osaka!
Local tells Top 5 best all-you-can-eat Yakiniku restaurants in Osaka!
Related posts(Including ads)