Current my favorite place in Osaka is Uranamba.

Uranamba is around the area from Kuromon Ichiba Market to Takashimaya department store in Namba.There are some paths with various restaurants and bars run by independent owners alongside.

I came to like Uranamba because it feels there are many hideaway local restaurants,bars and it has good atmosphere to make friends with staff and customers.

Now Uranamba is getting popular among locals.

I'd like to introduce you some restaurants in Uranamba!

Sponsored Links
Local Guide:Uranamba, local restaurants in Osaka Guide!
The first restaurant was Okinawa food restaurant.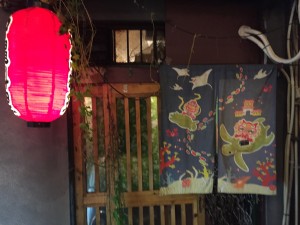 It was no menu family style okinawa restaurant with only 6 seats.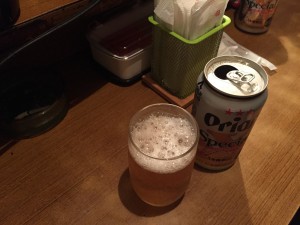 We ordered Okinawa beer and flat lemon liqueur soda.
Since there was no menu, other customers recommended us what we should wait.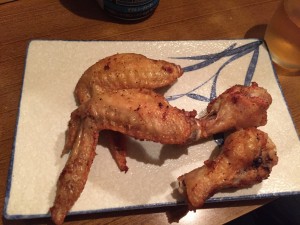 Spicy fried chicken wings in a sweet-hot sauce.Crispy Yummy!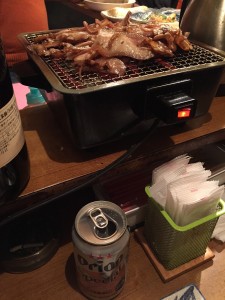 This is called "Chiragar". It's pig's nose, one of Okinawa foods speciality. It was first time for me to eat Chiragar. A little bit oily,but it has an addictive taste.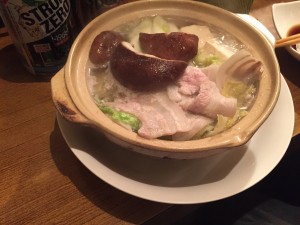 Lastly, we ordered Japanese Hotpot.It tasted nice and homey and made our body warm up.
All foods costed just 500 yen. You can order any food without worrying about the price.
Next restaurant we visited was yakitori restaurant.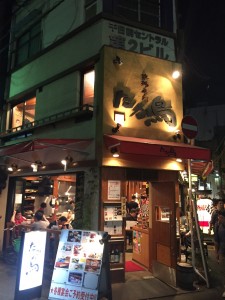 Takatori
It's a restaurant that specializes in chicken dishes.
We ordered beer and cocktail,and some yakitori.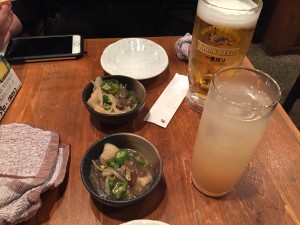 A small appetizer you can called Otooshi. The appetizer is the chef's choice, and we cannot make substitutions.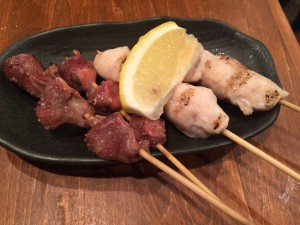 Yakitori
Yakitori is Japanese grilled chicken.In most yakitori restaurants, your choices of flavor are either salt (shio) or with yakitori sauce. I ordered yakitori with salt.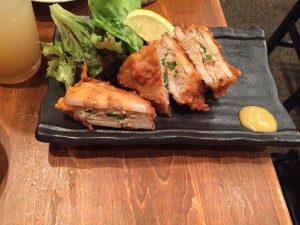 Deep-fried Lotus root sandwich
We've visited just 2 restaurants this time, but there is many attractive restaurants and bars in Uranamba.
Local people were drinking, chatting, laughing. It's very lively place even at night.
I'd like to visit Uramanba again, and find more interesting restaurants.
Click here for related information:
Local tells 5 Must Eat Foods in Amerikamura!Location and Map
Local tells Top 5 Must Eat Foods in Namba!Location and Map
Local tells Top 5 Must-Visit Restaurants in Dotonbori!
Related posts(Including ads)