Izakaya is Japanese style pub where people relax and enjoy a local taste of good times with good foods and drinks. Whenever I'd like to drink and chat with my friends,I go to Izakaya.

It's really hard to choose top 5 best Izakaya since There are so many Izakaya in Osaka, And I would like to introduce you top 5 best Izakaya restaurants in Osaka.

Sponsored Link
Top 5 best Izakaya restaurants in Osaka!
1.Misake Kamunabi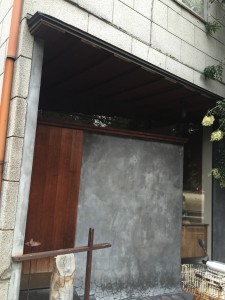 Misake Kamunabi is a Michelin 1 star Izakaya restaurant. This restaurant suits for Japanese sake lover. Simply ask the chef to select a sake that go well with your meal.All the dishes are innovative,original and sophisticated. Enjoy best dishes with best sake!
Address: 2-7-12,Uchikyuhojimachi,Chuo-ku,Osaka
Location:5 minutes from Subway Tanimachi-line Tanimachi 6 chome station
Phone: 06-676-0930
Open Hour: Tue-Sun 17:30〜23:00
Closed: Mondays
Price:(Dinner)6000~8000 yen
2.Sakanaya Inui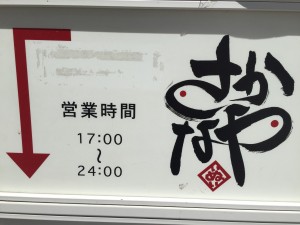 You can eat very fresh and rare fish at Sakanaya inui. Their menu ahas many kinds of dishes ike sashimi, Tempura. All the dishes are very delicious.Staff are friendly. This Izakaya restaurant is known to have many repeat customers.
Address: B1F Chiyoda Bldg 2-5-8 Umeda, Kita-ku
Location:8 minutes from Subway Yotsubashi-line Nishiumeda station
Phone: 06-6345-6078
Open Hour: Tue-Sun 17:00〜24:00(L.O.22:30)
Closed: Mondays,National holidays
Price:(Dinner)6000 〜8000 yen
3.Nagahori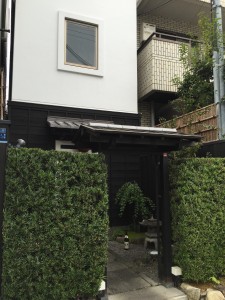 Nagahori won Mischlan star for 5 years in a row. They offer fresh food matched with a selection of Japan's finest sake.The most popular dish at this restaurant is "Hairy Crab with jelly".Hariy crab is prized for its sweet, juicy and an incredible amount of crab meat.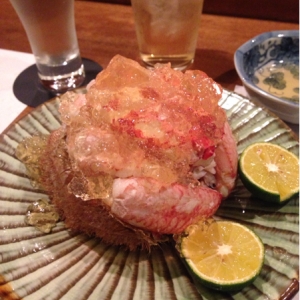 Once you eat at Nagahori, you will be addicted to it's dishes.
Address:1-3-9 Uemachi, Chuo-ku, Osaka
Location:5 minutes from JR Tamatsukuri station
Phone: 06-6768-0515
Open Hour: Mon-Sat7:00〜23:00(L.O.22:30)
Closed: Sundays and National holidays mid-August, late December-early January,
Price:(Dinner)8000~10000 yen
4.Sakaba Yamato
Sakaba Yamato is a restaurant that's popular with locals always is a long line-up in front of the restaurant.
I especially recommend you to eat shrimp dishes. Salt grilled shrimp, raw shrimp, Tempura etc.. It's all nice!! It's a popular izakaya restaurant where there is always a line.
Address:B2F Osakafukokuseimei Bldg,2-4,Komatsubaracho, Kita-ku,Osaka
Location:3 minutes from Subway Tanimachi-line, Higashiumeda station
Phone: 06-6312-3955
Open Hour: 11:00〜23:30(L.O.23:00)
Closed: No fixed holidays
Price:(Lunch)2000~3000yen (Dinner)2000~3000 yen
5.Shinkawa Nishiya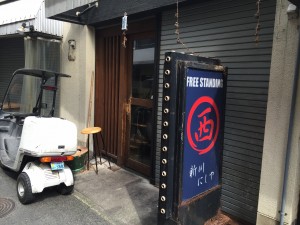 You can enjoy a large variety of fish, vegetable and Japanese dishes at Shinkawa Nishiya.It offersa creative and innovative menu.Fried fish taste perfectly with beer or Japanese sake.It's very popular izakaya restaurant
among the locals.
Address:1F Terada Bldg.1-17-16,Nambanaka,Naniwa-ku,Osaka
Location: 10 minutes from Subway Midosuji-line Namba station exit 5
Phone: 06-6634-2440
Open Hour: Mon-Wed,Fri-Sun 17:00〜5:00
Closed: Thursdays
Price:3000~5000 yen
Japanese people often go to Izakaya with our family, friends and co-workes. Lets eat,drink,and talk at Izakaya then recover energy for tomorrow!
Sponsored Link