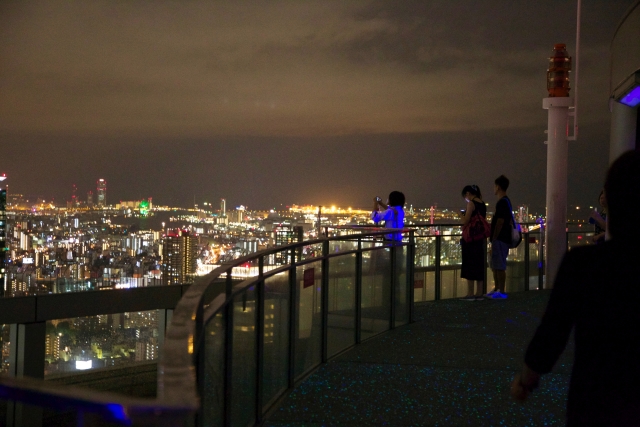 Hi,I'm Keiko from Osaka!

Have you ever explored night time in Osaka?

As the second biggest city in Japan, there are so many places to see in Osaka at night time.

It's the best place for those who want to eat delicious foods,walk around the shopping street,and laugh at comedy theater!

Here are 5 exciting ideas to enjoy Osaka at night.

Sponsored Links
Local tells 5 Things to Do in Osaka at Night!Exciting ideas to enjoy the city!
1.KUCHU-TEIEN OBSERVATORY in Umeda Sky Building/空中庭園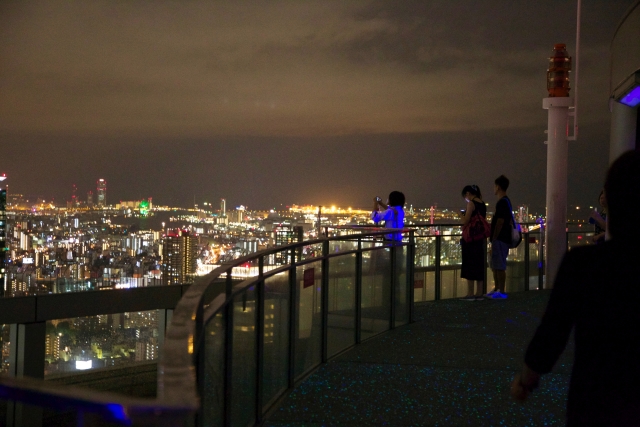 Once you get to Osaka station, on the north-west side, you can easily find twin high buildings with an observatory on the top.
That's the place where you can enjoy gorgeous and fascinating view from its 39th and 40th floor.
360° viewing will let you see sparkling city, which has been chosen as the "100 best night view" in Japan.
That romantic scenery may heap up your feelings and make your stay at Osaka more enjoyable.
Last admission time is 10 pm, which may change depending on the occasion, so no problem even if you take time for your dinner first and come here and climb up to see whole city later.
KUCHU-TEIEN OBSERVATORY
Address:1-1-88 Oyodo-naka,Kita-ku,Osaka
Location:15 minutes walk from JR Osaka station North Exit
Phone:06-6440-3899
Opening hours:9:30~22:30(L.E.22:00)Please click here for more details→
Opening hours
Closed:-
Admission Fee:Adult: 1,000yen,High school student/Juniour high school student:700yen,Elementary school student: 500yen,Kids (4 years old or older): 200yen,Senior(65 years old or older): 800yen
Map
2.Osaka Aquarium KAIYUKAN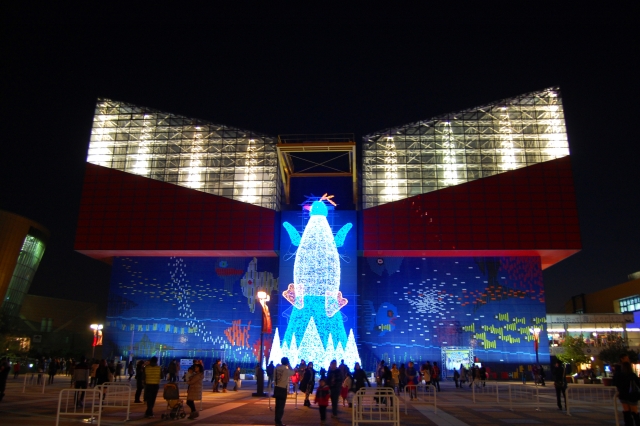 KAIYUKAN is the biggest aquarium in Osaka, which you can visit easily by using train in Osaka city.
While it is opened from early morning, you can also enjoy night time as it is open until 8 pm.
Last entering time will be 7 pm, so don't miss it!
What makes us more excited is that from 5 pm, they switch to "night aquarium" with changing their BGM and lightening.
Life styles of fish and animals there become to change at night time.
You will see different atmosphere coming out, which will let you spend relaxing and quiet time.
After having fun at aquarium, you can also go to ride a huge Ferris wheel which is located next to the building.
It is opened until 10 pm and you will see beautiful view from it.
Osaka Aquarium KAIYUKAN
Address:1-1-10 Kaigandori, Minato-ku, Osaka
Location:5 minutes walk from Subway Chuo Line Osakako station
Phone:06-6576-5501
Opening hours:10:00~20:00(l.E.19:00)※It varies depending on the season
Closed:Irregular holiday
Admission Fee:Adults:2300 yen,elementary school/middle school students:1200 yen,children 4 years of age or older:600 yen.
Map
3.Visit and enjoy gourmet at Hozenji Yokocho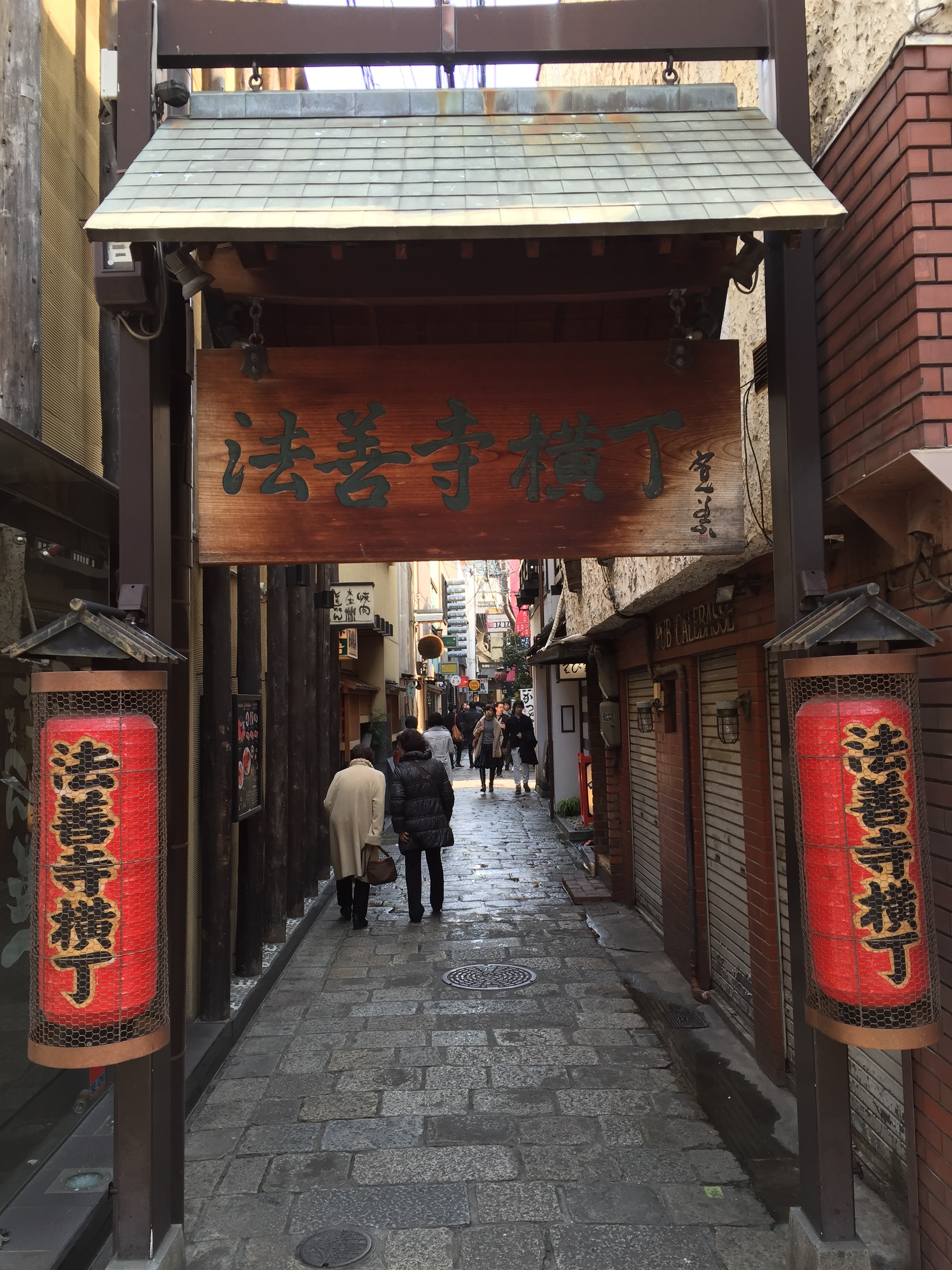 Just next to Dotombori street, you will find an area which has different atmosphere compared than others.
It consists of narrow stone paved streets and this let us feel old days of this area which is cozy and quaint.
When you walk along this street, you will find Hozenji temple and Buddhism statues.
Pay a visit and pray for your future here.
When you keep walking through this street, you will find many restaurants, too.
Typical Japanese food such as Sushi, Sukiyaki, Sashimi are available, while you can also enjoy famous food in Osaka like Okonomiyaki and Kushikatsu.
Both reasonable restaurants and high-grade ones are there and some of them offer high-quality and famous beef in Japan.
You have many selections here and you will be able to choose whatever you like.
Hozenji Yokocho Temple
Address:1-2-16 Namba, Chuo-ku, Osaka
Location: 5 minutes from Subway Midosuji Line Namba Station exit 14
Phone: 06-6211-4152
Opening hours:24 hours
Closed:-
Map
4.Enjoy ROR Comedy
In Japan, when we are asked about Osaka, many people may say that this is the place of origin of Comedy.
There is famous group who are dispatching many famous comedian in Japan and even has their own theater here.
So, if you come to Osaka, you better experience to have fun and laugh with comedy shows.
But can foreigners who don't know Japanese enjoy comedy here?
The answer is Yes.
Visit ROR Comedy club located at Namba.
They are the pioneer of international comedy shows in Japan and they are conducting event of English comedy shows mostly on Friday and Saturday nights.
Starting time is 9 pm so you can go to see the comedy after enjoying your dinner at Hozenji Yokocho.
Qualified shows are held at their studio, which excites both Japanese and foreigners. They sometimes invite comedian from overseas and make the shows fun even further.
Reservations are available from their website, therefore check the page before visiting.
Here is the video of ROR comedy.
If you want to enjoy ROR Comedy,you can reserve it through Voyagin:
here
ROR Comedy
Address:1F Hosen Bldg.2-6-13 Nishishinsaibashi,Chuo-ku,Osaka
Location:5 minutes walk from Subway Midosuji/Sennichimae/Yotsubashi Line Namba station
Phone:080-4451-5539
Opening hours:Fri&Sat 20:30~23:00
Closed:Mon-Thu,Sun
Admission Fee:1,000yen per person for a 90 minute show.
Map
5.Explore Namba or Umeda
In local, people mostly go and enjoy their night time at Izakaya, Karaoke and bar at NAMBA.
Therefore, there are so many places and shops standing on streets and it will be easy to find.
You can choose where to spend your time by your own feelings, but if you would like to visit clubs, here I recommend two places to you.
One is "SAM AND DAVE ONE".
Theme of this club is "International Nightclub" which may make you feel easy to visit.
Together with local D.J., sometimes internationally famous D.J. come to perform popular hip hop, trance music and others. As well as their music, qualified cocktails are served and you will have great and exciting night here.
Another is "GIRAFFE OSAKA". Compared to the former one, this club has plenty of events which are held everyday.
Although it is not aimed as "International nightclub", many foreigners come to have fun together with Japanese.
Both clubs are located at central of Namba and it will be very easy to bring yourself!
Visit these places and enjoy your stay at Osaka!
1.SAM AND DAVE ONE UMEDA
Address:1F Purazaumesin, 4-15-19, Nishitemma,Kita-ku,Osaka
Location:10 minutes walk from Subway Mido-suji Line Umeda Station
Phone:06-7663-6689
Opening hours:Mon-Thu:18:00〜25:00,Fri・Sat:20:00〜5:00
Closed:Sunday
Admission fee:1000 yen〜
Map
2.GIRAFFE OSAKA
Address: Soemoncho Bldg.7-9 Soemoncho, Chuo-ku,Osaka
Location:5 minutes walk from Subway Mido-suji Line Namba Station
Phone:06-6211-1516
Opening hours:19:00〜25:00
Closed:-
Admission fee:Men:1,000 yen〜,Women:Free entry ※It varies depending on entry time.
Map
I hope you enjoy the nightlife in Osaka!
For your information
If you're looking for unique activities and experiences in Osaka,you can find them here:

There are also a variety of unique food tours in Japan.

If you are a foodie looking for a nice hang-out plan out in the city with the locals, these tours will truly delight you!

Osaka:
Osaka Bar Hopping Food Tour in Namba:

Dotonbori Food Crawl & Food Sample Tour:

Kyoto:
Kyoto Bar Hopping Night Tour:

Tokyo:
Classic Food Tour in Shinjuku

Click here for related information:
Local tells Top 5 best bars in Osaka!Enjoy the Nightlife with locals!
Related posts(Including ads)