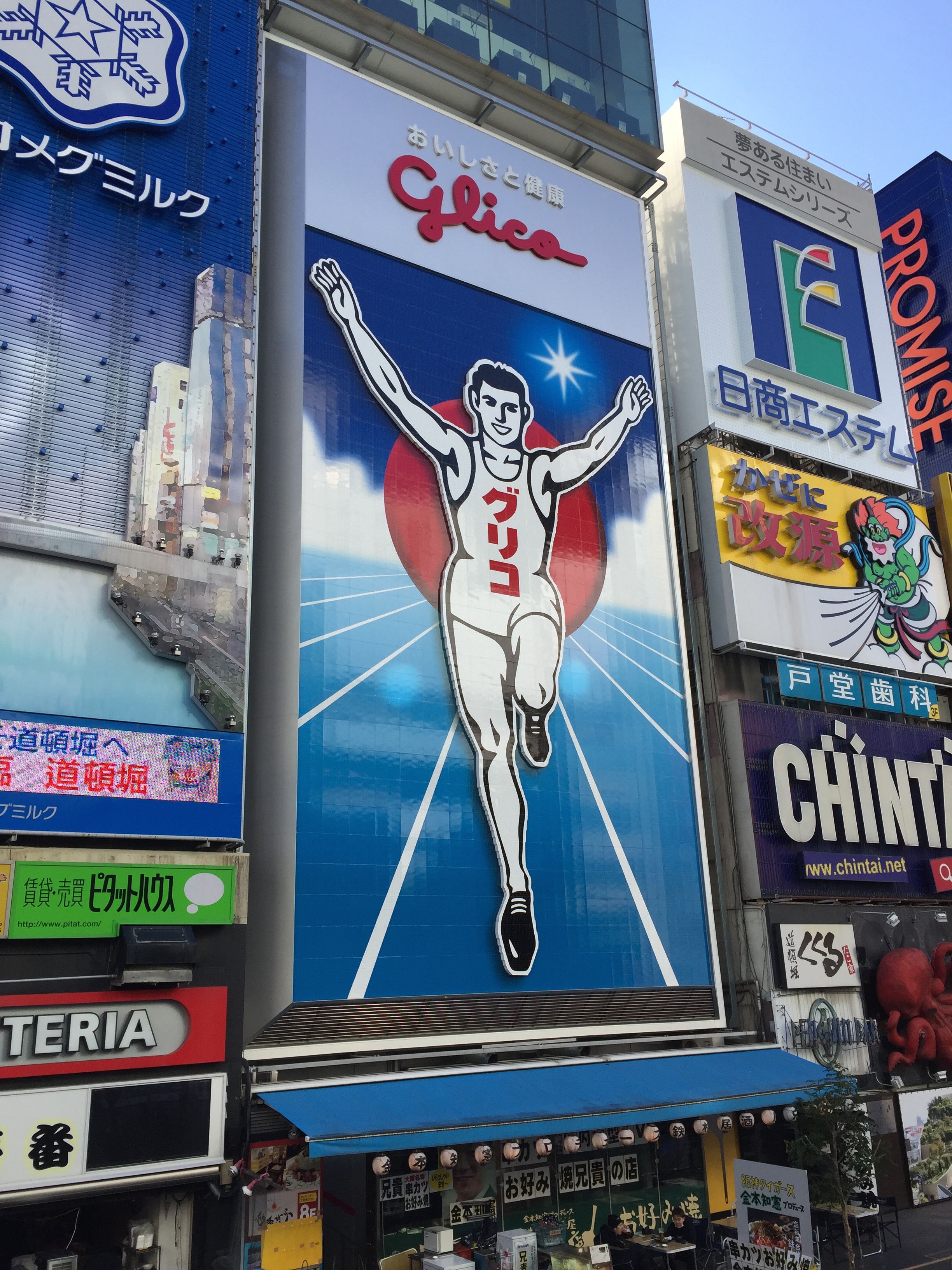 Hi,I'm Keiko from Osaka!

A populous urban city Namba never sleeps!

Namba is the most famous district where you can find popular bars,restaurants,and historical places.

If you like exciting city, you will be sure enjoy yourselves here in Namba!

Check out my local guide to 5 things to do in Namba,Osaka

Sponsored Links
Local tellsTop 5 Things to do in Namba,Osaka! Location and Map
1.Glico man/道頓堀グリコサイン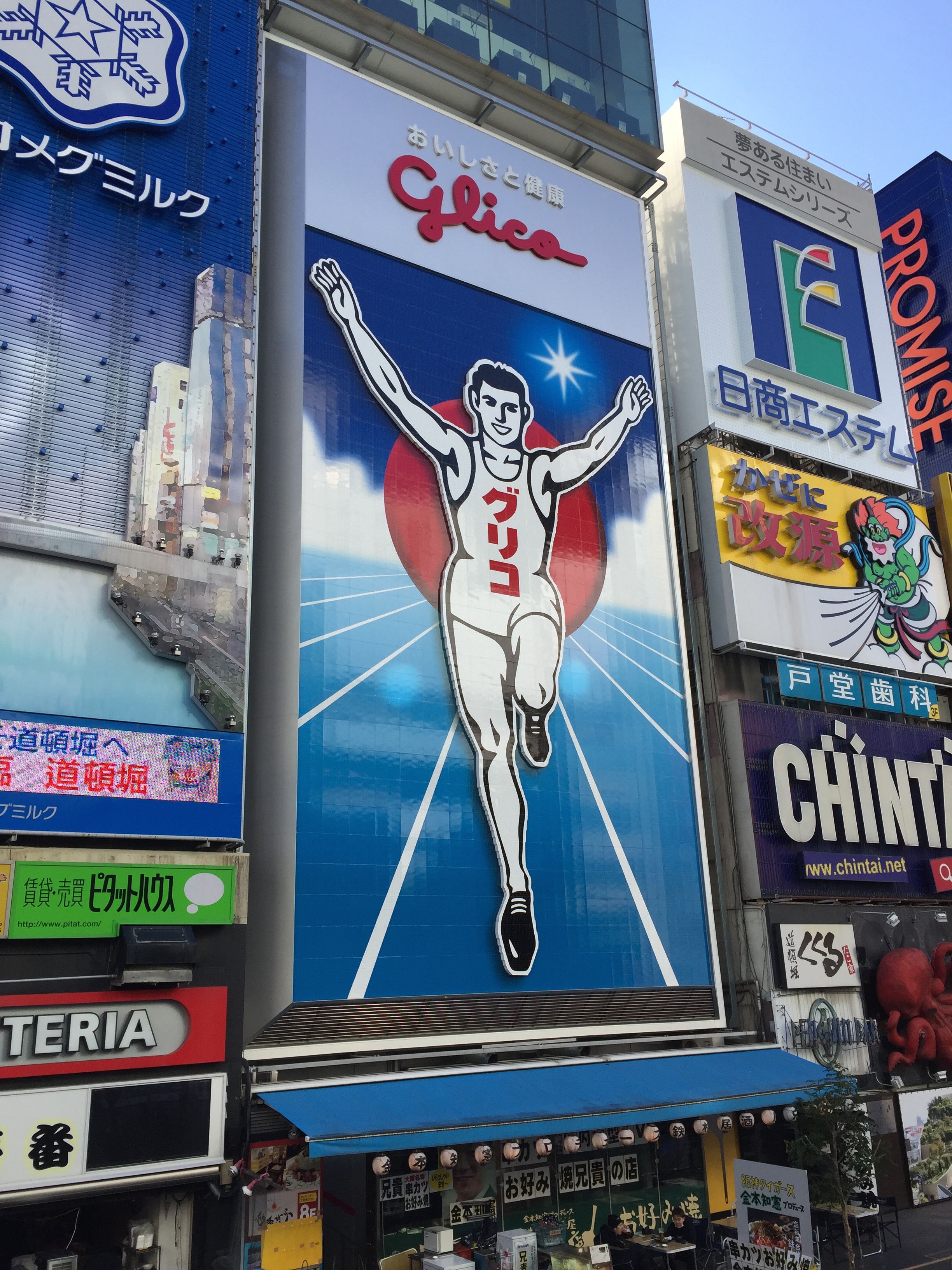 When it comes to Namba,you can't miss glico man.You'll find many tourist are making "goal-in" pose in front of iconic Glico Man.
Glico Man is first installed in 1935,it's one of the famous symbol of Namba in Osaka.
Did you know there was an actual person for a glico Man?
His name was cataron(He is from Philippines!) who attended the fifth Far Eastern Championship Games in 1921.
Ezaki glico company favored his smile and good shape when he crossed the finish line.
They believed his big smile would give a favorable and healthy impressions,and decided to adopt it for the image of them.
Why don't you pose for a photo in front of glico man when you come to Namba?
Address:1-10-4,Dotonbori,Chuo-ku, Osaka
Location:10 minutes from Subway Midosuji-line Namba station
Map
2. Hozenji Yokocho/法善寺横丁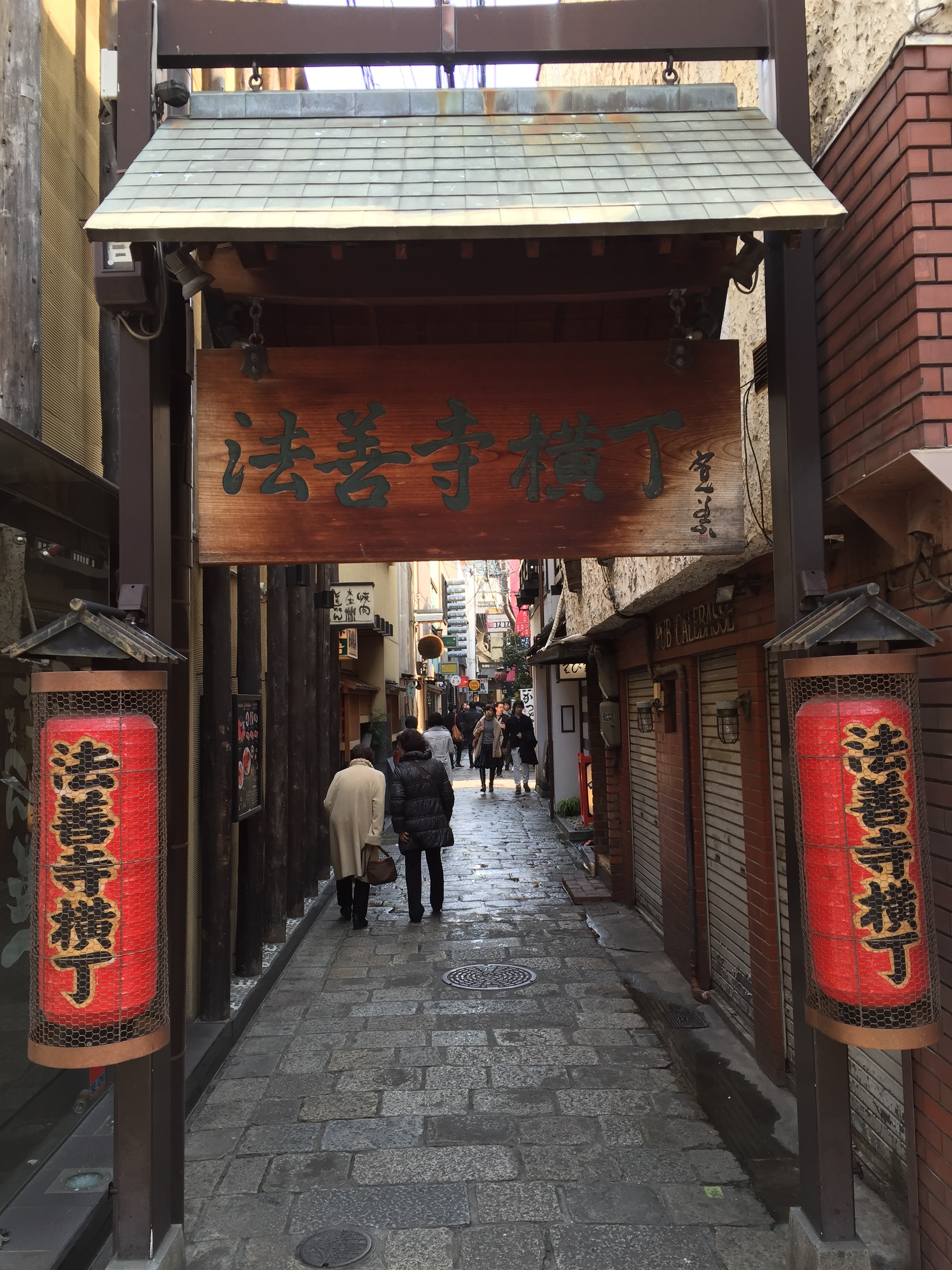 Hozenji Yococho is about 5 minutes walk from subway midosuji-line station.This narrow stone-paved street has a traditional old Japanese atmosphere, which is very different from the bustling atmosphere of Namba.
There are also many bars and restaurants that serve sushi, okonomiyaki,and Osaka's speciality.
Be sure to visit Hozenji temple when you visit Hozenji Yococho. Hozenji temple is a small buddhist temple which was built in 1637.
A statue of Buddha called Mizukake Fudo. It is said that pouring water over Mizukake Fudo brings you good luck.
Address:1-2-16,Namba,Chuo-ku,Osaka
Location:5 minutes from Subway Midosujiline Namba station,Exit 14
Phone:06-6211-4152
Map
3. Namba Parks/難波パークス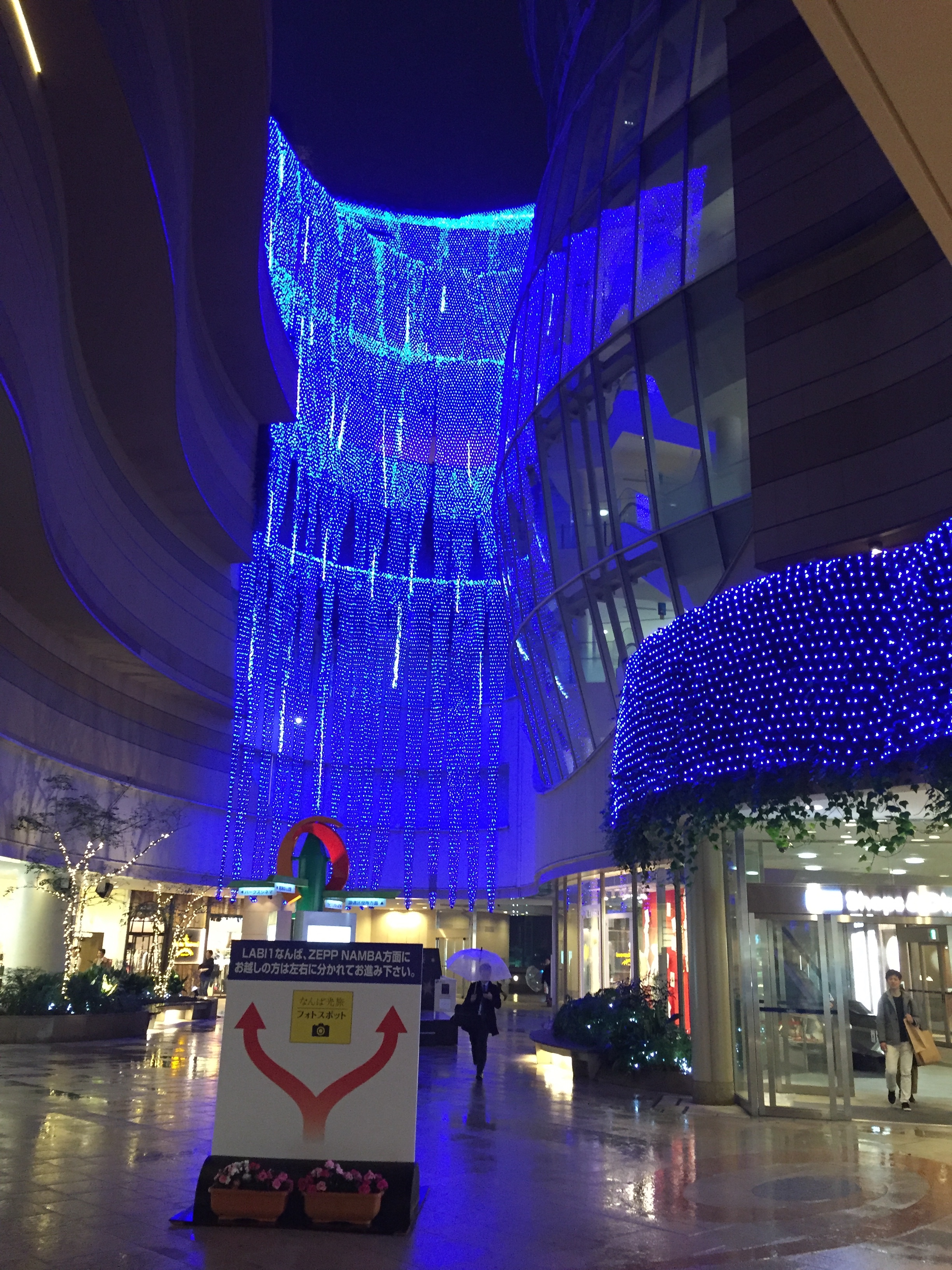 Namba parks is a big shopping mall with an eight level rooftop garden.
It was selected by CNN as "one of the world's most beautiful sky gardens".
There are many luxury shops,restaurants and cafes here.There is also a cinema on the 6th through the 9th floor.You can enjoy all day long in Namba parks!
Address:2-10-70 Nambanaka Naniwa-ku Osaka
Location:5 minutes from Subway
Phone:06-6644-7100
Open Hour: shopping district 11:00〜21:00,Restaurant area:11:00〜23:00,Garden:10:00〜24:00
Closed: No fixed holidays
Map
4.Nabma Grand Kagetsu/なんばグランド花月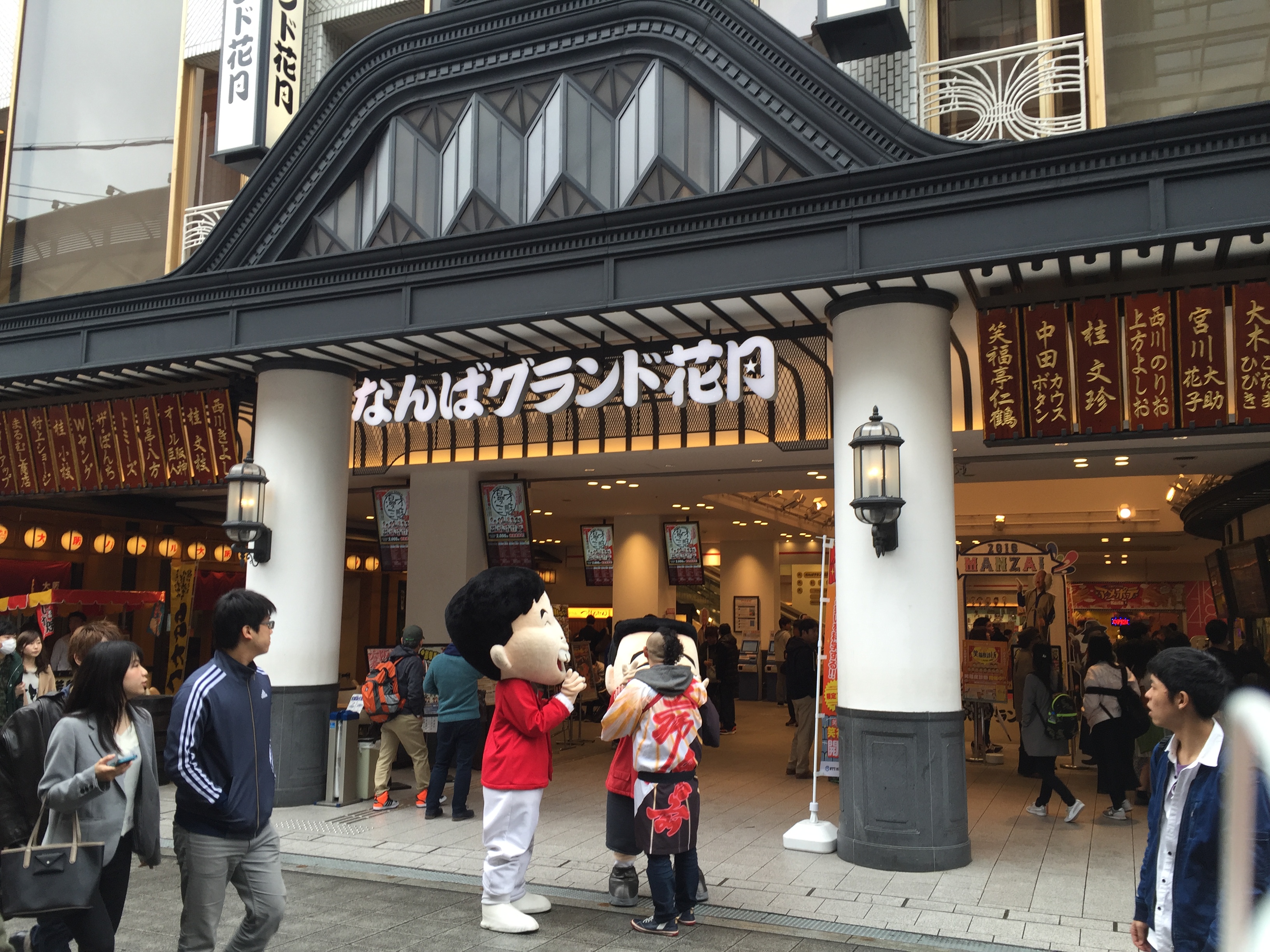 Namba Grand Kagetsu is the most famous and funny comedy theater in Japan.
Famous comedians perform manzai, rakugo, and yoshimoto shinkigeki (comedy plays) here every day.
I especially like yoshimoto shinkigeki.As a child,I came home from school for lunch,and turned on the TV to watch Yoshimoto Shinkigeki on every Saturday.
Osaka is called "Culture of Laughter".Making people laugh and smile remains a strong part of our culture.
Why don't you visit Namba Grand Kagetsu and feel the culture of Osaka?
Address:11-6,Sennichimae,Namba,Chuo-ku,Osaka
Location:5 minutes from Subway Midosujiline Namba station,Exit 14
Phone:06-6641-0888
Open Hour: Mon-Sun depending on Schedule
Closed: No fixed holidays
Map
5.Doguyasuji shopping street/道具屋筋商店街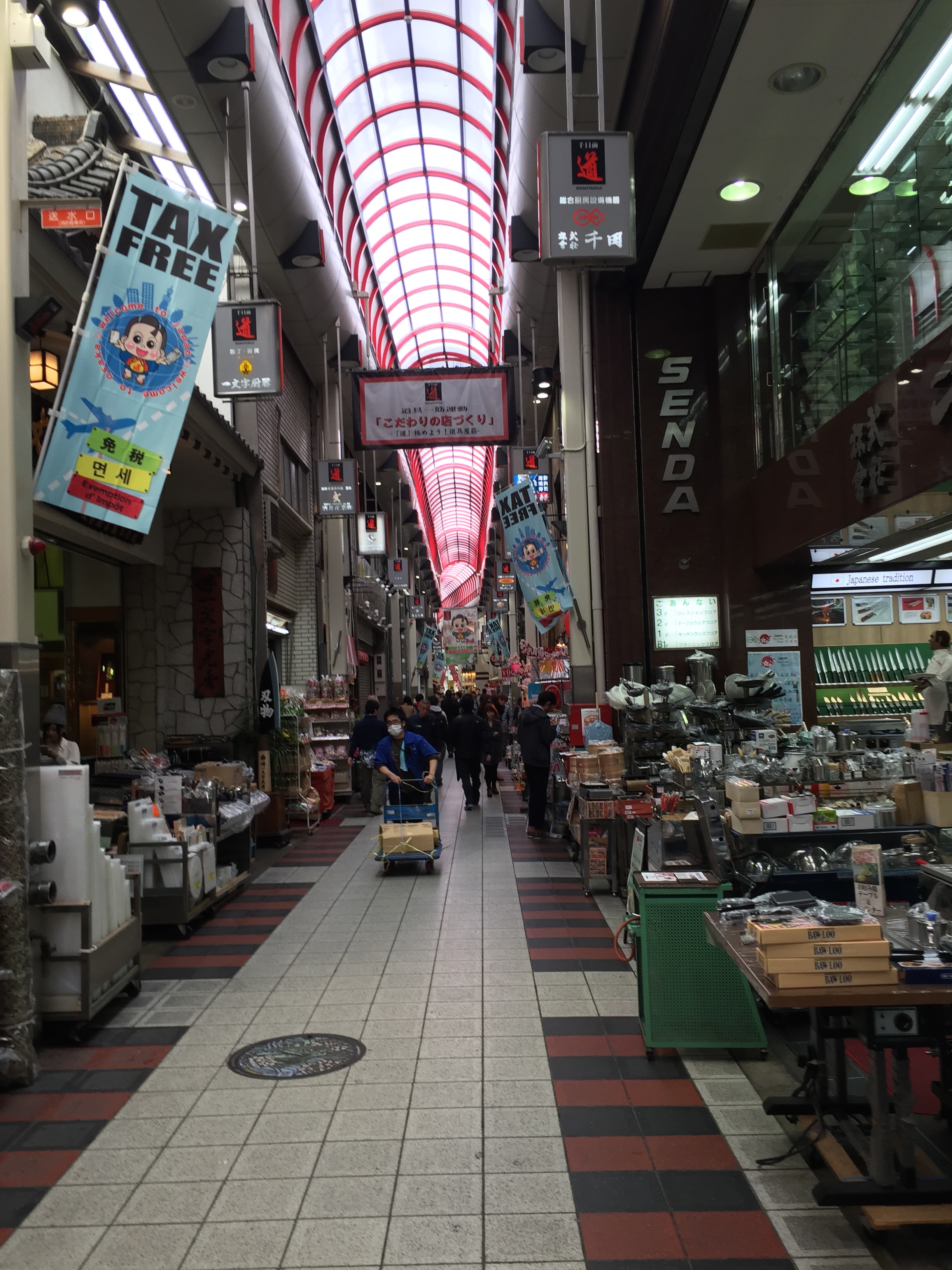 Doguyasuji shopping street is very close to Namba Grand Kagetsu.
It lined with all kinds of cooking tools,kitchen items,and Japanese kitchen knives for professional use.Many tourists visit here to buy these knives.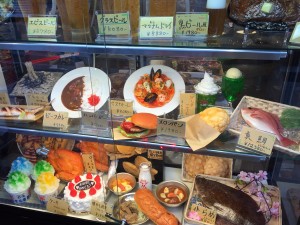 There are also food sample stores here.You would be amazed by food samples which are so elaborate!!
Address:5-19,Sennichimae,Namba,Chuo-ku,Osaka
Location:5 minutes from Subway Midosujiline Namba station,Exit 14
Open Hour:It depends on the shops
Map
For your information

If you're looking for unique activities and experiences in Osaka,you can find them here:


If you are looking for a nice bike tour with a local guide, this tour will truly delight you!


If you want to try Izakaya and other finest Osaka's food, try this one:


They'll get to experience authentic Osaka foods and drinks by pub crawling local izakaya bars that travelers normally couldn't find.
Click here for related information:
Local tells 3 Things to do in Amerikamura!
Local Guide:Hozenji Yokocho Alley in Osaka Guide!Must-go temple and restaurants!
Local tells Top 5 Must-Visit Restaurants in Dotonbori!
Related posts(Including ads)