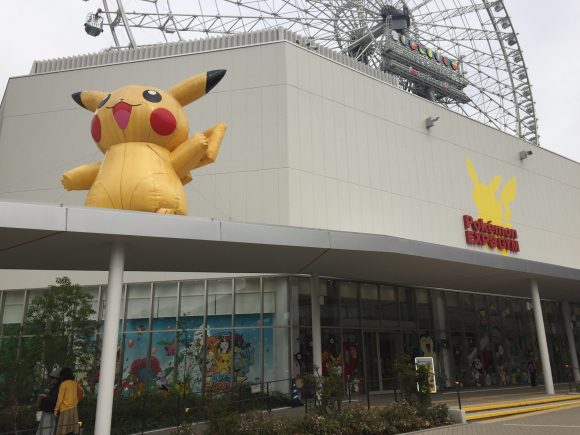 Hi,I'm Keiko from Osaka!

Pokemon Expo Gym is an interactive edutainment facility where you can train, play, and chat with a virtual pokemon.

It offers Pokémon-related training and games such as Pokemon Battle Bowling or Boxing that fans will definitely enjoy.

There are 7 attractions at Pokemon Expo Gym.

I'd like to introduce you Pokemon Expo Gym at EXPOCITY in Osaka this time.

Sponsored Links
Pokemon Expo Gym,EXPOCITY in Osaka Guide!
Upon entry,you have to buy a card for 500 yen (It's like admission fee) that you charge with credit in order to attend the games and attractions.
You can only charge from 1000yen if you are inside the Pokemon EXPO gym.
You have to go outside and charge it at the entrance if you want to charge from 100 yen.
It's a bit inconvenient,but anyway we are ready to attend attractions after we charge this card.
It was prohibited to take photos of the attractions.
Please see the official Pokemon Expo Gym video on you tube (Sorry only Japanese is available:)
Here are 7 attractions that you can enjoy in Pokemon Expo Gym!
1.Machamp's Counseling Room
Do you know "Manzai" in Japan?
The Manzai is a style of a stand-up comedy which is usually performed by a pair of comedians.
In Machamp's Counseling Room, you can enjoy pokemon's manzai.
For example, Machamp and Charizard complain about pokemon trainer or they imitate the pokemon.
It's a must-see attraction for pokemon fans!
Price:600 yen
Time required:10-15 minutes
2.Smeargle's Audition Studio
Here, Pikachu is looking for background dancers for a music video.
You have to show some simple dance moves following the instructions of Smeargle instruct such as "Pose like Pikachu" or "Raise your arms".
Some visitors(Most of them were kids) were picked to dance on stage.
It' really fun to interact and dance with pokemon!
Price:600 yen
Time Required:10-15 minutes
3.Charizard's Battle Colosseum
In Charizard's Battle Colosseum, you have to help the battle of Charizard and his trainer, Mimi so that they can win their match.
First,Charizard lost the match with a zoroark, then he and Mimi will ask the audience for advice and tips.
Give them a good advice, and let them win the match!
Price:600 yen
Time required:10-15 minutes
Sponsored Links
4.Zoroark's Slick Dojo
In Zoroark's Slick Dojo,Zoroark will teach you the technique that" how to be a little bit evil".
Zoroark looks scary but he is a good guy in Pokemon EXPO Gym:)
I recommend you to go there on weekdays so that you have a lot of opportunities to talk with Zoroark.
Price:600 yen
Time required:10-15 minutes
5.Macho J's Pokemon Boxercise
Macho J's Pokemon Boxercise is a body training program where you can train yourself alongside Lucario and get to fight against other Pokemon.
You'll follow instructions "punch""sit""Jump" appearing on the screen in order to fight against the enemies.
There are different types of level, so both kids and adults can enjoy this attraction.
Price:400 yen
Time Required:3 minutes
6:Gardevoir's Investigation Headquarters
Gardevoir's Investigation Headquarters is the game that follow the instructions and seek out the pokemon using a stylus to tap on the screen through different kinds of map.
For example, I was tasked "to find out five Slowpoke",then I tried to seek out five Slowpoke on the map within the time limit.
I couldn't seek out them within time limit.I lost easily:)
It was a bit difficult for me.
Price:400 yen
Time Required:3 minutes
7.Pokemon Battle Bowling
Pokemon Battle Bowling requires two people to play.
You have to move your body to the right or left as if you were a bowling ball to knock over bowling pin shaped Pokemon.
You need a team work to win the game!
Price:400 yen
Time Required:3 minutes
I think I became a good pokemon trainer after attending the attractions:)
Pikachu is everywhere,and you can interact with your favorite pokemon inside the Pokemon EXPO Gym.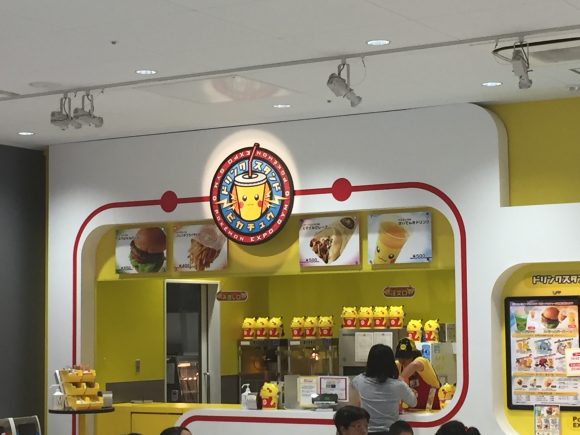 Pokemon cafe
It's every Pokemon fan's dream to step inside the Pokemon EXPO Gym.
I hope you enjoy the attractions with pokemon here!
Pokemon EXPO Gym Information
Address:2-1 Senribampaku Koen, Suita-shi, Osaka
Location:From Umeda station:Take the Midosuji subway line to Senri Chuo Station and change to Osaka Monorail bound for Kadoma-shi.Get off at Banpaku Kinen Koen Station and walk for 3 minutes.
Phone: 06-4864-9120
Opening hours:Attractions:11:00~18:00 (on weekdays) 10:00~19:00(Sat.Sun.National holiday) Gift Shop & Snack Stand:10:00~20:00(L.O.19:45)
Closed:-
Map
Click here for related information:
Local Guide:LaLaport EXPOCITY in Osaka Guide! 3 Must go unique shops!
Orbi Osaka,EXPOCITY Guide!5 Must-See Attractions!
NIFREL, EXPOCITY in Osaka Guide!An Unique aquazoo in Japan!
Sponsored Links